How to Grow a Juniper Bonsai Indoors
Juniper bonsai trees are some of the most beautiful options to grow at home yourself. The species is a great choice for beginners as it is hardy and often requires minimal attention except for the winter months.
However, as it's normally an outdoor plant, you'll need to keep an extra watchful eye when deciding to grow a Juniper bonsai indoors.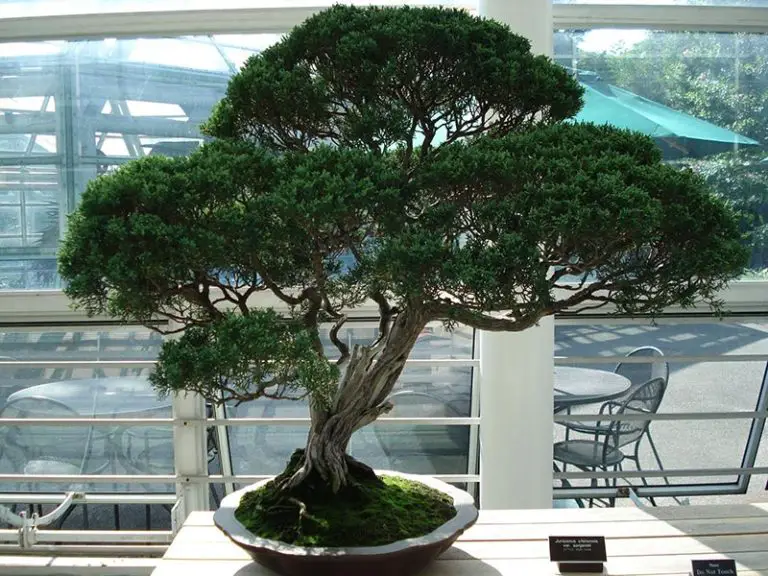 Learning How To Grow a Juniper Bonsai Indoors
While there are specific aspects to caring for a Juniper bonsai, you'll need to take additional precautions when bringing it indoors. Here are some helpful tips.
Sunlight
Juniper bonsai are normally kept outdoors and in a position where they receive plenty of daylight. If you're growing your bonsai indoors you may need to frequently move it into the sunlight during the day. Growing this species indoors is harder due to the constant sunlight and temperature requirements.
Year-round this tree requires plenty of exposure to sunlight. The minimum light it needs per day is four hours. However, the more exposure the tree gets, the better it will grow.
Watering
Juniper bonsais are easy to overwater, especially if you're keeping them indoors where there's less heat to evaporate the water. The species can quickly suffer from having wet soil, as the roots can damage from being overly wet. Whenever you water this bonsai, ensure that the soil is at least slightly dry and do not overwater.
Ideally, one of the best ways to water the juniper bonsai tree when growing is to use a mist spray. Covering the whole tree in a fine layer of water will prevent large quantities of liquid from making the soil too wet.
Pests and Diseases
Juniper bonsai are extremely vulnerable to pests during the winter months. However, as you're keeping the tree indoors, it's unlikely that the plant will attract nearby aphids and scales. If you do encounter pests on your tree, using insecticide or miticide will often get rid of any pests.
The most common disease you'll find on a juniper tree is the fungus rust. This fungus disease is easily spotted thanks to its orange spots on your juniper leaves. However, there is no cure for this once it happens to your plot.
Wiring
As you grow your juniper bonsai, you'll need to perform an act called wiring. Gently wrapping wire around the tree and its limbs will aid you as you essentially sculpt how the tree looks.
Junipers are often heavily wired when young. This allows you to shape it as you like. The species is flexible and is unlikely to break during a bend, allowing you to aggressively choose how the bonsai will look.
Fertilizing
Fertilizer can help the bonsai grow faster, however, picking the wrong fertilizer yields lower results and can potentially interfere with the plant's growth entirely. Normal organic fertilizer pellets used once a month is a great choice when feeding the plant. These sessions should occur only in the spring and fall seasons.
We don't recommend using fertilizer during winter, as your bonsai needs to rest.
Pruning
Long shoots on your juniper bonsai should be pinched at the base and cut off. New roots that are pinched back should be cut off using sharp scissors. Don't cut off all the growing tips as this will weaken the plant and can turn the needles brown.
The tree is quite strong and can withstand aggressive pruning. However, we recommend you be careful when pruning any bonsai species.
Repotting
Before your juniper tree reaches the age of ten, it should be replanted every two years. The soil used for repotting should be basic or a mildly more draining soil motion to help prevent soil wetness. While repotting, we recommend pruning the roots mildly, which will not result in the plant dying from a lack of nutrients or use of its roots.
After the first decade, you'll only need to repot the bonsai every three or four years. Older trees will need to repot in longer intervals.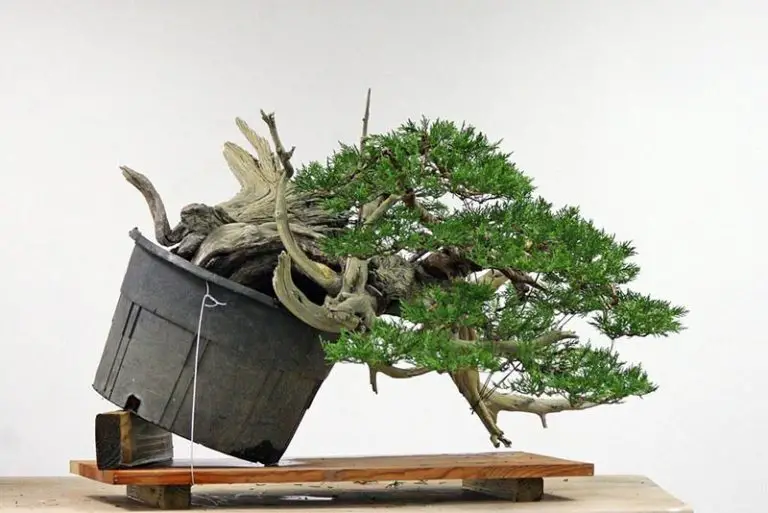 We hope this information helps you grow your juniper bonsai indoors. The plant can thrive with minimal attention and is less likely to attract pests while kept inside. If you have any questions left after this guide please contact us.