How To Make Podocarpus Grow Thicker
The members of the podocarpus family are often shrubs, small flowers, or trees. When planted outdoors, they can be grown as a hedge, creating a wall of greenery. While the plants are known for requiring minimal care, you'll need to apply specific care if you want to thicken the bush.
This guide will explain the various ways to help your podocarpus grow thicker. We'll also explain why you'd want to thicken your plant's brush.
Why Grow A Thick Podocarpus?
A skinny and low-brush tree or hedge can look odd, regardless of where you keep it indoors and outdoors. If you're growing this family of trees, you're likely already trying to make it thicker. Podocarpus make great hedges when grown close together. However, this hedge isn't as private if it has sparsely leafed areas. 
How To Make Podocarpus Grow Thicker
This section will explain the various methods you can implement to help thicken your podocarpus brush. Each step can work individually, but when using all of them, you'll have the best chance of growing thicker foliage. The methods will work for potted and outdoor plants.
Method 1: Fertilizer
Fertilizer is a great way to add extra nutrients to the bonsai soil, helping your podocarpus grow quicker. When fertilizing your hedge, use a balanced 6-6-6 fertilizer. The balance and composition of this fertilizer are ideal for encouraging thicker foliage.
Use fertilizer once during each season, except for during winter. During fall, fertilize your podocarpus a few days before the start of winter. Ensure your fertilizer is slow-releasing, as the podocarpus are low maintenance and don't consume fertilizer as quickly as other plants.
Method 2: Pruning For Growth
This step is one of the essential processes in helping your tree grow faster. Before you start pruning, however, you'll need to sharpen and clean your pruning shears. Unclean shears can cause diseases, while blunt tools can damage the plant's stem. Neither of these options will help your podocarpus grow thicker.
The right way to prune a podocarpus is to trim from the top and then from the sides. Lightly pruning every second week will slowly encourage more leaf growth. For the best effect, prune the tips of each branch, maintaining 2-to-4 inches of leaves on the stem. A narrower top and broader base-styled trimming work best for podocarpus trees not grown together as a hedge.
Pruning becomes essential as the tree grows and ages, as the podocarpus is generally a thick-grown plant. Pruning, while encouraging thicker foliage, will keep the tree healthy and help lessen moisture loss. If shaped well, the podocarpus can become a gorgeous topiary in your garden, requiring only bi-weekly trimming.
Method 3: Watering Is Essential
Watering your podocarpus is essential in maintaining and encouraging its thick foliage. While dense soil can help lessen your watering frequency, you'll need to ensure the soil is damp. If the topsoil is dry, it's time to water your hedge again. 
If you notice your tree is suffering from over or under-watering, check the soil's dampness before watering to feel for any sign of moisture.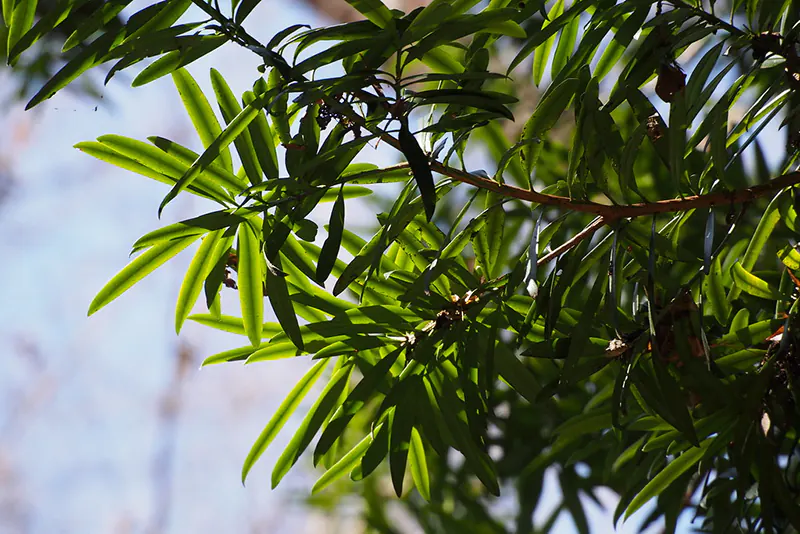 Benefits Of Growing A Podocarpus
Podocarpus are low maintenance, making them easy to grow and keep alive if you're busy or don't spend a lot of time gardening. As they grow well in pots and indoors, they're an excellent way to spruce up and add some greenery around your home.
Podocarpus grow slowly and hold their shape well. If you're growing topiary, the slow growth will help lessen the amount of maintenance your garden needs.
Thicker And Fuller
Growing a thicker, bushier podocarpus is an easy task if you're willing to invest a little time into it. For the most part, proper care will help the plant grow and thicken over time. However, we advise you to prune as needed, as a thicker brush can provide a home for pests.