When Do Chinese Elm Trees Bloom?
The Chinese elm is certainly one of the most beautiful and popular bonsai trees to grow at home. It has gorgeous leaves and tiny flowers that scatter across the impressive foliage for a stunning show. If you have one of these, you may be wondering when do Chinese elm trees bloom.
In this article, we'll not only show you Chinese elm blooming times but also discuss elm tree leaves and flowers in detail. You'll also see details on how quickly they grow, along with some reasons as to why everyone loves this bonsai tree.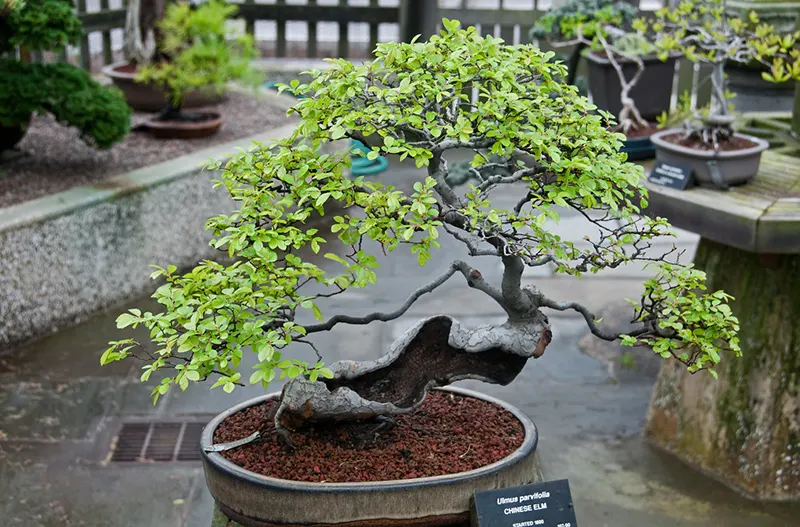 Image source 
Elm Tree Leaves and Flowers
The Chinese elm is a small semi-deciduous to deciduous tree that is usually evergreen, keeping most of its leaves throughout the year. It may drop some of the leaves in winter, depending on how cold it is, but new ones will grow shortly after that. The leaves have small serrated edges, which is one of the features that make it so attractive as a bonsai.
There are various types of flowers across Chinese elm species. Many of them are wind-pollinated, bearing fruit called samara. These flowers are tiny, making a bonsai tree look like it has sparkling stars across the foliage.
When Do Chinese Elm Trees Bloom?
Most Chinese elm trees bloom in early autumn. They may start budding towards the end of summer, but you'll generally see them open up in the fall. Towards the end of the season, you'll notice how the flowers start dropping, and if you're lucky, they will transform into beautiful samara fruit.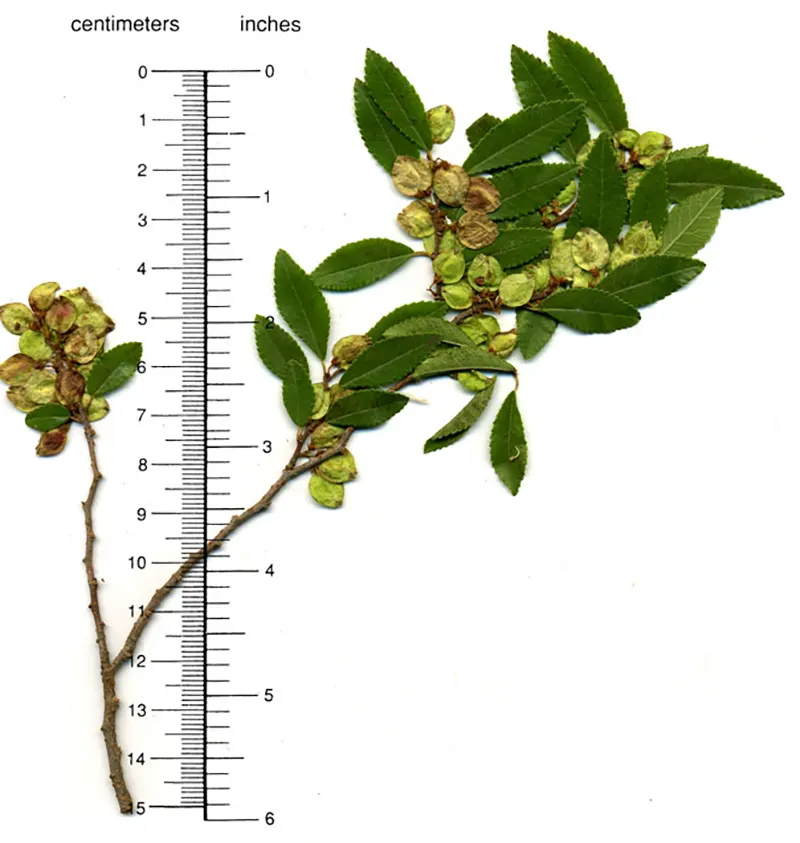 Image source
How Fast Do Chinese Elm Trees Grow?
In the wild, Chinese Elm trees grow about 1 to 3 feet per year. Of course, you'll be growing yours as a bonsai in a pot, but that doesn't slow down the growth rate much. You'll spend most of your summer trimming the foliage with how quickly the leaves and branches shoot out. That's another reason why people love them so much, as it gives them ample time on maintenance in the warmer seasons.
Where Do Chinese Elm Trees Grow?
The Chinese elm is native to Japan, India, Korea, Vietnam, and, of course, China. That doesn't mean you can't find it in other locations. Due to the love for this tree, you can find it in many central and western continents, such as Europe, the UK, the US, and Africa. As long as there are tropical climates in spring and summer, your Chinese elm bonsai will thrive and produce flowers. 
Of course, when your Chinese elm tree blooms depends on the conditions where it's growing. If it doesn't get enough sunlight during the day or it's still too young,  you may not see any flowers.
How Tall Do Chinese Elm Trees Grow?
A Chinese elm tree in nature can easily grow up to 80 feet tall. As a bonsai tree, it will only grow as high as you allow it. There are many enthusiasts that let them develop quite tall to show off the foliage, while you can even grow it as a Shohin, which is something I am personally doing at the moment. That means not allowing it to go higher than 2 – 3 inches.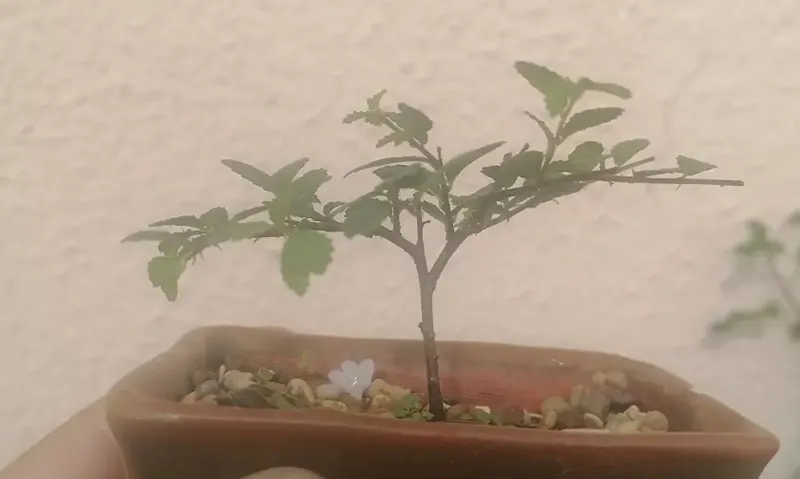 My personal shohin Chinese elm only 1 inch tall
Five Reasons Why People Love the Chinese Elm Bonsai
Before I end this article on when do Chinese elm trees bloom, I want to quickly give you a rundown on why people love this bonsai so much. Personally, mine has given me so much joy, but I have yet to see flowers due to how young it is.
Here are the top five reasons why people love the Chinese elm bonsai:
Good for beginners

: It's easy to care for, and even the maintenance isn't that challenging. 

Stunning foliage and curves

: The Chinese elm has an air of grace about it, providing a wonderful opportunity for various bonsai styles

Easy to train

: You won't have difficulty shaping this bonsai tree. The young branches are malleable and easy to change direction, and it does well with wiring.

Dense foliage

: For most of the year, you'll have thick foliage with green leaves. While you may see some turn brown and drop in the last parts of winter, it's just preparing for the spring ahead.

Indoor and outdoor

: You can keep your Chinese elm indoor and outdoor. It prefers being outdoor in the warmer months, where it can grab sunlight for most of the day, but you can also keep it inside as long as there's direct sunlight. I prefer to keep mine outside from spring to autumn while bringing it inside for winter.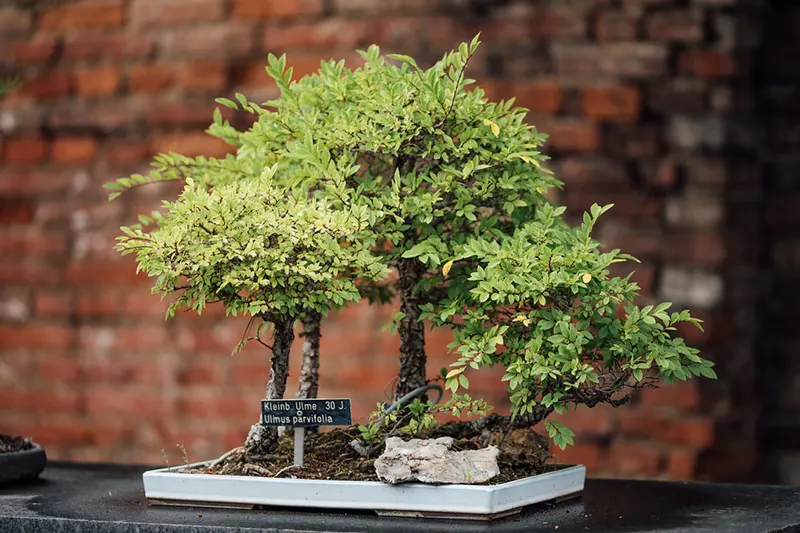 Image source
Final Thoughts on Chinese Elm Tree Blooming Time
I hope you can tell just how much I love my Chinese elm bonsai. I bought my Catlin variant two years ago and have yet to see the first flowers appear, but I suspect it may happen next year sometime. Also, developing the shohin was interesting, but keeping the foliage down is an exciting challenge.
If you don't see your Chinese elm tree blooming, don't stress. They take a few years to become used to the new environment, and you usually only see them when the tree matures. I would love to see if you managed to get flowers on your bonsai and if they developed into samarian fruit. Please go ahead and share photos and tell me about your epic journey.