How To Grow Plum From Seed in 4 Easy Steps
Plum trees are ideal for growing if you enjoy the fruit or want a strong, large tree. The tree can easily grow to a height of 16 feet. It's time to grab that pit you've been keeping and wonder if it'll grow and plant it, as it's time to learn how to grow plum from seed.
In this guide, we'll walk you through the steps for growing one of these gorgeous trees from its seed. From pit to pot and beyond, we'll explain when and where to plant it throughout the tree's lifetime.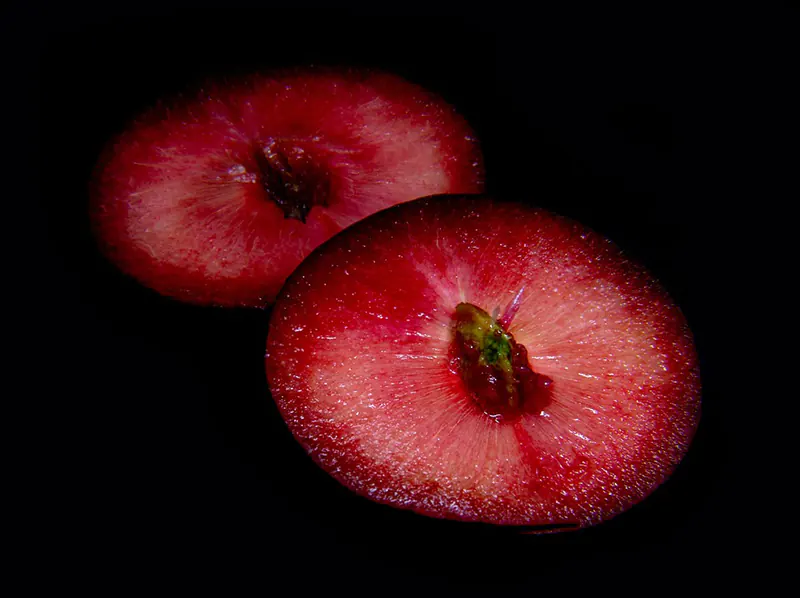 Picking The Right Pit
Deciding what tree to grow is easy; picking the right pit from a plum can be a bit more challenging. A self-fertilizing plum pit is one of the best options available; however, it may be hard to identify without Google. If the plum you're eating has great taste and is of high quality, it'll most often grow into a strong and tasty fruit-bearing tree.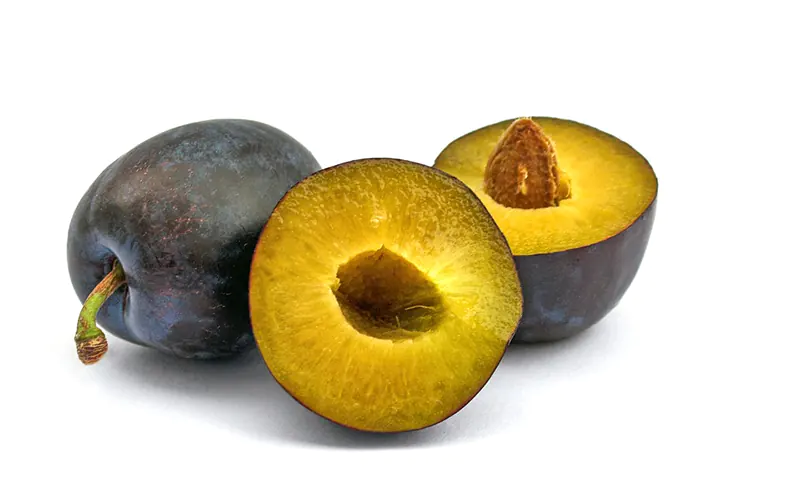 How To Grow Plum From Seed
Growing your own plum sapling is easy; it just takes a little bit of your time. Maybe a lot of time if you have a busy lifestyle. However, with a little care and attention each day, you'll soon have your own full-sized plum tree ready to produce fruit.
Step 1: The Pits
Placing your pits in a bowl of water is a great way to sort the good seeds from the bad ones. This method works with almost any fruit pit, as any damage or air bubbles that affect growth will cause the seed to float.
Dry the pit and place it in a small sealable bag with some compost. Keep this bag in your refrigerator, with an average temperature of 40°F. After six to eight weeks, it's time to remove the bag and prepare for planting. After five weeks, you need to check the pit for cracks and sprouting; once this occurs, it's time to remove it from the fridge.
Step 2: Prepare And Plant
Prepare your soil by combining compost with soil in a 1:2 ratio. Prepare this mixture approximately a week before planting the pit. If you're halfway into week five and see no cracks, it's time to start preparing the soil for planting. 
Plant your plum pit four inches below the soil's surface. Place a layer of breathable cloth over the soil layer until the sapling begins to sprout. This cloth will help keep the pit safe from birds and animals digging it up.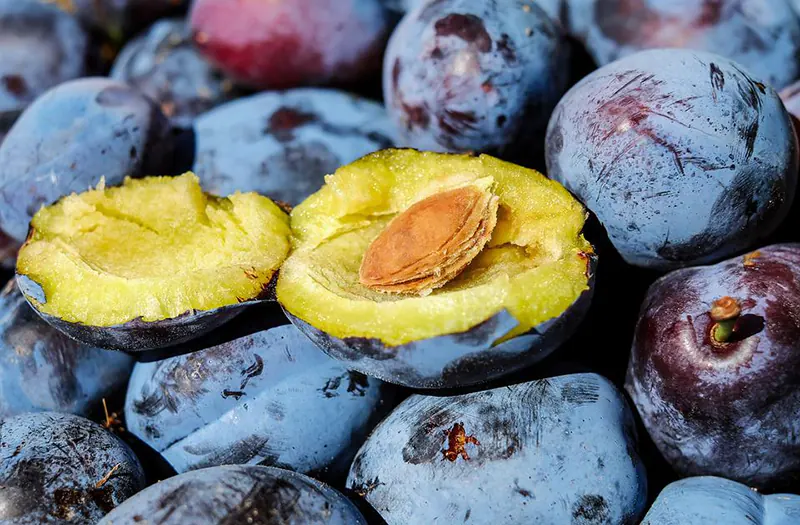 Step 3: Transplant The Tree
After a year, the sapling should be large enough to move to a new location. This new location can be permanent or temporary as the plum tree grows. Spring is the best season for this transplanting, as the sapling and its roots will recover quicker.
If this area is permanent, ensure the sapling is planted in a place you can protect from frost. If you're unsure about the location, use a large pot for the transplant, as you can move it around and shelter it during winter. Your plum tree will grow best in a well-lit area with good air circulation.
Step 4: Care And Time
The tree will be large enough for most plum varieties to bear fruit within three years. Full fruit-bearing capacity occurs in the fifth year. To help the tree grow, use high nitrogen fertilizer during spring. Use wood chips or sawdust as mulch for the tree.
During the years of growth, ensure your plum tree receives plenty of sunlight and water. Water your plum tree as needed, but do not let the soil from a water puddle. Your plums are ready to be picked once they are soft to the touch but still firm when large amounts of pressure are applied.
Plum Tree Pros And Cons
Here we'll explain the benefits and reasons you should grow your own plum tree for its pit. However, we'll also explain why you may want to consider a different tree and if there are ways to handle these disadvantages.
Pros
Great sapling for

beginner gardeners

to start growing.

The tree is

hardy

and requires minimal maintenance once grown.

Produces

large crops of fruit

once fully grown and fruit-bearing after five years.

Pest resistant

, but not immune. While it's unlikely pests will infest the tree, it's still possible if the

proper care

isn't taken.
Cons
Due to

pollination

, your plums

may not be the same

as the ones from which you grew the sapling. Commercial farms use rootstock to achieve the best plums through a selective process. Pollination will affect the tree you grow; how much we cannot say.

Pest

and

disease can overwhelm

the tree, even though most varieties are pest resistant. Keep a careful eye on your tree for any insects or wilting leaves. While there are multiple reasons the tree can get sick, misting its leaves is a great way to keep many pets away.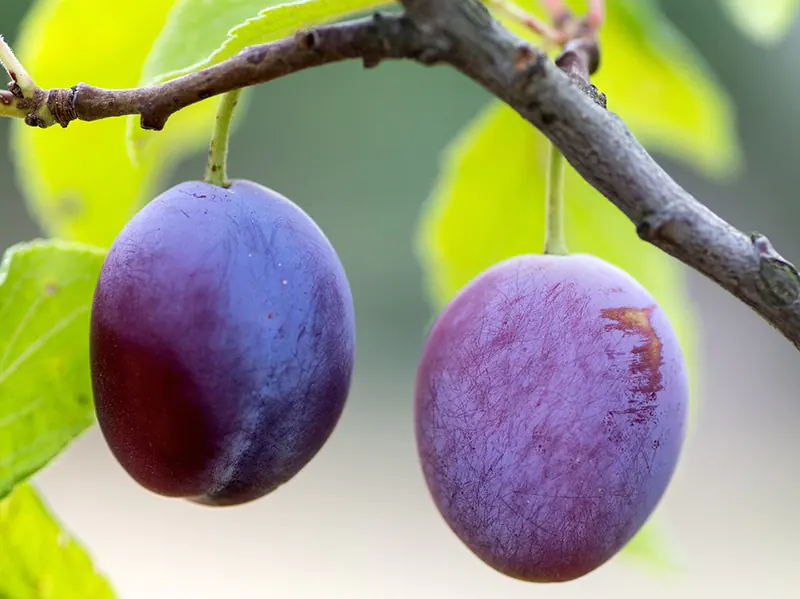 Alternative Growing
While a full-sized tree outdoors is great, let's explore alternative methods for growing your plum tree. While almost any tree is capable of being raised as a bonsai, it may not survive if grown exclusively indoors.
Bonsai
A wide variety of plums can be grown as bonsai from their seed. The process until sprouting for this is the same. However, as the sapling grows, you'll need to give it much more attention. 
Bonsais are grown by controlling the nutrients and shape of the tree. As the plum pit grows and sprouts, you'll want to follow the correct steps for propagating a bonsai and how to shape it.
For more guidance, check our detailed bonsai tree care guide.
Indoors
While possible, you won't be able to grow a plum tree indoors permanently. Eventually, the tree will grow too large and need to be moved to a permanent location outside. However, until then, the tree can be kept in a large pot by a sun-facing window. This window should be open when possible to provide good air circulation.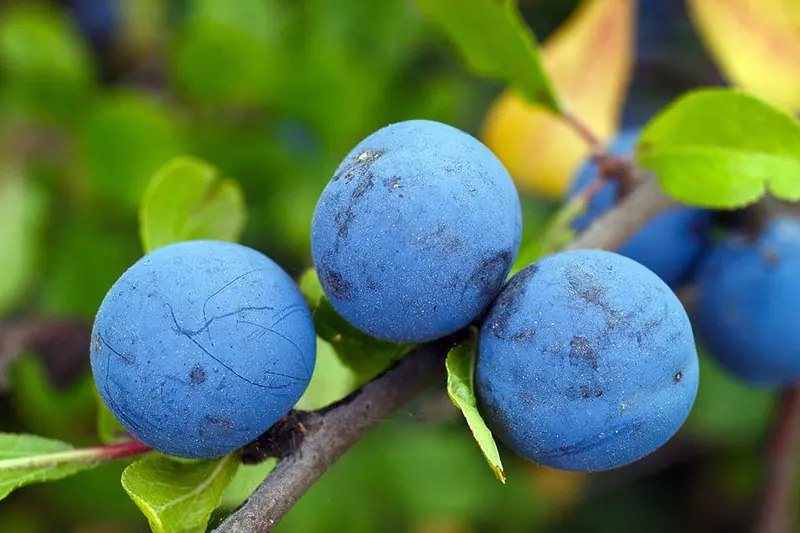 Pudding And Plums
As we've explained in this guide to growing a plum tree, growing saplings isn't hard, but it is time-consuming. During the six weeks in the refrigerator, you may change your mind about plum species or which tree to grow. If you keep interested and grow your sapling following this guide, it may bloom just in time to make plum pudding.