How To Propagate An Umbrella Plant
The umbrella plant, also known as a Schefflera, is a commonly grown potted plant. As the species survives well in low-sunlight environments, it's ideal for growth in apartments and smaller spaces. 
In this guide, we'll walk you through two ways to propagate an umbrella plant. Both methods require cuttings and produce a genetically similar tree to the one pruned initially.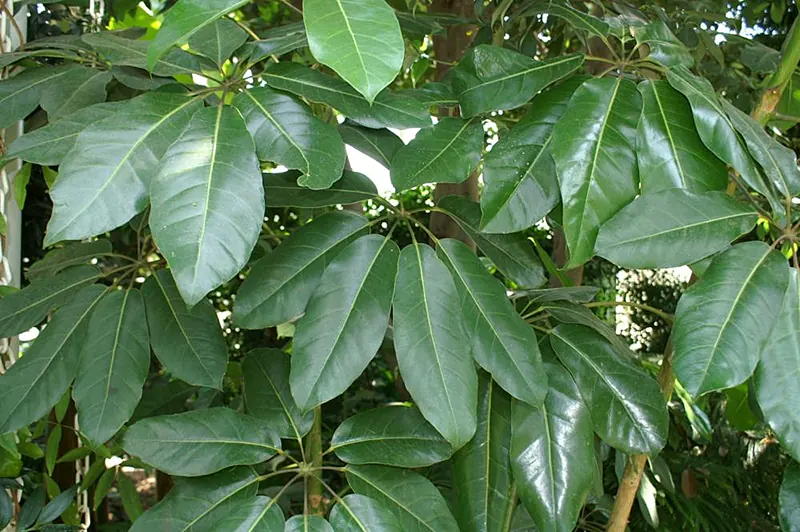 Image source
What Is An Umbrella Plant?
There are two main species of Schefflera: the umbrella plant (Schefflera actinophylla) and dwarf Schefflera (Schefflera arboricola). While these are the same tree in many ways, the umbrella plant is often more prominent in size. 
Additionally, umbrella plant is a broad term referring to multiple varieties of trees or shrubs. Fortunately, the same methods will help grow your cutting if you're here for others. 
How To Propagate Umbrella Plant Cuttings
Here we'll explain how to propagate and grow an umbrella plant with cuttings through two different methods. The first method places the cutting directly into the soil and is suitable if you don't have time to watch the tree constantly. Alternatively, placing the stem in water will encourage more rapid root growth.
Step 1: Clean Cuttings
Before you plant a cutting, you need to have one first. Stems of four to six inches in length work best. If you're pruning your own umbrella tree, cut as close to the stem as possible. Trim the leaves to a single set to lessen stress and moisture loss. 
Before pruning, you need to ensure your tools are sharp and clean. An unclean pair of pruning shears can leave your plants vulnerable to disease or infection. Once you've made a cutting, place it with its end in a damp paper towel or cloth to retain moisture.
Step 2: Direct To Soil
Begin by preparing a small pot with damp soil, ensuring there are no dry areas by mixing the dirt within the pot. Once ready, poke a small hole around one inch deep into the soil. Place your cutting into this hole with the pruned part inserted.
Water the soil and pack it around the stem to help hold it up. Watering the soil and maintaining dampness during the first few weeks is essential for root development. Should the tree lose too much moisture, your cutting may not propagate. As such, trimming the leaves in half may help reduce moisture loss.
Step 3: Water-Grown Roots
Growing your roots before planting can be a great way to ensure minimal moisture loss during the plant's early life. Prepare a jar or vase of water, placing your cuttings into it with the pruned piece submerged in water. You'll need to watch the container for a few days, waiting until the roots are adequately developed.
An alternative to this method is to place the ends of the cuttings in a damp paper towel and wrap them up, keeping the moisture constant. You'll need to apply water daily, but this method will help root development before planting.
Once the roots are developed, planting the stem is much like the second step. Prepare damp soil that is well mixed within a small pot. Plant the cutting deep within the soil and lightly pack it to keep the tree upright. Water to maintain soil dampness during the first few weeks to encourage growth.
Step 4: First Potting And Beyond
After your cuttings are in a pot, you'll want to find a location that receives a little sunlight daily. While the tree doesn't require a lot of light, it still needs indirect sunlight and, if possible, some direct sunlight each day. 
Watering the tree is easy and infrequent, requiring water only when the top soil dries out. Standard fertilizer that's slightly diluted works excellent if your umbrella plant needs a boost. However, fertilizer isn't required for a healthy tree.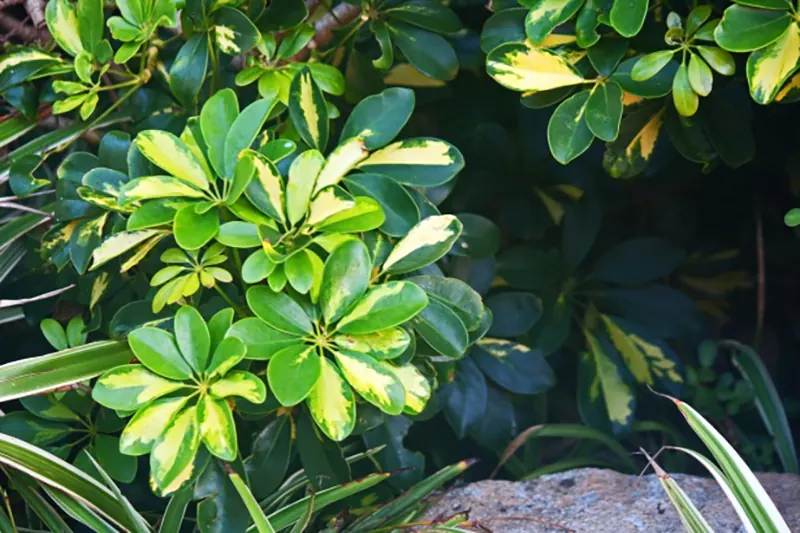 Why Grow An Umbrella Plant?
Not all plants grow well in low-light areas, where they don't receive hours of sunlight each day. The umbrella plant is a great way to add some leafy greens around an apartment, flat, or closed space. 
Take your grown umbrella plant into your work office, as the species cleans the air around itself and requires little maintenance. Water it as needed, and you'll have a homier office space within no time.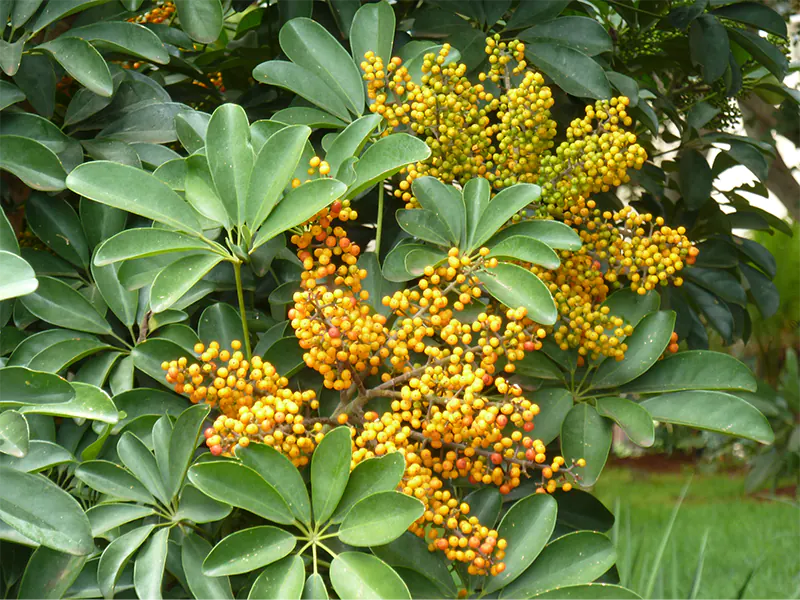 Image source
Greenery Around The Home
Umbrella plants are gorgeous to grow around the home. The Umbrella Schefflera is easy to maintain and, while time-consuming, is relatively simple to propagate in water or directly in the soil. Once you have a grown tree, making a new one to place around your home is as simple as repeating the process.