How To Set Up An Indoor Greenhouse For Your Bonsai Trees
An indoor greenhouse is a great way to grow almost any bonsai tree, especially the ones that thrive when grown in sheltered areas. While the concept of setting one of these greenhouses up inside may seem complex, it's relatively simple. We'll walk you through the hows, whys, and whats of creating your own indoor bonsai tree greenhouse.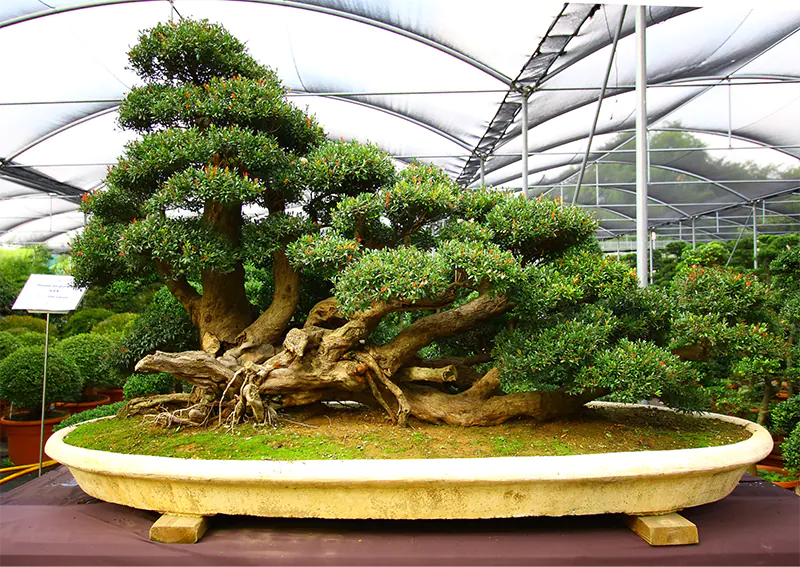 Image source
What Is An Indoor Greenhouse?
An indoor greenhouse is, generally, a small-scale greenhouse or growing enclosure you can set up inside your house or apartment. While various designs and setups are available, from pre-bought to DIY, many have multiple shelves to help compactly store and grow plants or bonsai trees.
Why Do I Need An Indoor Greenhouse For My Bonsai?
An indoor greenhouse is always an optional step in growing your bonsai trees; however, it's practical. From helping you care for your plants more quickly to growing an exotic tree throughout the year, an indoor greenhouse is a handy tool. 
Easy Care
Setting up an indoor greenhouse makes caring for your bonsai trees much simpler. The setup allows you to ensure each tree gets enough sunlight without constantly moving the tree from location to location. 
Grow Trees All Year Round
Having any greenhouse presents the option to grow plants in a controlled climate regardless of the weather or season. An indoor greenhouse offers a great way to grow bonsai trees that aren't indigenous to your location. You can regulate the humidity and temperature within your indoor greenhouse far more effortlessly than simply growing the tree inside your home.
Protects Your Bonsai
An indoor greenhouse keeps your bonsais close together and sheltered. If there's snow or hail or any other damaging weather, none of it will reach your tree. A well-built indoor greenhouse can also protect your bonsai trees from pests.
Ideal For Any Location
Using an indoor greenhouse is easy and convenient as you can set it up almost anywhere. It helps beautify your living space, occupies a minimal area, and is easy to move around your home.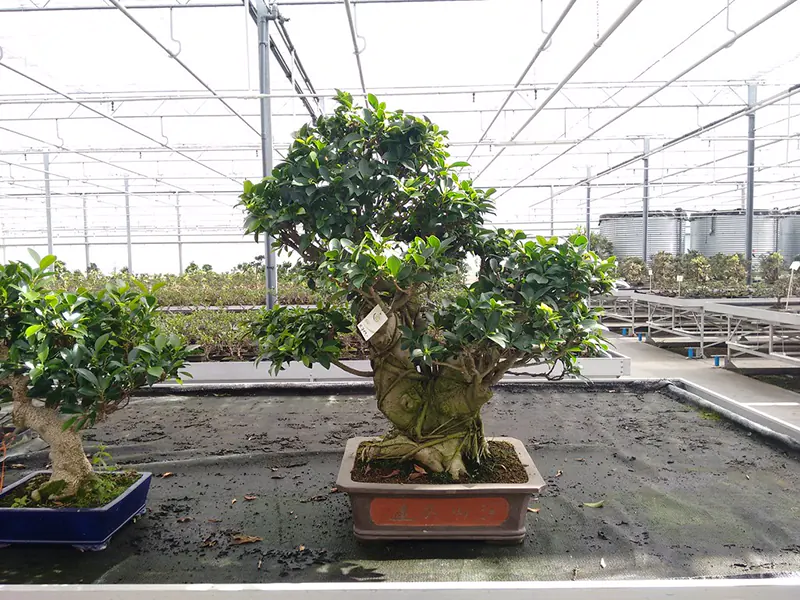 Image source
What Do I Need To Set Up A DIY Indoor Greenhouse?
What you'll need to build your own indoor greenhouse varies entirely by the size and shape of the indoor greenhouse you build. 
Your Frame
The frame is your biggest concern when it comes to strength and stability. 
Wood
Wood is strong, easy to build with, and gorgeous when used right. However, due to the nature of wood, you'll need to ensure it is properly coated and sealed to prevent damage or warping caused by humidity. It's a great material, but if not treated for humidity can rot and damage your trees.
PVC Piping
PVC pies are an easy way to build a structure from store-bought parts quickly. You may need proper planning and a small saw and file to get the sizing right. However, PVC is the most vulnerable to heat and weight. We don't advise using this material if you create a tiered shelf or plan on using a heat lamp.
Steel
Using galvanized steel is a great way to build a sturdy tiered structure. However, working with steel will require more effort and tools to get it into the shape you want. 
Covering
Your covering will regulate moisture and climate by sealing your trees inside the greenhouse. 
Glass
Glass is an excellent material for covering your bonsai trees in the greenhouse. It's sturdy and highly transparent. Glass is easily cleaned and maintained.
Fiberglass
Similar to glass and exceptionally durable, fiberglass is another ideal option to use when making an indoor greenhouse. Ensure you use UV protection with this material, as it will slowly turn yellow due to sunlight damage.
Plastic Sheeting
Plastic sheeting is an easy way to cover your greenhouse; however, it's more practical than pretty. The benefit of plastic sheets is the availability of colors, often white, green, or transparent. This material is the easiest to replace and set up but damages easily.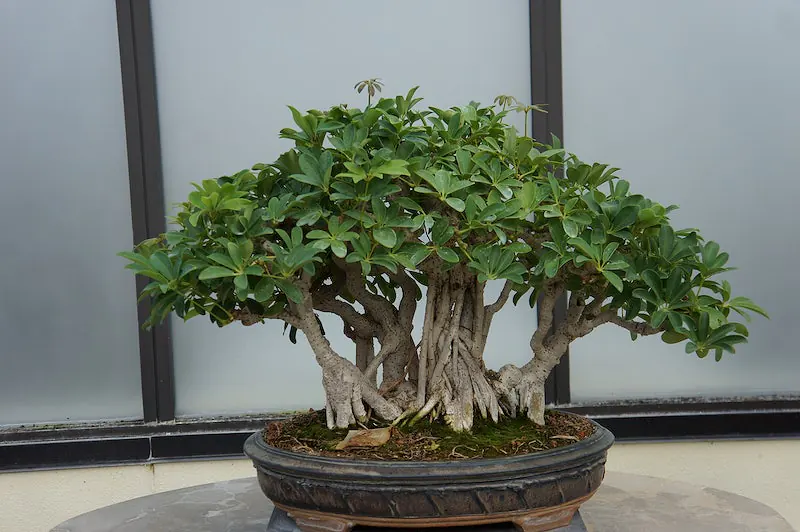 Tips For Building Your Own Indoor Greenhouse
Building an indoor greenhouse yourself is a massive project but can be way more rewarding than purchasing one already made.
Plan Your Spacing
Take the time to find the place you want to set your indoor greenhouse up and measure it. If you're building a tiered shelf, check your area's height. If you're building a small bonsai enclosure, check that it'll fit on your table and hold the bonsai pot.
Use A Professional When Needed
Don't be afraid to see a professional or get help if this is your first DIY project. Ask for advice at the hardware store if you need to. No one is an expert craftsman overnight. Working with steel can be incredibly challenging if you pursue a complicated design.
Options Available Online
Here are our top three picks from Amazon if you want a premade indoor greenhouse.
This option is excellent for a multi-tiered shelf greenhouse on wheels if you want to grow multiple bonsai trees indoors. If you want to move the unit around or keep it in one area, the locking wheels are a great way to manage it. Having four tiers offers a great variety of space.
This greenhouse is a three-tiered unit that can handle multiple bonsai trees, from small to tall. The greenhouse comes with a grow light, a small light that helps plants grow in any room without taking away from their daily light needs. This greenhouse also has a temperature and humidity sensor to help regulate the inside climate.
A smaller option that will hold a small bonsai tree, this indoor greenhouse is easy to clean and opens from the top. While not as sophisticated as many other options, you can open the top vents to help regulate the temperature within the greenhouse.
A Perfect Place To Grow
Having an indoor greenhouse is the ideal place to grow a bonsai tree and one of the coolest ways to show off your bonsai collection. An indoor greenhouse isn't for everyone, but if you plan to grow and propagate multiple trees, it's worth having in your house. Whether it's growing a tree indoors year-round or sheltering it during a cold winter, it's one project worth doing for the enthusiast.
Image source
FAQ About Indoor Greenhouses
Here are the four most commonly asked questions about greenhouses and growing bonsai trees inside. We answer whether greenhouses are needed, if a bonsai can grow indoors, the daily amount of light trees needed when inside, and if you genuinely need a greenhouse.