Osakazuki Japanese Maple Bonsai Care
The Osakazuki Japanese maple tree is a gorgeous and easy-to-grow bonsai. Whether you've owned a bonsai tree before or chose this species as your first pot-child, we'll walk you through the dos and don'ts for this delicate plant. 
One of the essential aspects of caring for your bonsai, especially any of the Japanese maple species, is a keen eye. Watering and infections are two of the most important aspects to remember when growing an Osakazuki.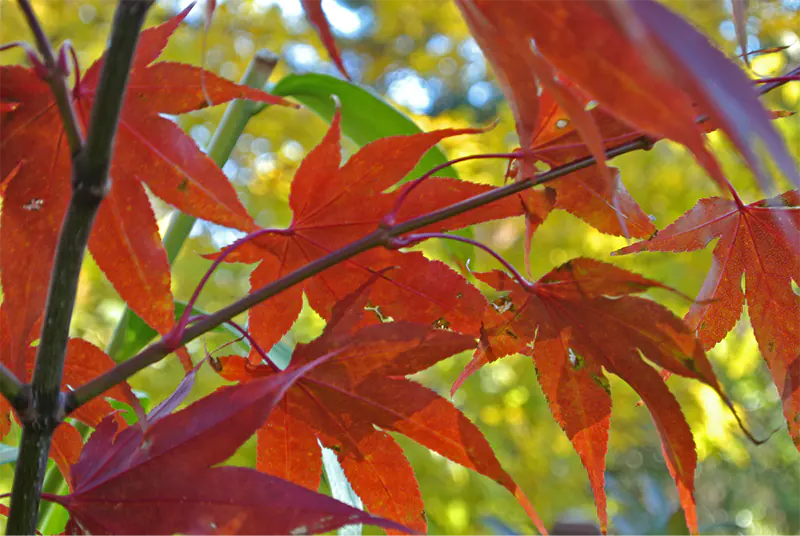 Here's what you'll find while reading our Osakazuki Japanese Maple bonsai species guide:
Here's what you'll find while reading our Osakazuki Japanese Maple bonsai species guide:
Quick Osakazuki Japanese Maple Bonsai Care Sheet
Through this quick overview, you can refer back to information discussed further in the article without scrolling or reading a lot. Additionally, this table is a handy tool if you're only looking for a quick reference.
| | |
| --- | --- |
| Recommended soil | Akadama mixture |
| Watering | Daily |
| Potting season | Every second year |
| Shaping and pruning season | During autumn, preferably only every second year. |
| Light | Full day of sunlight, partial shade. |
| Fertilizing | Organic fertilizer that has a low nitrogen content. |
| Propagation methods | Seeds, cuttings, air layering. Best done during autumn. |
| Pests and diseases | Verticillium wilt and aphids. |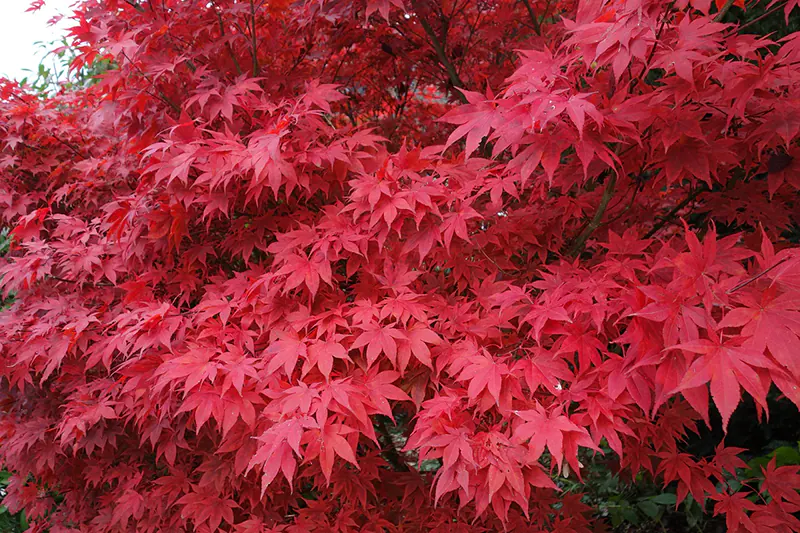 How to Care for an Osakazuki Japanese Maple Bonsai
Caring for your Osakazuki Japanese maple is a breeze, though not always a gentle one. Most of the tree's needs are simple; however, areas such as repotting and pruning require careful attention if you don't want to harm the bonsai.
Best Soil 
The best soil type available for the Osakazuki is an akadama mixture with added lava rocks and pumice. This selection will retain more moisture and nutrients, slowly feeding them to the roots. However, while keeping moisture, the tree won't suffer damaged roots due to the soil still draining at a reasonable speed.
Alternatively, regular bonsai soil that drains well is a great option for this tree. 
Watering 
Water your Osakazuki Japanese maple bonsai tree once every day. During warmer seasons, you may need to water the bonsai on a more regular occurrence. Once you start watering the tree more frequently, it's important to always check the soil's moisture. Watering too much will lead to root damage that can severely harm the bonsai.
Repotting 
Repot the Osakazuki every second year, cleaning the pot and pruning roots as you do so. By trimming the tree's roots every two years, you'll limit its growth and help it maintain its small stature. Additionally, as the roots tend to fill up a pot, it helps keep the tree healthy and growing.
A thin stick such as a pencil or toothpick will work to untangle the tree's roots. This step is essential for clean cuts. Avoiding infection on your tree's roots is a must, especially as this species is prone to infections.
Shaping And Pruning 
Shaping and pruning should be done no more than once every two years. Autumn is the best season once you're ready to trim the tree. Additionally, be careful when cutting larger branches as this may lead to an infection if a cut paste isn't used.
Location And Sunlight 
Full sunlight is advised for the Osakazuki Japanese maple; however, this isn't always possible or ideal. During warmer seasons, the leaves are prone to damage in the afternoon sunlight. We recommend that the tree receive more morning sunlight and afternoon shade where possible.
Fertilizing 
The best fertilizer for your bonsai is a solid organic option. This selection should be low in nitrogen, as the element will cause your leaves to grow more rapidly and need more frequent pruning. Add in a liquid fertilizer once a week for a stronger effect, only if your tree is already healthy.
Propagation Methods  
Using seeds or cuttings is a great way to propagate a new Osakazuki Japanese maple bonsai. Additionally, air-layering is a viable method for growing the new tree. However, all of these methods work best when begun during autumn.
Pests And Diseases 
Aphids and infections are the most common pests and diseases you'll encounter while growing this bonsai. Aphids are easily managed with frequent misting and regular insecticide. Keeping a close watch and using fertilizer will help your bonsai survive almost any infection, including verticillium wilt. Ensure you trim away afflicted areas.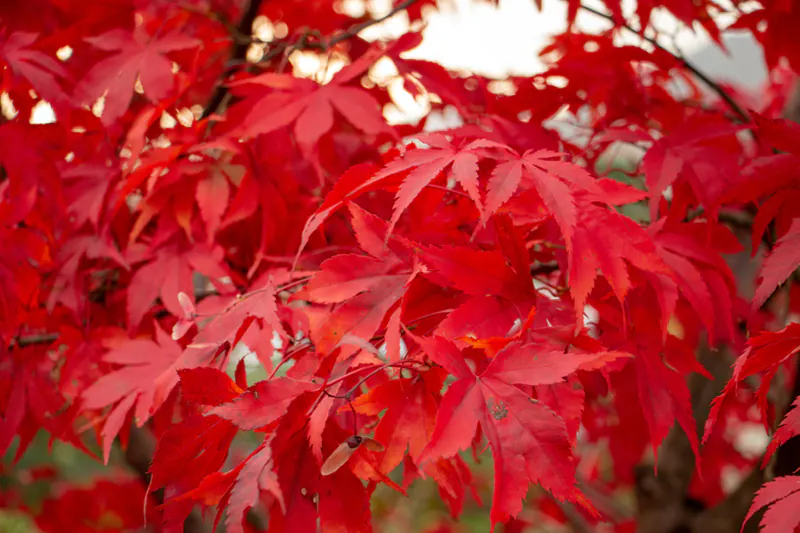 Considerations for Growing an Indoor Osakazuki Japanese Maple 
When growing the Osakazuki indoors, you have very few worries. However, placement and infections are concerns you should stay aware of, even while the tree thrives.
Sunlight
A full day of sun is advised for your Osakazuki Japanese maple bonsai. You'll need to find a location with a sun-facing window if you want to grow this bonsai tree indoors. Morning sun is preferred, as afternoon sunlight during warmer seasons can cause damage to your tree's foliage.
Infections
Infections are a hassle to deal with, especially verticillium wilt. However, while incurable, you can care for your bonsai and nurture it back to health. Trim away the infected area, ensuring your tools are clean when doing so. Use fertilizer to add extra nourishment to boost the bonsai's health.
Common Issues When Caring For an Osakazuki Japanese Maple Bonsai 
When growing your Osakazuki Japanese maple, you're likely to run into a few complications. One of the most common issues is repotting, especially when you neglect repotting your bonsai.
Repotting
The Osakazuki's roots grow rapidly, often filling their pot or container within two years. This speed is frightening, as it will affect the nutrients received for your bonsai. Forgetting to report can lead to serious damage to your Osakazuki maple bonsai.


FAQs about Osakazuki Japanese Maple Bonsai
Here are several frequently asked questions about the Osakazuki Japanese maple and how to care for it. These answers cover how to care for your bonsai, indoor growing, sunlight, and how difficult it is to keep an Osakazuki alive.