Flame Tree Bonsai Care Instructions Delonix regia
Many species are referred to as a 'Flame Tree' bonsai, mostly due to their bright red flowers or leaves. In this case, we're discussing Delonix regia, which is popular among bonsai enthusiasts worldwide. It's an ornamental tree that's found in most tropical countries, but it's endemic in Madagascar.
You'll need to know the specific requirements for keeping this Flame Tree bonsai alive. While it's not overly challenging to maintain, it's better to get the conditions right if you want it to thrive.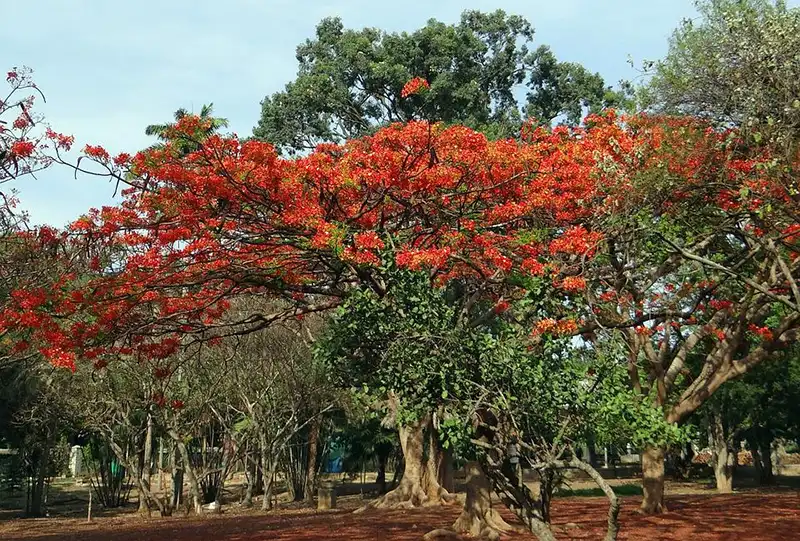 Quick Flame Tree Bonsai Care Sheet
We don't want you to spend too much time reading the entire Flame Tree Bonsai guide if you're in a hurry, so here's a quick care sheet below.
Standard bonsai soil mix, pH between 4.5 and 7.5
Thoroughly in summer and spring, while less in autumn and winter
Early spring, every year or second year
Shaping and pruning season
Hard prune in spring, trim in summer, remove excess stems in winter
Direct sunlight, protected from wind and cold
Liquid food weekly, solid food monthly in spring and summer
Scales, shoot borers, caterpillars, root rot
Grows vigorously in spring and summer so will need plenty of maintenance; roots also grow quickly
Formal and informal upright, semi-cascading, literati
Scientific Classification
Kingdom:    

Plantae

Clade:         

Angiosperms

Division:     

Eudicots

Class:         

Rosids

Order:         

Fabales

Family:        

Fabaceae

Sub-Family:

Caesalpinioideae

Genus:        

Delonix

Species:     

D. regia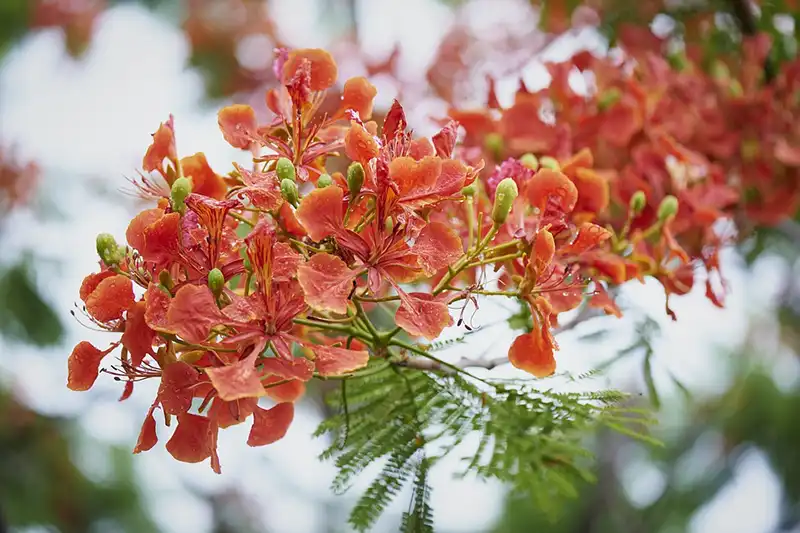 How to Care for a Flame Tree Bonsai
With the preliminaries out the way, welcome to our extensive care guide for the Flame Tree bonsai. We have a general bonsai tree care guide you can also check out, but these points below will help with the finer details of the species. They'll ensure you give it the proper love it needs.
Best Soil
As long as you have a standard bonsai mix from your local plant store, the Flaming Tree bonsai will do well. Since it loves water in the warmer months, you'll need to ensure that there's sufficient drainage. You can add pumice or perlite at the base of the pot to help if the moisture seems to rest too long in the soil.
For the best results, aim for soil that's between 4.5 and 7.5 pH, which is slightly acidic. There should also be a good NPK balance (nitrogen, phosphorous, potassium), but there's no issue if you have a higher nitrogen level. It will assist in the development of the leaves.
Watering
Spring and summer cause the Flame Tree bonsai to become overly thirsty, as it drinks a lot while growing. Yes, it can handle a small drought period, but we don't recommend letting it become dry too many times. Water it daily in the hot months but make sure the water drains well to prevent root rot.
When autumn arrives, you can water less. You'll need to check how dry the soil is with your finger before supplying more moisture. In winter, the leaves will begin to fall from the deciduous tree, which is a sign you need to almost stop watering completely or only when the soil is completely dry.
Repotting
Since the Flaming Tree bonsai has roots that grow quickly in one year, you'll have to repot annually. If you have a large bonsai pot with sufficient space, you may be able to get away with repotting it every second year. It's best to check the soil conditions to see if the roots have enough volume to grow without suffocating.
The best time to repot the Delonix regia is in early spring just as new life appears. You can also do so in late winter after the frost vanishes and you feel the temperature begin to rise. The bonsai will give you signs of new life, which is an indication that you need to start preparing new soil.
Shaping and Pruning
You'll have your hands full in spring when the new leaves appear. The Flame Tree bonsai develops quickly as soon as the warmth returns after a cold winter. We recommend some hard pruning at the start and middle of spring if you want to keep the tree's shape, especially the foliage.
Don't slow down the pruning in summer. However, you'll turn to trimming now as you only cut back on stems that grow too long and ruin the shape you're aiming for. In winter, you can work on the structure with some design pruning.
Location and Sunlight
The flame draws the sun, as we like to say. In other words, Delonix regia loves plenty of sunlight during the morning and afternoon. Place it in a location that's protected from the wind, as it may cause damage to the foliage.
The Flame bonsai tree doesn't like cold temperatures. If your region suffers from frost and a chilly climate, it's time to bring it inside and warm up the room if possible. The leaves will still fall, but you don't want the tree to die from excessive cold. Make sure to place it near a window for direct sunlight.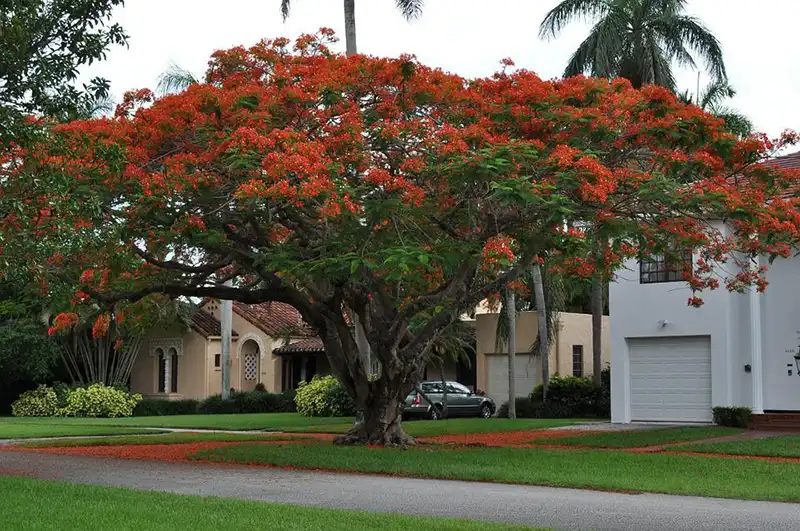 Fertilizing 
Even though you repot the Flame tree in new bonsai soil every year, you still need to supply fertilizer. It needs as much food as possible to supply the gorgeous green leaves and flaming red flowers. The trick is to increase nitrogen in spring for leaves and phosphorus in summer for flowers.
You have two options, and both work well. The first is a liquid fertilizer that you'll dilute in water and provide at least once a week. If you prefer a slow-release type, you can supply it to the soil once a month. However, due to how quickly Delonix regia grows, we recommend liquid fertilizer in spring and solid fertilizer in summer.
Propagation Methods 
While cuttings and air layering bonsai may work in some cases, you'll have a better success rate with seeds. The Flame Tree usually has viable seeds to grow into a bonsai, but you'll need to follow the process correctly to get them to germinate. As with most legume trees, the seeds hide inside pods that you'll need to crack open. 
Once you scarify the hard shell, you can plant the seed in moist soil. You can expect them to grow as quickly as the tree, as they love to develop fast. As soon as you have a 2 week seedling, move it into a new pot and place it outside with a bag over it to retain humidity.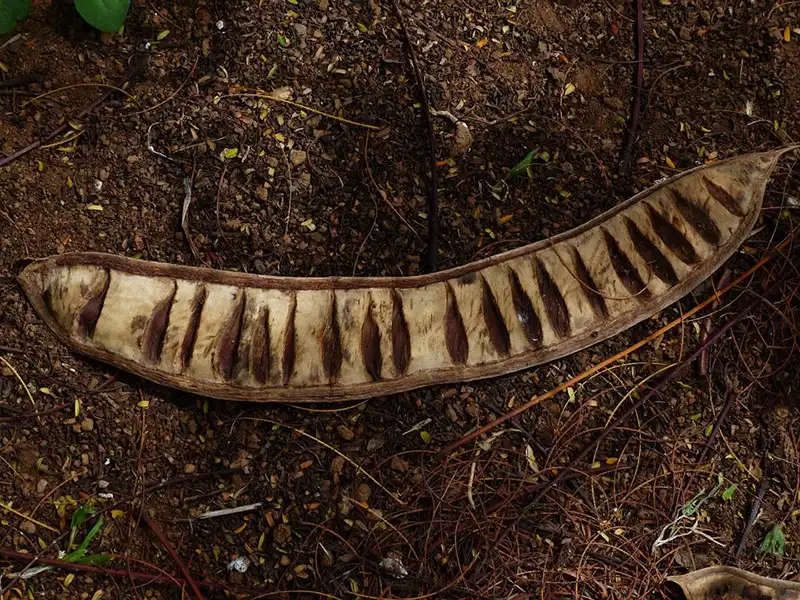 Pests and Diseases
There aren't many pests that bother the Flame Tree bonsai. For the most part, you may find scales on the leaves and bark. If you don't mind wearing gloves and removing them, you can pick them off. Should there be too many, you may need to invest in a pesticide. Some other issues you may encounter are caterpillars, shoot borers, and root rot.
Growth Patterns
As mentioned before, Delonix regia grows quickly. Spring sees new leaves all over the place, which you'll need to manage if you want to retain the stunning shape you've developed so far. You can even let a runner grow on the side if you want to expand the foliage.
The roots develop just as fast, which causes you to repot into new soil more than most of the other different types of bonsais. The Flaming bonsai tree is ideal if you love spending time pruning and caring for the miniature landscape.
Recommended Styles
There are many bonsai styles you can use for the Flaming Tree bonsai. We recommend formal and informal styles, as they are more closely suited to the natural shapes you'll find in the wild. If you don't like being like everyone else, you can play around with literati bonsai styles.
Another option is training a cascade bonsai. The tree's wood and form don't really make a full cascade appealing, so you should aim for a semi-cascade that only lightly dips below the upper rim of the container. We don't recommend deadwood bonsai or bonsai forest styles, as they don't work well with Delonix regia.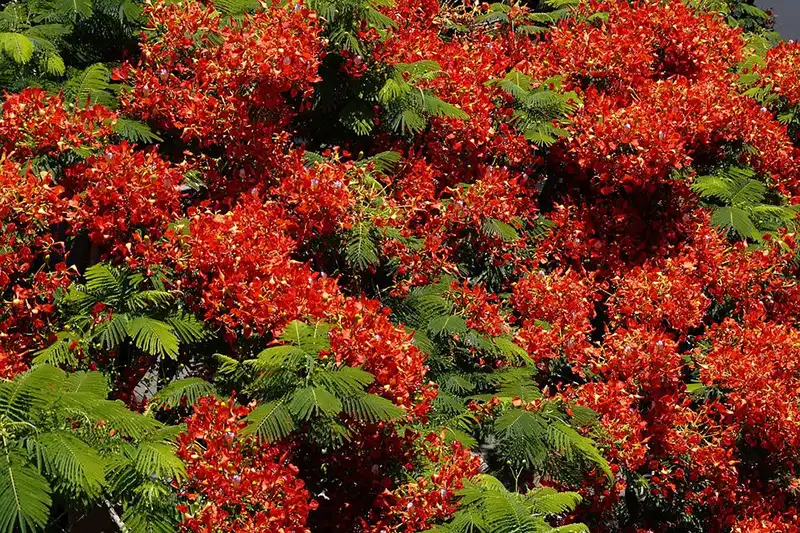 Considerations for Growing an Indoor Flame Tree Bonsai
In some situations, you may want to bring your Flame Tree bonsai inside, especially when it's cold or windy. In this case, there are some other considerations you'll need to take into account. Here are a few to guide you.
Supply as Much Light as Possible
Even with your bonsai inside, you'll have to ensure that there's enough sunlight reaching the leaves. It needs to continue with photosynthesis so that it can make food that assists with cell production. If there's not enough light, you won't see many flowers in the summer.
Your best option is to place it by a window that receives plenty of sunlight during the morning or day. Check on the leaves to see if they are burning from the effect of the window's glass. In this case, you can move it slightly away while still in sight of the light.
Keep Watering and Feeding at Optimal Levels
Just because you bring your Flaming Tree bonsai inside doesn't mean you need to slow down watering and feeding in spring and summer. You'll still need to keep them at optimal levels, so don't forget them while doing your daily chores. However, there are some key factors to keep in mind.
The one is dealing with the drainage of the water. You can't let it mess on your beloved carpets or hardwood floor. While many settle for a simple tray, you may want to invest in a humidity tray. While it certainly catches the water that drains out, the sun will evaporate the liquid to enhance the humidity around the foliage. You'll have a double benefit.
Humidity is King, but Watch for Diseases
The bonsai humidity tray is one solution to keep humidity levels high, and you can also use a spray bottle. However, it's not as successful, and the moisture only lingers in the air for so long. You have the option of buying a humidifier for the room, but that will use electricity.
The issue with increasing humidity inside a home is that you're creating an environment where fungi and mold thrive, especially where there's a lack of sunlight. You may start seeing powdery mildew on the leaves or the formation of fungi on the soil. To prevent this as much as possible, try to improve the light conditions and air circulation.
Use Leaves and Flowers as Signs
If the Delonix regia is unhappy, it has different ways of letting you now. The most significant sign of stress is that the leaves and flowers don't develop as well as they should. If you see low foliage production in spring and summer, take it as a warning that the Flaming Tree bonsai isn't happy with the indoor conditions.
Warm the Room If Necessary
Since the tree doesn't like extreme cold, you may need to find a way to warm the room or move the bonsai to a warmer location. Sure, it will still lose its leaves in winter, but you shouldn't be seeing any damage to the trunk or branches. It's helpful if you have a thermometer in your room to check when temperatures drop too low. The Flaming Tree bonsai can only handle low temps down to 50°F.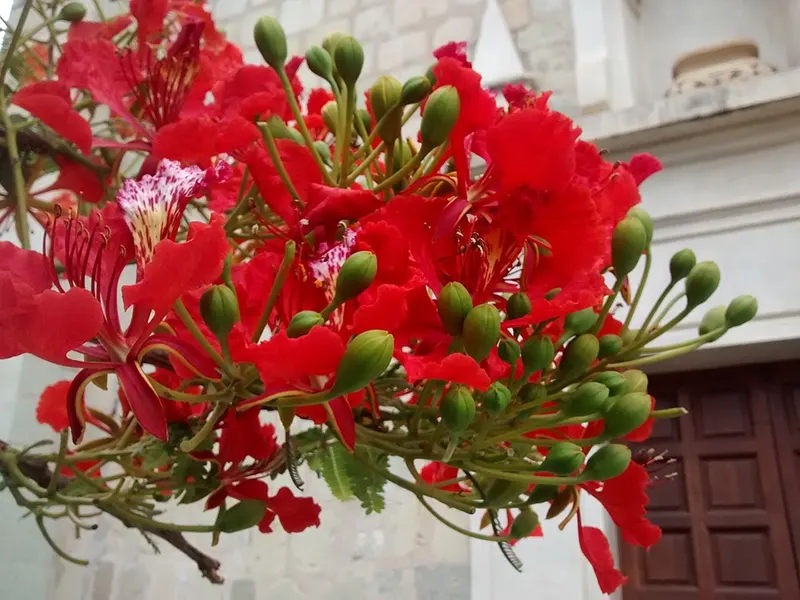 Final Thoughts on this Stunning Flaming Bonsai
As you can see, the Flame Tree bonsai isn't too challenging to care for, as long as you keep some factors in mind. It's a stunning specimen to keep in your home, especially when the flaming flowers appear in summer. Make sure you have the optimal display to impress your family.
FAQs about Flame Tree Bonsai
To end our care guide on a good note, we want to make sure we have all the bases covered. There are specific questions people always ask about Delonix regia, so our team has taken some time to supply some answers. If you need to know anything else, feel free to ask us in the comments.