The Bonsai Menu is Rising in Popularity
When you go to a top-class restaurant, the presentation of the meals is sometimes a big deal. While some opt for a basic layout, many have glamorous decorations and icons, making the dishes more appealing. While it's been around for a while, the bonsai menu is suddenly rising in popularity. 
No, we don't mean you'll have to eat branches and twigs. Most of the Japanese and American restaurants that have bonsai menus are either steakhouses or sushi dining areas. Let's take a look at what the term means and why it could suddenly be rising in popularity.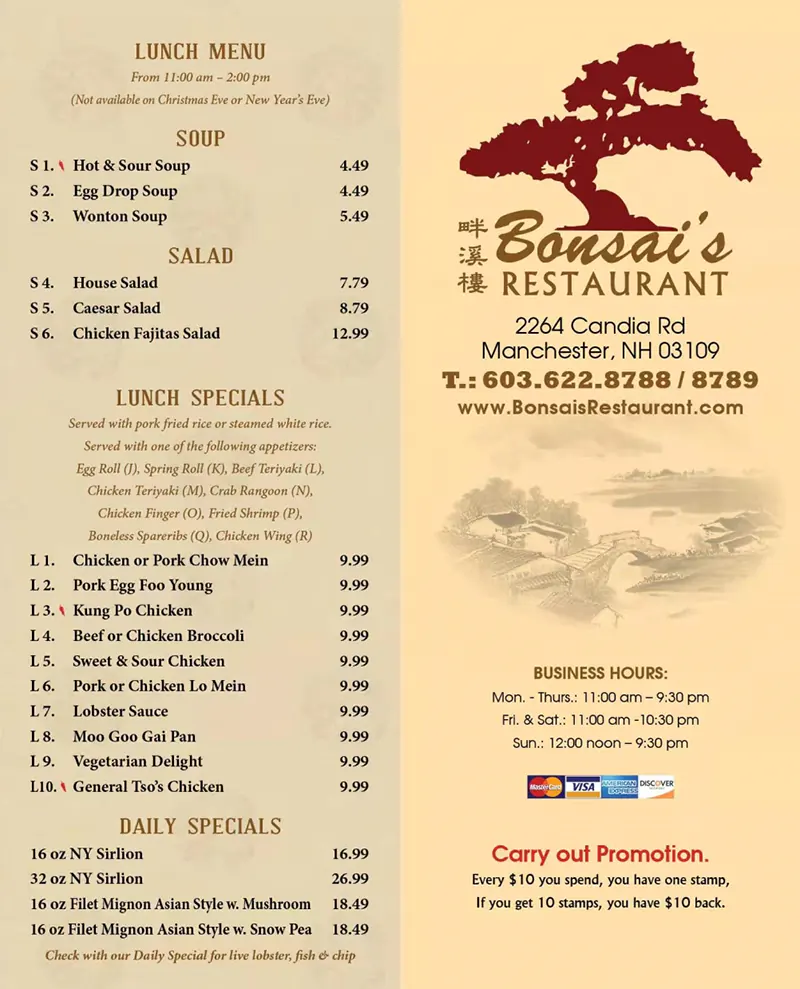 What is a bonsai menu?
A bonsai menu is a menu with standard dishes served at a restaurant and can include steaks, starters, sushi, fish, burgers, and other items. It doesn't necessarily offer food that has bonsai pieces in them, such as branches, needles, or flowers. Instead, it simply has a logo or images of bonsais on the menu to attract your attention.
There are a few restaurants in Japan that offer bonsai menus, but you'll also find Japanese diners in other countries with the same offering. The trend is slowly spreading to other cultures, though, as Japanese bonsai growers realize there's a better market for bonsais in European countries.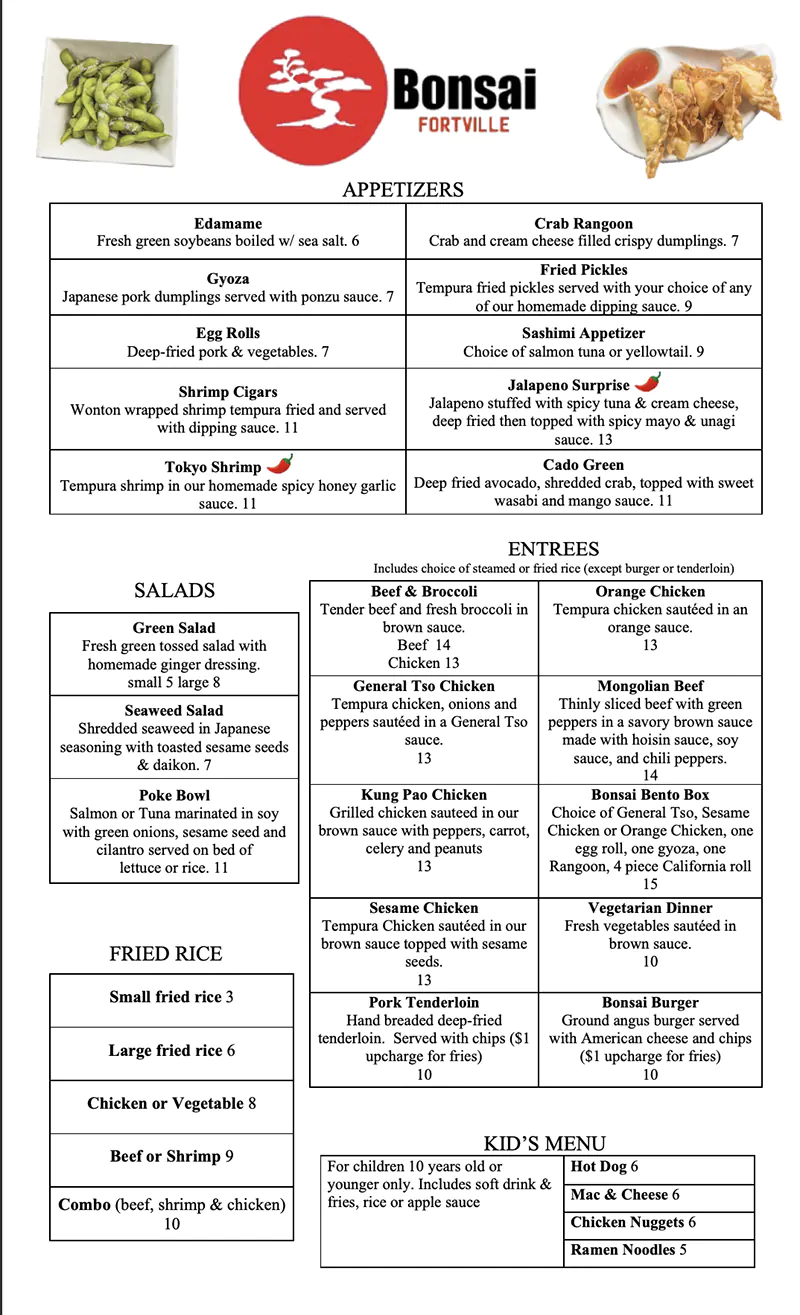 Where can you find menus with bonsai on them?
If you search for the term "Bonsai Menu", you'll see a surprising number of restaurants that have these items displaying the meals you can eat. They have an assortment of dishes, such as soup, sirloin, chow mein, steaks, burgers, sushi, and more. 
Here are a few examples of restaurants that have bonsai menus:
Bonsai Restaurant

, Manchester, New Hampshire

Bonsai Grill, Merida, Mexico

Bonsai Restaurant

, Azad Nagar, Gorakhpur

Bonsai Restaurant and Cafe Lounge

, Northbridge, Australia

Bonsai Bar Bistro

, Edinburgh, United Kingdom

Bonsai Japanese Restaurant

, Poughkeepsie, New York, United States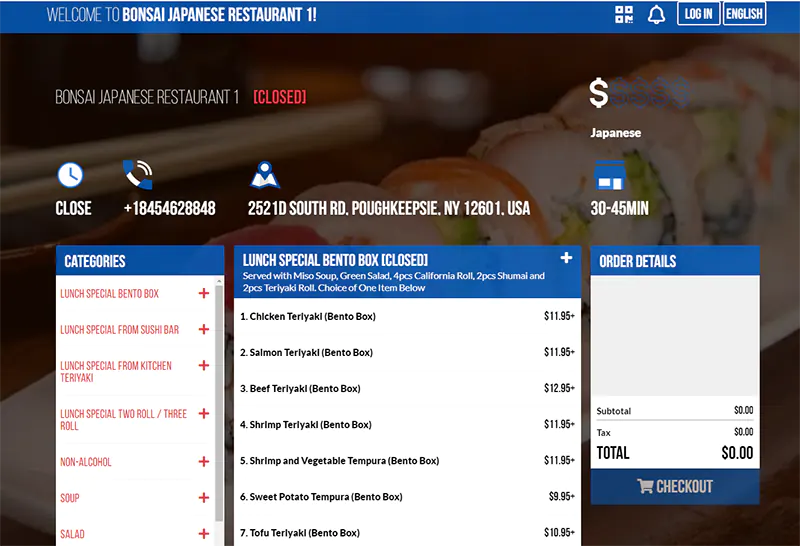 Are there bonsai delicacies you can eat or drink?
While most of these bonsai menus have meals you'll instantly recognize, there are actually delicacies made from real bonsai trees. For example, did you know that most gin drinks are made from Juniper needles? There are also some species where the bark or leaves are edible.
Our prime example is the hibiscus tree which serves so many culinary delights. You can use it in a syrup as a complement to goat's cheese or place it on your favorite crackers. In Mexico, you'll also find tacos with dried hibiscus flowers. If you click on the link below, you'll see just how many recipes use elements of this bonsai tree.
Why the bonsai menu is so popular lately
According to a report we recently received that we'll be writing about shortly, the bonsai industry is set to rise over the next few years. While the Japanese art form has been popular for decades now, it seems staying at home during the pandemic has made many people turn to these small trees for comfort.
As businesses usually do, they look at the trending markets to see how they can spin a profit from them. We're not sure if there's a rise in popularity due to this, or if the restaurant owners have an actual passion for bonsai trees. Still, it's impressive to see so many of them adopt the tiny trees as mascots for their brands.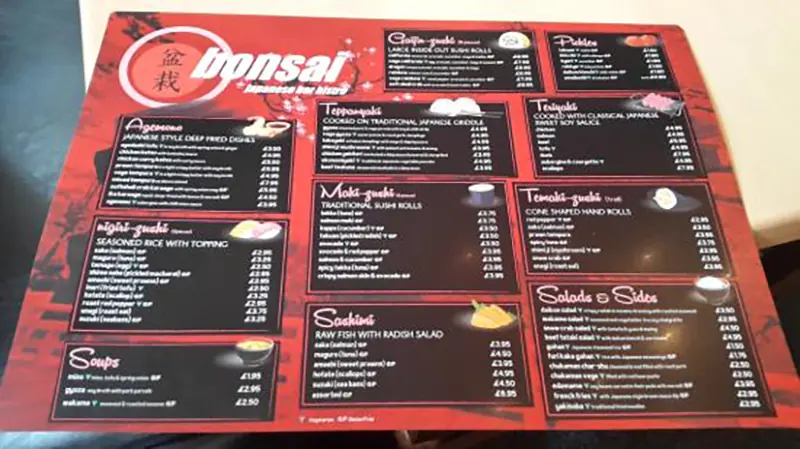 Final thoughts on the bonsai menu
I've personally not seen any bonsai menu near me as yet, except perhaps at one of the local Japanese sushi stores. The small tree icon will surely put a smile on an enthusiast's face, but it would help if they add some actual bonsai trees to the restaurants. It shows dedication and that they actually have a passion for it, not just using it as a marketing tool.
Newsletter
Subscribe to our newsletter and get the latest news and promotions. Be the first to learn about what's new in Bonsai Alchemist and get 0 spam emails from us.