King Tut Meets Japanese Antiquity - The New Egyptian Bonsai Style
As it turns out, bonsai trees can Walk Like an Egyptian too. 
When you think about bonsai tree styles, the average enthusiast can name the five most popular and widely-accepted – formal upright, informal upright, slanting, semi-cascade, and cascade. If you dedicate a few hours to delving into the intricacy of bonsai styles, however, you'll quickly learn that there are over 100 accepted bonsai styles. 
These range from the more well-known literati bonsai style, to the unique Pierneef style popularized in South Africa. But what if I were to tell you there's a style you've probably not heard of before? That form is the Walk Like an Egyptian bonsai style, and it happened quite accidentally.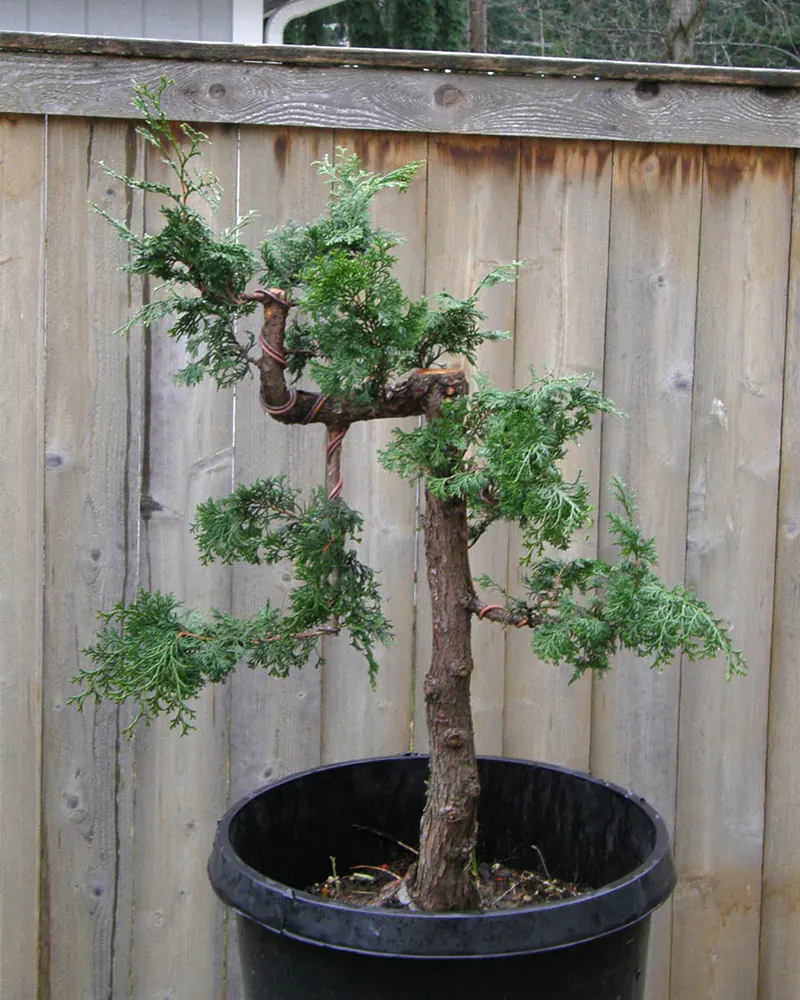 Introducing the Walk Like an Egyptian Bonsai Style
The Walk Like an Egyptian bonsai style first caught the eye of local enthusiasts at the Pacific Bonsai Museum. The creation belongs to David DeGroot, and he had no intention of spawning a unique new bonsai style when first purchased a Hinoki cypress back in 2013. 
At first glance, DeGroot says the tree held promise to become classic chokkan. 
'This tree gave a first impression of being a good candidate for a formal upright style. It was balled and burlapped in a large nursery pot, so I could not see the lowest part of the trunk; and the foliage was so thick, I could not see the upper trunk, but the price was attractive, so I bought it on faith.' 
It was only when DeGroot returned home with his new tree that he noticed a problem. 
'When I got it home and began to remove branches and cut away the burlap, I began to see what a mistake I had made. There was a bend in the trunk just above the root base, and the upper trunk had not one but two right angle bends! I had to discard any notion of conventional styling.'
DeGroot recounts that he had familiarity with the Chinese 'Square Turns' style and opted to use this style as a starting point for his new tree. However, his attempts were by no means trouble-free. 
'I tried turning it so the upper trunk moved either directly to the front or to the rear in an attempt to minimize the movement, but no viewing angle could disguise the bends because they were simply too large.'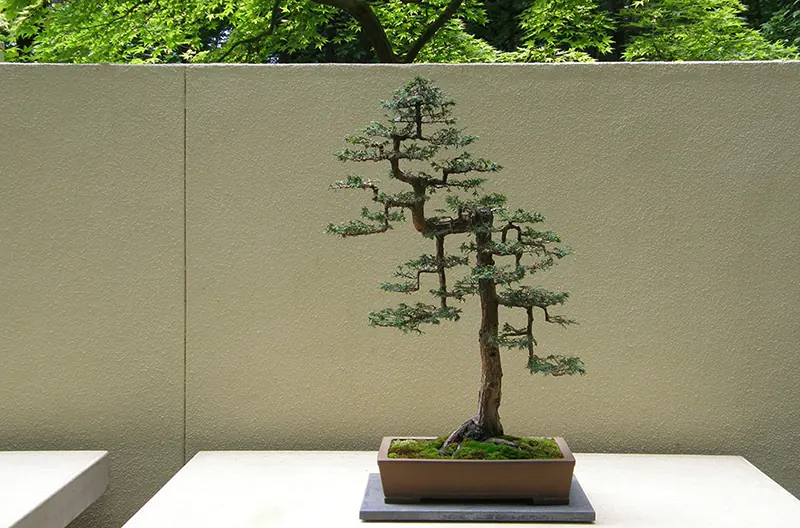 Creating a New Style
DeGroot promptly decided that any kind of conventional styling was out of the question, and instead started down a path that led to a truly unique bonsai style, and possibly soon, a piece of history within the global bonsai community. 
The entire process to get the tree to where it is now started 9 years ago. After years of trial and error and a number of letdowns at the hands of the small Hinoki cypress, DeGroot is happy with his work. This year, DeGroot displayed the tree in his Retrospective exhibit at the Pacific Bonsai Museum. 
'It was pruned hard for the exhibit, because the tree cannot be kept in show condition at all times. I let the tree get very full during the growing season in order to build up energy, and then prune and wire in the fall to once again allow it to "Walk like an Egyptian".'
We can learn a great many things from passionate individuals like DeGroot. One of the most important lessons is that sometimes it's best to let your tree take the lead in this mystical silent dance we call bonsai. 
This unique Hinoki cypress goes to show that new bonsai styles can come from anywhere and can be brought about by overcoming the adversities you face as an enthusiast. Don't let small failures or mistakes define your journey, make like a tree and simply grow around that which stands in your way. 
We're hoping to reach out to DeGroot for an interview.