The Ultimate Hibiscus Culinary Experience
You've no doubt seen hibiscus somewhere in your neighborhood before. Its massive flowers are almost impossible to miss with their crinkled petals and long slender stamens. Hibiscus is one of the species of flowering plants that seems to always be in fashion. It's a staple in suburban gardens the world over, and it proudly adorns the quintessential holiday look; Hawaiian shirt and beach shorts.
But there is so much more to this exquisite flowering shrub than most people know. For instance, did you know that hibiscus is a superfood that's been in use for centuries? It is prized for its health benefits in many African cultures and territories and has even been used as far afield as Asia for similar reasons.
Today we serve hibiscus teas in trendy coffee houses and upmarket cafes. Tea is amazing, and it's an excellent vehicle for essential nutrients, but there are many more interesting ways to serve this particular seafood. We have taken the time to assemble a full-blown menu of hibiscus delights for you. From savory appetizers to decadently sweet desserts, we've covered it all. We'll bring you a few options for each traditional course. We hope you are hungry.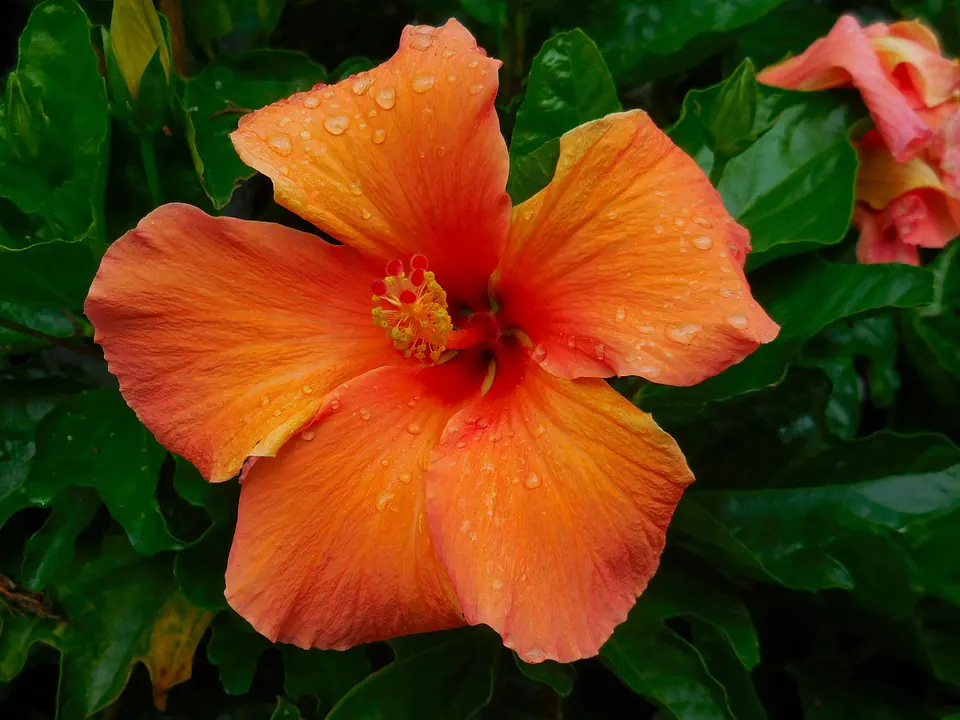 Hibiscus as an Appetizer and Snackfood
Appetizers are typically served before the main course. These tasty little tidbits exist to prepare your tastebuds for the rest of the meal. Appetizers are typically light and free of ingredients that may be too rich. You don't have to have appetizers; you would be perfectly justified to skip appetizers and move straight to the meat and bones of the meal. But once you read what you can do with hibiscus, you might have a bigger appreciation for appetizers. There's no rule saying you have to arrange a whole dinner and invite people over. The appetizers we explore below are perfectly suited to being anytime snacks as well.
The plant most commonly used in cuisine is hibiscus sabdariffa. This plant, also known as Roselle, has a slightly different appearance to other hibiscus species, particularly when it's still a bud. These buds are typically what we use in food, and they somewhat resemble a dark red fleshy fruit.
Hibiscus has a rather tart flavor profile, which means it cuts through rich flavors well and therefore pairs exquisitely with them. In terms of Appetizers, you can equate hibiscus with tart berries like raspberries or blueberries. This means pairings that go well with these berries will likely go well with hibiscus too.
Hibiscus and Goat's Cheese Appetizer
Elegant in its appearance and simple in its conception, this tasty morsel is bound to turn heads. Do you want to know the best part? You barely have to do anything. The contemporary visionaries at Wild Hibiscus Flower Co. took care of most of the preparation for you.
What You Need
1 Jar Wild Hibiscus in Syrup
1 Small roll of Goat's Cheese
A sprinkling of black pepper
A small handful of chives
What You Do
The first thing you should do is drain your Wild Hibiscus flowers. Keep the syrup on hand; you might need it for another of our recipes or something that springs forth from your own brilliant mind.
Next, you'll want to portion out your goat's cheese. If you look at the flowers, you'll see they're hollow on the inside. The idea is to make the portions of goat's cheese big or small enough to fill the hollow. Roll each portion into a small ball and gently push it into the hibiscus flower.
The last step is chopping your chives rather finely and then adorning each parcel with a dash of chives and a sprinkling of black pepper. You can serve this tasty morsel immediately or prepare it ahead of time. The flowers will retain a slight tartness but will have a hint of sweetness from the syrup. This is balanced out well with the freshness of the chives and savory bite from the pepper. If you need a little more savory in your hibiscus and goat's cheese, add a dash of sea salt.
Wild Hibiscus Co. stocks jars of 11 expertly prepared hibiscus flowers and a larger jar of 50. They also stock Wild Hibiscus Flowers in Rose Syrup. This syrup infuses the hibiscus flowers with a hint of floral sweetness, elevating the flavor profile of any dish you create with them and filling your kitchen with the sweet ambrosial smell of a floral bouquet.
Brie and Hibiscus Crackers
Hibiscus and cheese are a match forged by the gods. Hibiscus sabdariffa has a fleshy fruit-like nature which means it pairs exceptionally well with classic accompaniments for fruit, like a smooth, soft cheese.
What You Need
Your favorite crackers
A segment of brie
Salted Walnuts
What You Do
This is a slightly sweeter option for the beginning of your meal. Start by draining your wild hibiscus and setting the scrumptious syrup aside for future use. You don't need to do any prep for the hibiscus flowers.
Grab your crackers and lay a reservedly generous slice of brie atop each one. Top the brie with a sweet hibiscus flower. Lastly, you'll want to crush your salted walnuts and sprinkle them over your delightfully simple appetizer/ anytime snack.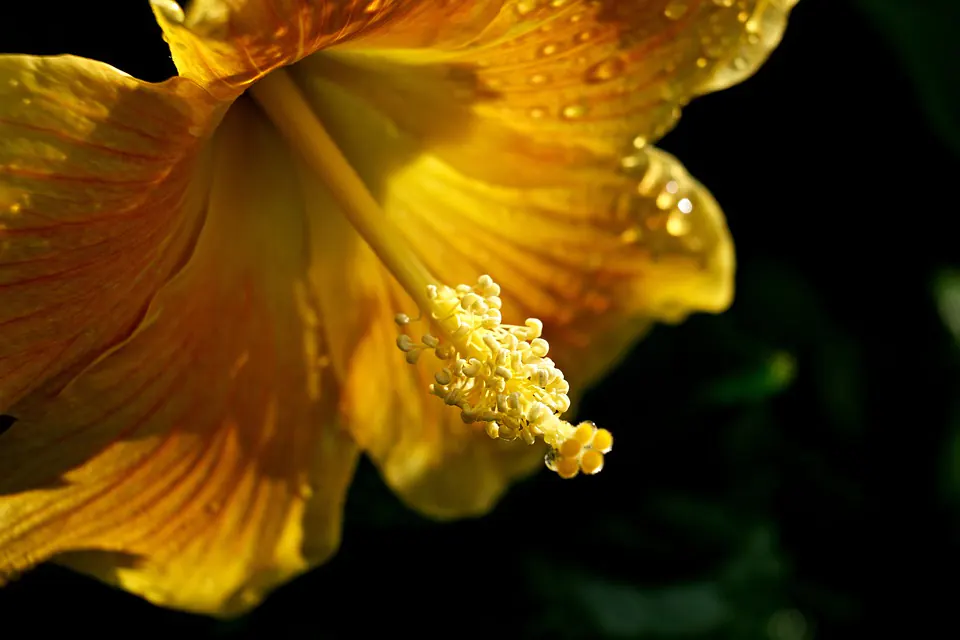 In times gone by, the food we harvested from plants wasn't really seen as on par with meat. Yes, some cultures rely heavily on greens to take the place of meat because of economic instability, but this still doesn't make the two food groups equal. People still crave meat and the depth of flavor it contains.
Now, however, we live in a time of culinary reform. The vegan revolution has taken hold, and while there are concerns that it isn't the way forward it's marketed so heavily as, it has definitely changed the way we view vegetables and fruit. Recently, it has changed the way we view flowers as well.
Tacos de Jamaica (Hibiscus Tacos)
No list of hibiscus-based dishes would be complete without this classic from vibrant Mexico. This dish won't make you vegan overnight, but it is of such an elevated flavor experience it brings to mind innovations like burgers made with mushrooms and hearty 'beef' stews made with roasted greens.
What You Need
Corn tortillas
2 avocados or fresh guacamole
2 cups dried hibiscus flowers
1 tablespoon oil
½ cup chopped onion
1 jalapeno
Salt to taste
What You Do
The first you want to do is prepare the hibiscus tea or agua fresca as it is known quite popularly in Mexico. This is not part of the dish, so you essentially have a drink to casually sip while you cook. What you want is the flowers once they've been used in agua fresca. It's strange, I know, but it's a Mexican classic, and it has to be done justice.
All you need to do for the tea is to steep the 2 cups of dried hibiscus flowers in 4- 6 cups of boiling water. This is best done in a pot. Steep the tea for around 5 minutes, or until the liquid has a deep red hue. Next, you'll want to let the tea cool down a little. Once the tea is cool, you'll strain it and pour it into a pitcher with ice for serving. Collect the hibiscus flowers in a bowl and put them aside while you enjoy your first glass of agua fresca. This drink is best enjoyed with a little lemon to taste or mint leaves to enhance the freshness further.
It's now time to get started on the taco filling. Lay the hibiscus flowers out and pat them dry. Chop the flowers roughly; you don't want them too fine because they are the main part of this dish.
Put a tablespoon of oil into a pan and turn up the heat. Add in the chopped onion let it saute. Once the onions are a rich golden brown, add in the hibiscus flowers and the jalapeno. Season with salt to taste. You'll want the hibiscus flowers to go a little crunchy on the edges before you take the pan off the heat.
Next, prepare your taco shells and lay a slice of avocado or a dollop of guacamole within it. Add around two tablespoons of the hibiscus onion mixture to the taco for starters; you may want to be a little more heavy-handed with your next one; this is quite the treat.
The last step is to settle down with another glass of agua fresca and your tacos de jamaica. This dish is vegan-friendly depending on what oil you choose to use, but even for hardcore meat-eaters, this flowery main is bound to impress. Add a clove of garlic into the onion mixture and serve your tacos with a salsa verde topped with fresh cilantro for an even more impactful flavor profile.
Hibiscus Quesadillas
HIbiscus is wildly underrated in many places the world over. It is such a worthy opponent to ingredients like blackberries and raspberries, and when soaked in a decadent syrup, could even give cherries a run for their money. But it is stocked mainly by specialty stores and doesn't seem to have quite broken into the mainstream market yet. Unless the mainstream market you have in mind is Mexico.
Interestingly most of the indulgent dishes that the locals make with hibiscus evolved thanks to the drink we made earlier; agua fresca. This humble but nutrient-rich floral tea has inspired so many people to get creative in the kitchen simply because they didn't quite know what to do with the leftover flowers. This dish is another such example and is a slightly more indulgent option than tacos.
What You Need
Corn Tortillas
1 pound of melting cheese such as mozzarella or muenster
1 ½ cups dried hibiscus flowers
1 clove of garlic
1 tablespoon of oil
½ cup of chopped onion
Serrano pepper
What You Do
Again you'll want to start by making agua fresca with the dried hibiscus flowers. Dry them off afterward as we did previously.
Pour your oil into a hot pan and add in the chopped onions, a crushed clove of garlic, chopped serrano pepper, and saute it for a few minutes. Once the mixture is golden brown, add in the hibiscus flowers, roughly chopped, and keep it on the heat. Wait for the hibiscus flowers to get crispy edges before you take the mixture off the heat.
Next, you'll want to heat your tortillas on one side over medium heat. This can be done in a flat non-stick pan or on a flat griddle. Flip the tortillas once they are lightly golden, and then it's time to start packing them with flavor—layer half of the tortillas with cheese and your hibiscus and onion filling.
Flip one side of the tortillas onto the over onto the side with the cheese so that you have a half-moon shape. Flip and heat the tortillas to your liking until the cheese is melted and oozing, and then you're ready to serve. This dish is best served with guacamole or classic salsa.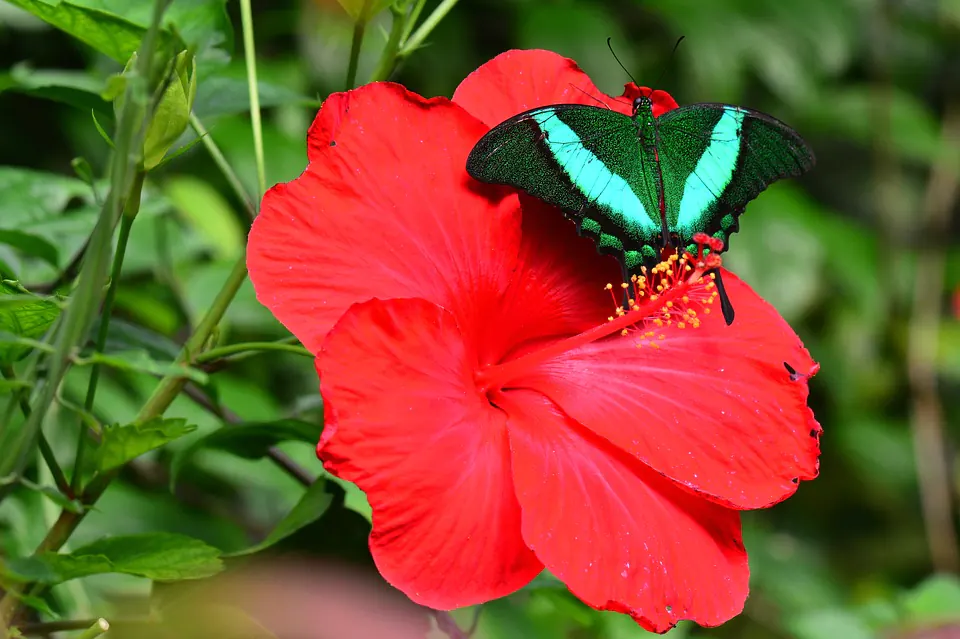 No meal would be complete without a fresh, vibrant palate cleanser to prepare your taste buds for the next course. Hibiscus itself could be classed as a palate cleanser due to its sharp flavor profile. It naturally cuts through any richness left by other meals and tantalizes the taste buds for what follows.
Hibiscus and Lime Sorbet
You'll need an ice cream maker for this one, but it's worth it for creations like this. Apart from being a palate cleanser, this can be served as a fresh summery dessert in its own right.
What You Need
3 cups water
1 ¼ cups sugar
1 cup dried hibiscus flowers
2 tablespoons of light corn syrup
What You Do
Mix together the water, dried hibiscus flowers, and sugar in a medium pot, and bring it to a boil. This is done initially over high heat, but once it's boiled, you'll want to turn it down to medium for around three minutes. Stir while on medium until all the sugar is dissolved. You can now take the pot off the heat and set it aside to rest for around 15 minutes.
Once it's cooled, you can strain the mixture through a fine-mesh strainer. Press the hibiscus into the strainer with a measured force so that you drain them of every ounce of their exquisite flavor and color. You can discard the solids and set the liquid aside.
Add the lime juice and corn syrup to the mixture, mix it well, and refrigerate for around an hour. Once sufficiently cooled, pour the mixture into the ice-cream churner and follow the instructions given by the manufacturer for churning thick sorbet.
Once churned, transfer your sorbet to an airtight container and freeze it for at least three hours. Once three hours have passed, you are ready to serve your sorbet. If it needs a little softening when you take it out of the freezer, place it into the refrigerator for around 20 minutes.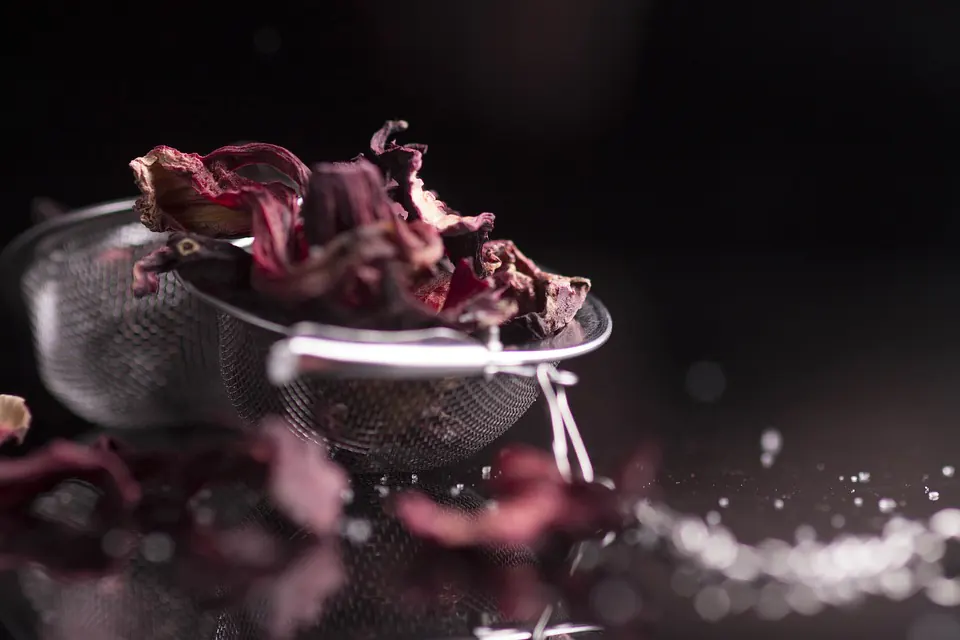 Because of its similarity with fleshy fruits, hibiscus is the perfect addition to desserts. Substitute cherries, berries, and all sorts of small tart fruits with this incredibly versatile flower for an elevated take on old favorites.
Hibiscus and Pomegranate Tart
This is an incredible elevation and interpretation of the humble tart. With additions like almond and vanilla extract, the tart shell is no longer just a vehicle but a taste experience in its own right. Pomegranate and hibiscus have a similar flavor palate, so this is the perfect quietly sharp-tongued dessert to end a meal with.
What You Need
For the crust:
2 cups whole wheat flour
¾ cup powdered sugar
1 ⅓ cups almond meal
1 cup butter
3 tablespoons cold almond milk
1 teaspoon vanilla extract
1 pinch of salt
For the filling:
2 ¼ cups pomegranate juice
1 ⅓ cups coconut milk
1 teaspoon agar agar
2 teaspoons hibiscus powder
⅓ cup maple syrup
¼ cup lemon juice
1 pinch of salt
What You Do
Start by preheating your oven to 350° F. While you're at it, grease an 8″ tart pan. The pan should be fairly deep; you don't want a shallow tart when it's something this decadent.
Next, it's time to start on the crust. If you have a food processor, combine all the crust ingredients and pulse until a dough forms. If not, whip out your trusty mixing spoon; it's time for some wrist action. Once your dough is smoothly combined, roll it out gently and place it into the tart pan. Press the dough into the tart pan and shave off the edges to get a beautiful uniform crust.
Feel free to use the remaining dough for decorative pieces for the top of the tart. Cut these out and place them in the oven with your tart shell. Bake the tart shell for 15-18 minutes until it has a healthy golden glow. Set your tart shell aside to cool in its pan.
Now, it's time to get going on the filling. Haul out a saucepan and bring the pomegranate juice and coconut milk to a boil. Next, you'll want to add in the hibiscus powder and agar-agar. Stir until everything is completely dissolved and you have a glossy liquid.
Bring your head down a little and add the lemon juice, maple syrup, and salt. Allow the mixture to simmer for a minute, and then remove it from the heat and let it cool slowly.
Without allowing it to cool too much, pour the filling into the now cooled tart shell. Pop the complete tart in the fridge for at least four hours before you decorate. Decorate your tart with the little biscuit-like pieces of tart shell you cut earlier and anything else on-theme you have on hand. If you happen to have Wild Hibiscus in Syrup on hand, both the drained flowers and a drizzle of the delectable syrup will go down nicely. Another brilliant addition is pomegranate seeds if you have them on hand.
Fragrant Hibiscus Ice Cream
Hibiscus Ice cream sounds easy enough to make. But using hibiscus powder can sometimes make the ice cream gritty or grainy, and no one likes that. Luckily, with one really easy trick, you can amp up on the fragrant hibiscus flavor without the grit! Keep in mind that for this recipe, you will need access to an ice-cream churner.
What You Need
5 oz hibiscus powder
3 egg yolks
2 cups sugar
2 cups heavy cream
1 cup milk
1 teaspoon vanilla extract
What You Do
Find a large jar and empty the hibiscus powder into eight cups of water. Stir the mixture well until completely combined, and then place the jar into the refrigerator for 12 hours. You'll want to stir the mixture occasionally. This refrigeration process is to allow the powder to diffuse properly so that you have maximum flavor.
Next, you need to drain the mixture through a sieve lined with a muslin cloth. This will catch every ounce of grit and result in completely smooth and luxurious ice cream. You'll have a considerable amount of powder left over. You can chuck this out because it's now useless; you've already extracted all the flavor possible from it.
Now you need to pour the hibiscus liquid into a large pot, along with the sugar. Bring the pot to a boil and keep it on the heat until the liquid has reduced into thick luscious syrup. This means your liquid will have reduced by about ⅔ of the initial volume in the pot.
You can now take the pot off the heat and let it cool for around 15 minutes. Next, add in the heavy cream, milk, vanilla extract, and egg yolks. Mix the lot together until combined, and then bring the pot back to a boil. Stir while the pot is on the heat so that you don't end up with burnt bits.
Remove the pot from the heat for the final time once it's achieved a rolling boil, and allow it to cool. Refrigerate the ice cream base mixture until it's chilled. Next, you'll need to churn the mixture in an ice-cream churner for around 15- 20 minutes. This should result in a delectably fragrant hibiscus soft serve. Ice cream like this can be the main attraction of the dessert course, but it can also be something you eat alongside a deliciously sharp tart or mild-flavored pudding.
Glazed Hibiscus Shortbread Biscuits
Hibiscus glaze, hibiscus Dough, the only way this dish could be any more hibiscus infused is if you pair it with an aromatic hibiscus tea, which we'll get to a little later. This is definitely a delightfully fresh take on an old favorite.
What You Need
For the Dough:
2 cups of flour
1 teaspoon ground cinnamon
1 teaspoon fine sea salt
1 cup unsalted butter
½ cup sugar
1 teaspoon vanilla extract
½ cup dried hibiscus flowers
For the Glaze:
1 ½ cups powdered sugar
2 tablespoons loose leaf hibiscus tea
½ cup water
What You Do
For the Biscuits:
Measure out your salt, ground cinnamon, and flour and whisk them together in a mixing bowl. Your powder mixture should look well combined and airy.
Next, cream your butter and sugar until the mixture is fluffy, light, and airy. Scrape down the sides of your mixing bowl to make sure you don't leave any ingredients uncombined. Add the vanilla extract to the cream and blend until smooth.
Slowly mix the dry ingredients into the vanilla cream. You shouldn't over-mix the new mixture; just stir until the dry ingredients are almost properly incorporated into the cream.
Chop the hibiscus flowers. You don't want a fine powder; the consistency you're looking for is a coarse hibiscus crumb. Stir these into the Dough. The hibiscus crumbs don't need to be mixed thoroughly combined with the dough; it can look a little rustic.
Put your dough into a clean bowl, cover it with glad wrap or a dish towel and place it in the fridge to rest for 30 minutes. Sprinkle flour over your desired work surface while your dough rests. Don't sprinkle too much; this will give the cookies a floury taste instead of the flowery taste we're going for. Once rested, place your dough on your work surface and roll it out gently. You don't want to apply too much force to the dough; this will compact it too much and change the texture of your cookie.
Roll the dough out to around 1cm thick and cut into the desired shape. Round cookies are always in fashion, but shortbread can also be rolled into a parchment-lined pan, scored lightly, and then cut once it's out of the oven. You can also cut these into stars or other shapes for special occasions or to make them look a little fancier.
Next, it's time to preheat your oven to 325° F. Line a baking tray with parchment paper and arrange your cookies on it. Don't pack them right on top of each other; give them a little space to do their thing in the oven.
Bake these babies for about 16-18 minutes. They should have a beautiful golden ring when they come out and be firm to the touch but retain a center with moderate give. Move your freshly baked cookies to a cooling rack and ruminate for a minute or so in the lovely aroma that has no doubt filled your kitchen.
For the Glaze:
First, you'll want to bring water to a boil. Pour the boiling into a cup containing the hibiscus tea, and allow it to steep well. You don't want to fill the cup with water because this particular cup of hibiscus tea isn't to drink. All you need is enough water to extract as much flavor and vibrant color from the hibiscus tea. When it's cooled sufficiently, pour the tea mixture through a fine strainer and set it aside.
Next, sift your powdered sugar into a mixing bowl and slowly whisk in the rich dark hibiscus tea. Whisk the tea in one tablespoon at a time and keep whisking until you have a smooth mixture. Ideally, the glaze should be runny enough to run off the whisk in thick ribbons. If your glaze is too thin, add a little more powdered sugar. If your glaze is too thick, you'll want to add a little more tea.
The last and possibly most satisfying step is to unleash your inner artist and drizzle the glaze over the cookies. You can get as messy as you want here; there's something romantic about rustically glazed cookies. For thick ribbons of glaze, flick the whisk back and forth quickly over each cookie to create the drizzle effect. If you want slightly finer drizzles, use a fork with the same motion. You can also dip the cookies. Basically, it depends on how pink you want your cookies and how much sweeter you'd like them.
Once you've made merry with the vibrant pink icing, you're ready to serve. The glaze will set into a soft but firm adornment. These cookies can be stored as you would any other cookies or eaten straight away.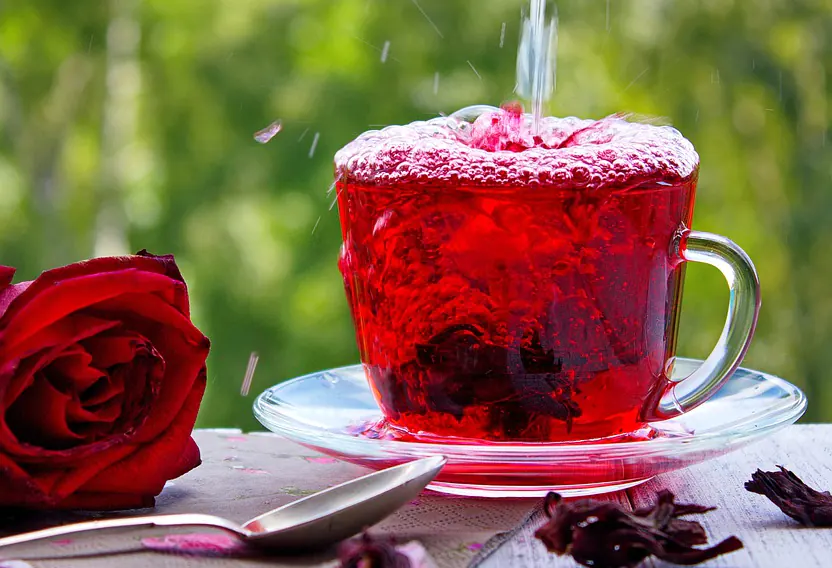 The human mind is constantly famished. No matter where you come from or what kind of life you lead, we all hunger for knowledge in some way or another. As bonsai alchemists, we try to satiate you by furnishing your keen and agile mind with all kinds of information concerning your favorite plants and the bonsais they become.
This article follows that same goal, but it strives to satiate another hunger as well. Hibiscus is one of the most versatile of the flowering species in the plant kingdom, and it is now starting to gain appreciation as more than a floral adornment. Its tart, sharp flavor, and fragrant smell make it an excellent substitute for sharp berries, which themselves have plenty of culinary applications.
Hibiscus is so versatile it can be used in every element of a full course meal or a grand buffet, as we sought to prove with this article. Everything you pair hibiscus with elevates a different part of its diverse flavor profile and ignites a different facet of joy within your soul. Hibiscus has myriad health benefits as well. On the whole, this is one of the most impressive blooms I've ever encountered, and I feel honored that I've been able to share my knowledge on the subject with you.
Perhaps we'll cover more edible floral varieties that make exceptionally beautiful and significant bonsais; perhaps we'll delve even deeper into hibiscus and its applications as an arcane remedy. Who knows what the future has in store. For now, though, try out the recipes we put forth in this piece and see where your creativity takes you. Recipes are meant to be adapted and reworked to your liking, and hibiscus, with its supreme versatility, is the perfect ingredient for rampantly active imaginations.