What are the Different Types of Japanese Maple Trees?
A Japanese maple tree (Acer Palmatum) is a great addition to your garden as it enhances the beauty of any landscape. Its colorful and elegant foliage is a sight to behold, especially during fall. There are several beautiful varieties of Acer that you can plant in your space according to your preference. Let's see some popular types of Japanese maple trees below with a variety of foliage, from red to yellow.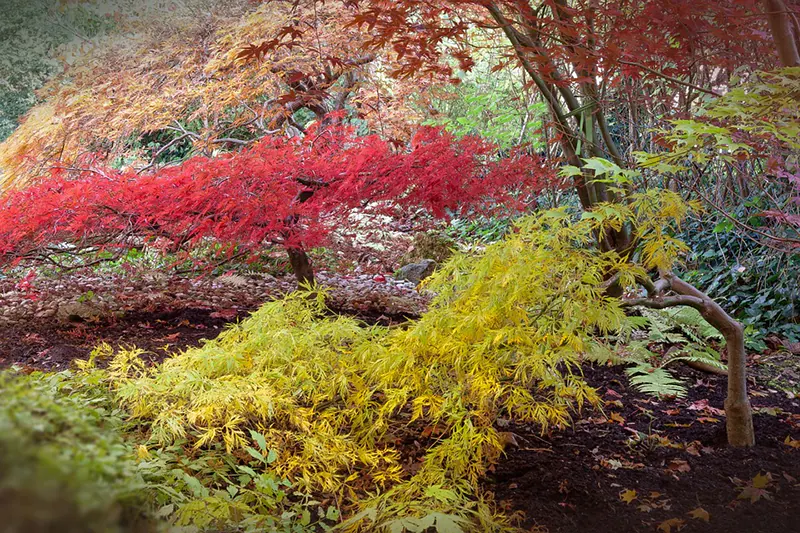 Dissectum Atropurpureum (Laceleaf Japanese Maple)
Laceleaf Japanese maple is a slow-growing shrub with ferny red-purple leaves with thin and long lobes that are further divided into sub-lobes. It's known for its distinctive contorted branches and vibrant scarlet foliage during autumn. You can grow this in your backyard with little maintenance if you're in the hardiness zone 5-8. Make sure it gets full or partial sun, moist, well-drained, and acidic soil to maintain its healthy state. Most of the Dissectum Atropurpureum varieties are in dwarf sizes like Crimson Queen, Waterfall, Red Dragon, Viridis, Inaba Shidare, Weeping, Lion Heart, Ever Red, etc.
Acer Japonicum 'Green Cascade' (Full Moon Maple)
Green cascade is a fairly low-maintenance mounded tree with a weeping, cascading habit. Its fine lacy leaves consist of 9-11 lobes and display colorful foliage in fall, ranging from yellow to crimson during fall. If you're in the hardiness zone 5-7 and prefer a tree up to 7 ft tall, this is a good addition to your garden. 
You should expose the Green cascade Japanese maple to full or partial shade and plant it in moist, acidic, and well-drained soil. Recipient of the Award of Garden Merit by the Royal Horticultural Society, this tree will surely enhance the beauty of any garden. It's also known by other names like Fern-Leaf Maple and Downy Japanese Maple.
Acer Palmatum 'Emperor I'
Emperor I is a wide and small tree with upright branches. No matter what season, it's a gorgeous addition to your space, with its fine leaves of 5-7 sharp lobes and colorful foliage, ranging from purple-red to crimson. Suitable for hardiness zones 5-8, it's a low-maintenance tree that needs only a little pruning during its dormancy. 
Please make sure it receives dull sun or part shade and is grown in moist, acidic, and well-drained soil. Emperor I grows up to 10 ft and will make your landscape attractive even after the leaves fall with its blackish red bark. Its other names are Emperor 1, Emperor One, and Acer Palmatum 'Wolff.'
Acer Palmatum 'Kawa Hime' (Coral Bark Maple)
Coral bark maple is a deciduous shrub tree similar to the popular 'Sango Kaku' variety but smaller. It has fine lacy foliage consisting of five-lobed leaves that display stunning yellow-green to red foliage. Once they shed the leaves, you can see its coral-red bark adorning your winter landscape. It's suited to hardiness zones 5-9 and is also a low-maintenance variety. You can plant it in full sun or partial shade on moist, rich, acidic, and well-drained soil.
Acer Palmatum 'Shaina'
Acer palmatum Shaina is a small, slow-growing tree that grows up to 4-6 ft., suitable for hardiness zones 5-9. Its upright, pretty leaves with narrow, pointed lobes look great in all seasons, from bright-red to maroon-red to crimson-red. You can plant this low-maintenance variety in a container or a garden in full or partial sun. It needs moist, acidic, rich, and well-drained soil to thrive. Since it displays shades of beautiful red foliage from spring to fall, it's a great addition to all types of gardens.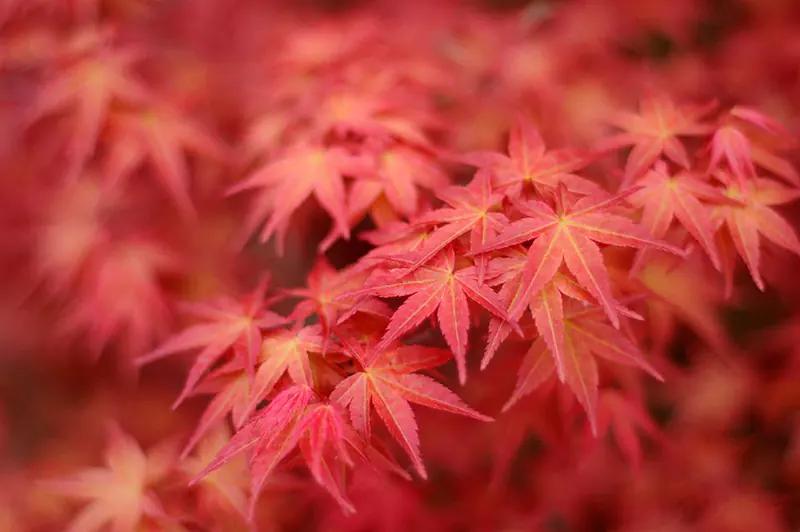 Final Thoughts 
There are so many other varieties of Japanese maple for your garden, each having unique characteristics. No matter what variety, Japanese maples are majestic and graceful and a great addition to any landscape.