The art of growing and reshaping bonsai isn't just for professionals. You can also cultivate this hobby to create a stylish tree for your personal space. Bonsai artists are coveted for their artistic skills and unique creations. 
Whether you're looking for inspiration or want to grow a new tree, it helps to know the most famous bonsai trees worldwide and what species are popular choices for aesthetics. Let's explore some beautiful species and famous creations by bonsai enthusiasts.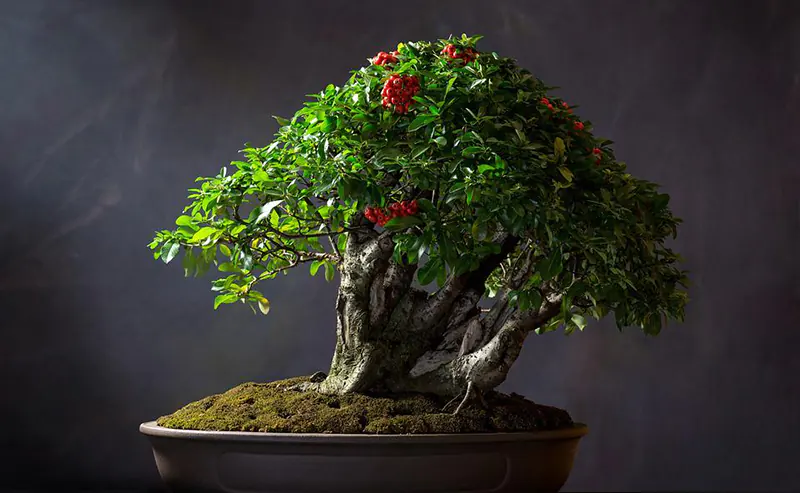 Popular Bonsai Species
If you're looking for a bonsai that enhances the beauty of your space, here are some popular choices:
Japanese Maple
Originally from Japan, Japanese maples display a bold spectacle of colors that change with the season. Every autumn, these majestic trees turn the landscape into a vibrant retreat. These trees are famous for their grace and elegance and are a popular choice among bonsai lovers. They look beautiful in the informal upright bonsai style, as a root over rock, or as a multi-trunk style.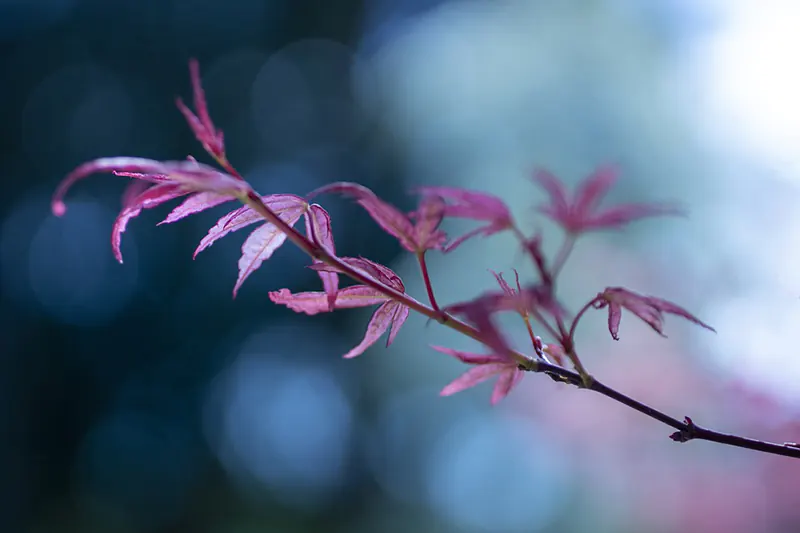 Chinese Elm
A Chinese Elm bonsai is a popular choice for beginners and is known for its small leaves. With good care, in 1-2 years, you can get a dense crown with fine shoots. You can style it in various forms, such as freely upright, broom shape, and rock form.
Image source: Eric Kilby
Satsuki Azalea
If you want to have a flowering bonsai, the azalea is a good option for you. Most suitable for outdoor spaces and easy to care for, it's excellent for beginner bonsai enthusiasts. You can attain a nice shape and structure by wiring and cutting. Make sure to start the wiring and shaping techniques after the tree has started flowering. Azaleas are suitable for most styles, except the broom style. This tree looks good in an upright, cascade, half-cascade, or slightly inclined style. 
Juniper
Junipers have lush green foliage and are relatively low-maintenance plants; thus, they're a great choice for beginners. You can place your Juniper tree indoors or outdoors. Junipers can withstand extensive pruning and wiring due to their flexible branches and are easy to shape. Best styles are inclined, literary, or a freely upright form. 
Pine
Pines are common trees among bonsai enthusiasts, but they aren't ideal for beginners. You can achieve any style by wiring but be careful as extensive wiring can cause damage to the tree. Some popular pine species for bonsai are Japanese black pine, Mountain pine, Scots Pine, Japanese white pine, Ponderosa pine, and Japanese red pine. You can shape a pine in almost any style.
Apart from these five popular options, there are a lot of other beautiful species to choose from, like wisteria, Ficus, cotoneaster, pomegranate, apple tree, bodhi, baobab, spruce, Brazilian rain tree, etc.
Most Beautiful Bonsais in the World
Below are some stunning bonsais created by famous artists. Many of these trees are award-winning and have stood the test of time.
800-year-old bonsai tree at Shunkaen
Located in Shunkaen Bonsai Museum, Japan, this tree is one of the most famous in the world due to its longevity and splendor. At 800 years old, it's still growing under the care of Kunio Kobayashi. What's unique about the tree is its dramatic appearance. Years of refining have given it a twisted bark, and the plumes are arranged in alternate locations. The simple and understated green pot enhances the natural beauty of the tree.
Kobayashi is a renowned bonsai artist and has won the Prime Minister award in Japan multiple times. The nursery at Shunkaen is open to visitors where you can see this tree, along with his other work.


Goshin by John Naka
The Goshin bonsai is a forest planting of multiple trees and another famous work from Japan. John Y. Naka first created and refined this juniper in 1948 and gradually developed it to include 11 trees, each representing a member of the artist's family. It was donated to the National Bonsai Foundation, United States, in 1984 and, since then, has been on display at the United States National Arboretum.


Image source
Rocky Mountain Juniper by Walter Pall
Rocky Mountain juniper is a famous work by bonsai grower Walter Pall. One can't help but admire its windswept appearance with a twisted trunk and a few plumes of leaves. It won the Crespi Cup Award in Italy for its marvelous design.


Yamaki Pine
The Yamaki pine is 400-year-old and is yet another famous tree originally from Japan. It belonged to the bonsai master Masaru Yamaki. An interesting fact about this tree is that it survived the 1945 bombing of Hiroshima. This white pine bonsai tree had been part of Yamaki's family for six generations before he donated it in 1976 as part of other bonsais gifted by the Nippon Bonsai Association to the United States. It is now on display in the United States National Arboretum.


Japanese Maple by Walter Pall
Another outstanding work by Walter Pall is the one-meter-tall Japanese maple. This bonsai is over 100 years old and has won several awards for its beauty, including the Art of Bonsai Photo Contest. The artist Pall initially purchased the tree in Switzerland and refined and restored it to good health.


Brazilian Rain Tree by Budi Sulistyo
In 1995, an Indonesian artist Budi Sulistyo grew this famous Brazilian rain tree from a small pencil-sized cutting. Twelve years later, it became one of the world's most gorgeous tropical bonsai trees. Brazilian rain trees are native to humid regions of central and south America. If you're looking for an indoor rainforest bonsai, this hardwood tree with a balanced canopy is a great choice, even for beginners.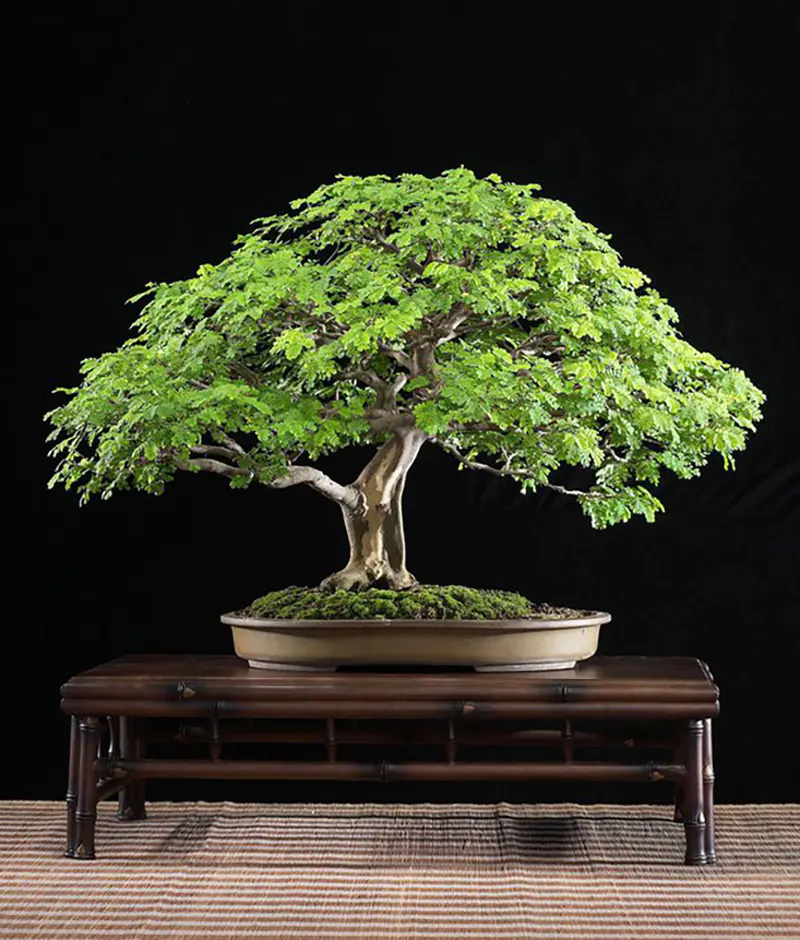 Small Bonsai (Shohin) by Morten Albek
Created by the bonsai artist Morten Albek, this gorgeous Shohin tree is a Rockspray Cotoneaster. This four-inch-high bonsai stands on a miniature rock and changes its appearance with the season. You can see red berries on it in the winter and pretty flowers in summer. This work of art is almost 20 years old and has received training for over a decade.
Final Thoughts
The art of bonsai can be a rewarding experience. You can create your masterpiece, exuding personality and charm. Get a pot according to your plant's shape and size for a nice and stately appearance. A glazed pot goes well with colorful foliage. 
Bear in mind that every species is different and has its sunlight, fertilizer, pruning, and watering requirements. Along with timely wiring and pruning, giving your bonsai some TLC will go a long way toward achieving the desired style.