The Beauty of the Japanese Maple Leaf
Japan, the Land of the Rising Sun, is known for its maple trees. The landscape is adorned with gorgeous red, yellow, and orange colors from the maple trees during autumn. With over 1,000 varieties and cultivars, they are abundant in Japan, and there's at least one variety suitable for every garden. The maple leaf carries a unique charm and elegance, no matter what season. Yes, even in the spring season, you can see the new leaves displaying various hues, and when you combine several varieties of Acers, you can create a bold spectacle in all seasons.
Japanese maples are generally classified according to their leaf types. Before we begin, let's look at the anatomy of a leaf. The petiole connects the leaf to the stem, and the leaf blade consists of the leaf veins, leaf apex, and leaf margin. A lobed leaf has indented margins. Leaves that don't have petioles directly attached to the stem are called sessile leaves.
Here's a list of some of the most attractive foliage on Acers.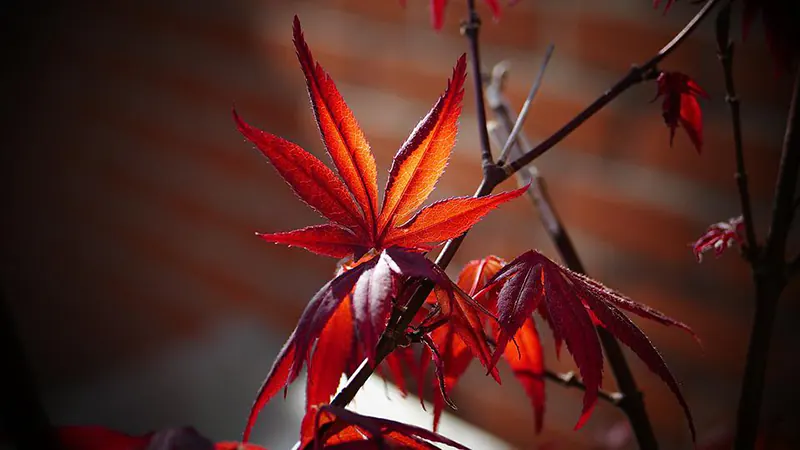 Acer Palmatum 'Beni-Maiko'
Not only in the autumn but during spring too, Beni-Maiko charms with its colorful foliage. Its three-five pointed, lobed leaves display brilliant red foliage during spring, which turns from pinkish-red to green during the summer. You can see the foliage turning to striking orange and red during autumn. With just one look at the leaf, you'd understand why it's called 'Beni-maiko,' a Japanese term for 'red-haired dancing girl.' 
Acer Palmatum 'Chitose-Yama'
Chitose-Yama shows a brilliant display of purple-red on its seven-pointed, lobed leaves in spring, maturing to green in summer. You can see the leaves turning crimson during autumn before falling to the ground.
Acer Palmatum 'Beni-Tsukasa'
A 'Beni-Tsukasa' changes its foliage every season. You'll be charmed by the delicate five to seven lobed leaves, from peachy-yellow in spring to pink, red and greenish in summer. Once they mature to green in summer, they turn brilliant red during autumn. An Acer palmatum with its slow-growing and round willowy look would look amazing in your garden or a container.
Acer Palmatum 'Katsura'
Katsuras are also suitable for gardens and containers due to their vase shape and dense and neat foliage. The leaves are five to seven lobed that have a beautiful golden orange color with pink edges in the spring. The leaves turn green in summer to orange and yellow in autumn. 
Acer Palmatum 'Orangeola' (Laceleaf)
Orangeola, with its cascading leaves, will surely add extra charm and grace to your garden. It's famous for its leaf colors that are bright orangish-red in spring to dense green with orange hues in summer. You can see new orange foliage in midsummer over the older foliage that enhances its charm. Autumn changes the foliage colors as it turns to brilliant orange and red.
Acer Palmatum 'Orange Dream'
Orange Dream displays attractive foliage every season. It transforms from a golden-yellow with pinkish hues to a yellow-green in summer, gradually turning to a bright yellow-orange in fall. Once the leaves fall, you can see the bright twigs and bark and their wonderful outlines, creating a dramatic winter look.
Acer Palmatum 'Ornatum' (Laceleaf)
Ornatums possess delicate lace-like leaves with thin and long lobes divided into sub-lobes. The leaf colors change from a brilliant red in spring to green in summer, turning crimson in autumn.
Acer Palmatum 'Shin-Deshojo'
Shin-Deshojos display one of the best spring foliage in all acers. From shiny bright crimson in spring to green with white speckles in summer, its pointed, serrated, lobed leaves are a marvel to look at. Its beautiful foliage turns orange and red in autumn before falling to the ground, leaving a striking display of reddish-brown bark on branches and twigs. You might even see small reddish flowers in spring, ripening in late summer or autumn.
In addition to the above, Japanese maple has several other varieties, having unique leaf shapes and colors.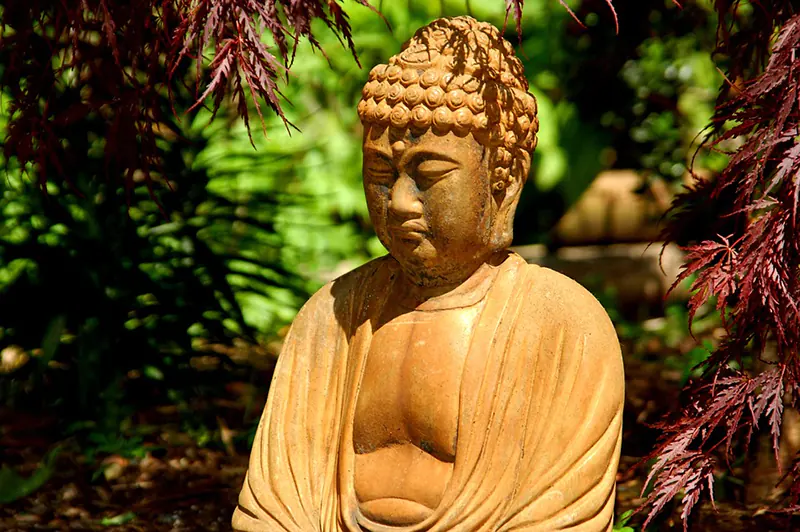 Japanese maple leaves are not only good for their aesthetic appeal, but they're also a popular snack in Osaka. If you ever visit the city of Minoh, check out this local delicacy, fried maple leaves made in tempura batter.