10 Facts Every Japanese Maple Lover Needs To Know
Japanese Maples are some of the most popular tree species. With their beautifully colored leaves and striking trunks, these maple varieties are some of the best-loved garden trees and one of the most popular bonsai species. No true bonsai enthusiasts' collection is complete without a majestic Japanese maple. 
Regardless if your maple is growing strong and tall in the garden or is being trained into an impressive bonsai, there are a few things every Japanese maple lover should know.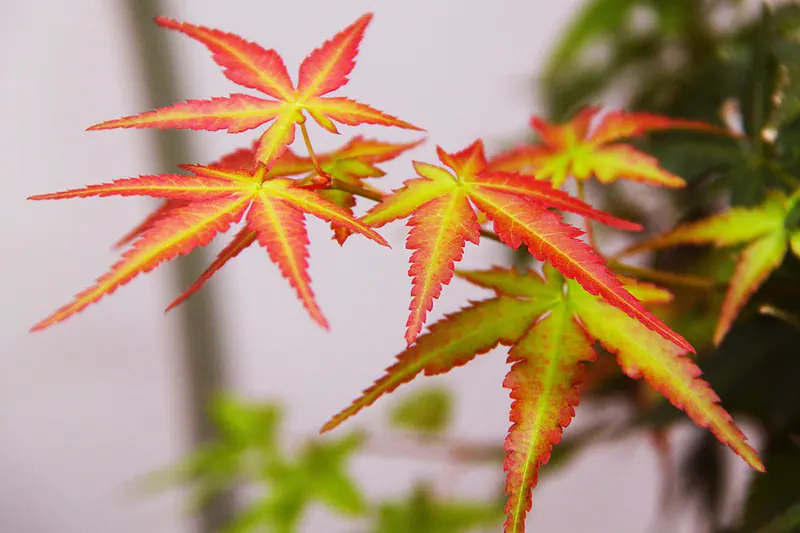 10 Interesting Facts About Japanese Maples
The Japanese maple is an incredibly alluring and versatile species and has many different uses and interesting facts that aren't obvious. Here are ten of the most interesting facts about this popular tree species.
They Have Fruit Called 'Samara'
Maples aren't widely known as fruit-bearing trees, but they bear fruit. The fruit is known as Samara and is often considered a seed due to its shape. They are found in the special helicopter leaves, known as Whirligigs, produced by the maples. The fruits are closer related to acorns than they are to apples or oranges. Once you peel away the Whirligigs, the small seed-like fruits are edible.
They Can Get Sunburn
Japanese maples are rather versatile when it comes to placement; whereas many established maples can do well in full sun, they tend to do better in partial and even full shade. The leaves of these maples are very delicate and are prone to 'sunburn'. Japanese maples can develop sunburn in two different ways. The first is from being watered when the leaves are in full sun. The water droplets that accumulate on the leaves can magnify the sun's rays leading to burns. The second way is quite interesting. When exposed to a lot of sunlight, the tree can become very thirsty. Thus it absorbs more water into the leaves, leading to edge burn. 
Despite Being a Slow-Growing Tree Species, They Grow Well as Bonsai
Japanese Maples are known as slow to medium speed growers. This can put a few people off as buying a mature Japanese maple (especially a bonsai) can be fairly expensive. However, Japanese maples and even seedlings can grow faster than expected when choosing the right cultivar and optimizing the growing conditions. 
On average Japanese maples grow between 6 inches (15cm) and one foot (30cm) a year. While this might not seem much if growing a maple tree in your garden, this is decent if you're planning on growing this species as a bonsai. With the right growing conditions, you could end up with a decent bonsai in a few short years that will only improve with age.
You Can Eat the Leaves
It's not just the fruits that are edible; the leaves of Japanese maple are also edible. Not only are the leaves safe to eat, but they're also considered a delicacy in many parts of the world. Fried maple leaves are a popular snack in Osaka and enjoyed for at least a thousand years. The leaves are dipped in tempura batter and then fried to produce a crispy snack with a unique flavor. In the city of Minoh, chefs would store the leaves in barrels of salt for a year before frying them, which improves the flavor and makes these unique treats incredibly tasty.
There are Many Cultivars
There are three species of Japanese maples, with the most popular being Acer Japonicum and Acer Palmatum. However, you'll find more than 1000 different cultivars within these species. The different cultivars were bred to bring out specific traits within the species. Here are a few of the popular cultivars of Japanese maples:
Coral bark: Beautiful golden-green leaves during summer and a lovely coral pink bark when the tree is dormant during the winter months. Very eye-catching and unique.

Bloodgood: One of the most well-known cultivars features deep pink leaves in spring, turning a deep purple-red in summer before going crimson in winter.

Emperor or Wolff: This fast-growing cultivar is very popular and shows beautiful purple-red leaves from spring to fall, ending its display in a bright blaze of scarlet.

Purple Ghost: This is a smaller variety of Japanese maple, making it ideal for bonsai, and it keeps purple-red leaves throughout the summer before turning crimson in the fall.

Lions Head: This is a particularly rare variant that features a much stronger and bold presence with clusters of green during summer that transition to gold and red leaves in fall.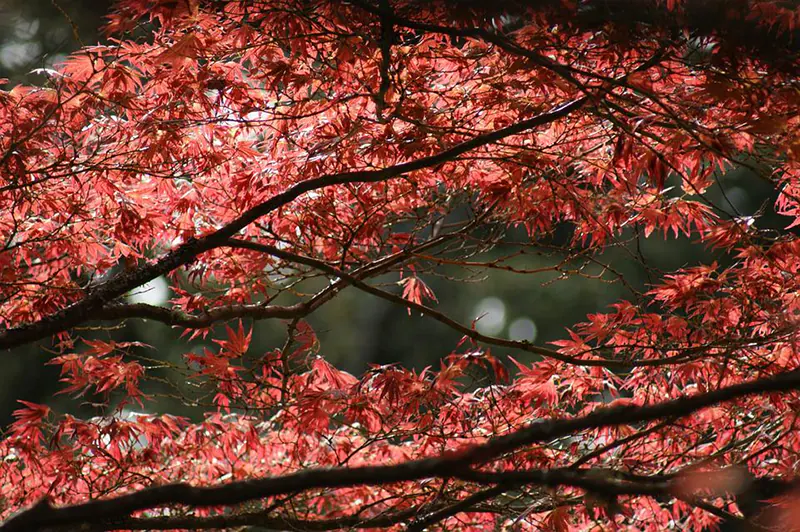 Grafting is the Best Way to Keep the Genetics 'Pure'
It is possible to grow Japanese maples from seeds, cuttings, and grafts. Many may find propagating from cuttings fairly difficult unless you have experience with this particular species. Also, because Japanese maples can cross-pollinate, it can be quite difficult to tell what genetics a seedling grown from seed might have. One of the best ways to propagate Japanese maples, ensure their genetics, and improve the chances of success is through grafting.
They Attract a Variety of Life
Japanese maples are fairly hardy trees if their needs are met and are known not to attract harmful insects. However, they do attract a variety of life to your garden. Since Japanese maples are monoecious, meaning they have both male and female flowers on the same tree, they attract a range of beneficial insect and animal life. Though inconspicuous and small, the flowers attract butterflies, grouse, quail, and songbirds, whereas the seeds attract squirrels, chipmunks, and other small mammals.
Don't Prune Your Japanese Maple Seedlings
You may feel the need to prune your Japanese seedling, especially if you plan to train the trees for bonsai. However, pruning a Japanese maple seedling can lead to poor root development, which affects the overall growth and health of the tree. It's best to leave a Japanese maple seedling to grow for at least a couple of years before pruning. If training a Japanese bonsai, keep the branches you know you want to get rid of as sacrificial branches until a strong root system has been developed. You should trim a Japanese seedling only if you see suckers growing directly from the rootstalk. Since many Japanese maples are propagated through grafting, the root system and trunk come from two different varieties, and allowing the suckers to grow could kill the rest of the tree.
Japanese Maples Love Mulch
Japanese maples are known for having a shallow root system. If left to grow in a sunny spot, they can easily become overheated. However, adding a layer of mulch can help to keep the tree cool and healthy.
They Provide All-Season Interest
While Japanese Maples are mostly known for their beautifully colored leaves, this is a tree that provides year-round interest and not just during the growing season. You can enjoy beautiful leaves sprouting and showing signs of life during spring and summer, and you might even spot some small flowers and fruits. Then in fall, most Japanese maples go through a transition where the leaves change to beautiful autumn colors, and finally, in winter, you'll be left with the trunk. That might not sound exciting, but Japanese maples tend to have beautiful trunks, and some even come in colors such as coral pink or bright red, depending on the variety.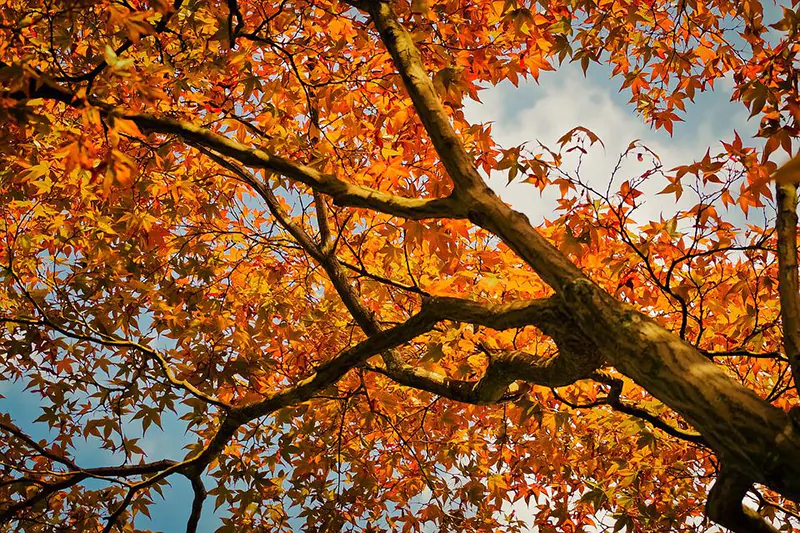 Final Thoughts
Japanese maples are among the most popular and eye-catching tree species in both gardens, Japanese gardens, and bonsai. If all their needs are met, they can develop into hardy trees that can reach more than a hundred years old – meaning there will be plenty of time to enjoy their beauty.