Best Valentine's Day Bonsai Gifts
Valentine's day is here, so now's the time to start looking for that perfect gift to show you care. Perhaps you have a special someone in your life that deserves some appreciation? Or maybe, you should take this opportunity to treat yourself as a reminder of how special you are. 
Regardless of who you want to treat, there's nothing better than a thoughtful gift. Don't just take the easy way with overrated flowers and chocolates. Instead, show them you care with a gift they'll love. 
Best Valentine's Day Bonsai Gift Ideas
There are many interesting and exciting gifts that you can get the bonsai lover in your life for Valentine's day. You don't need to have extensive knowledge of miniature trees in order to get a good bonsai gift. That's one of the beauties of the hobby; you can never have too many trees, pots, tools, or watering cans. 
Join us as we share a few of the best Valentine's day bonsai gifts you can get for your special someone. 
If your partner is just starting out with bonsai, why not help them expand their knowledge with this book for beginners? This book is available in both digital (Kindle) and paperback versions. It includes many useful chapters for anyone just getting started in this exciting hobby. Included will be a history of miniature trees, must-have tools, step-by-step instructions, and more. 
This book is a great introduction to the hobby of bonsai. It includes many helpful and well-structured sections to get any beginner off on the right track. It makes a great collection for any bonsai enthusiasts collection.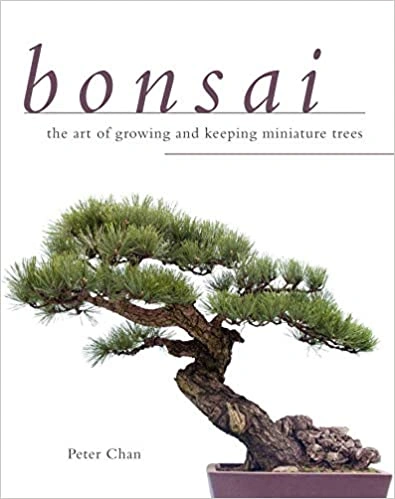 Peter Chan is a world-renowned bonsai expert. We've featured his videos in many of our posts on the YouTube channels to watch regarding miniature trees. This book makes a great gift for any bonsai enthusiast, from beginner to master. The book covers growing, grooming, and caring for various miniature trees. 
One of the features that make this book such a great addition to any collection is the pictures. The book is filled with high-quality photographs of some stunning miniature trees. So even if your partner knows everything there is about bonsai, they'll still be able to enjoy the beautiful photography.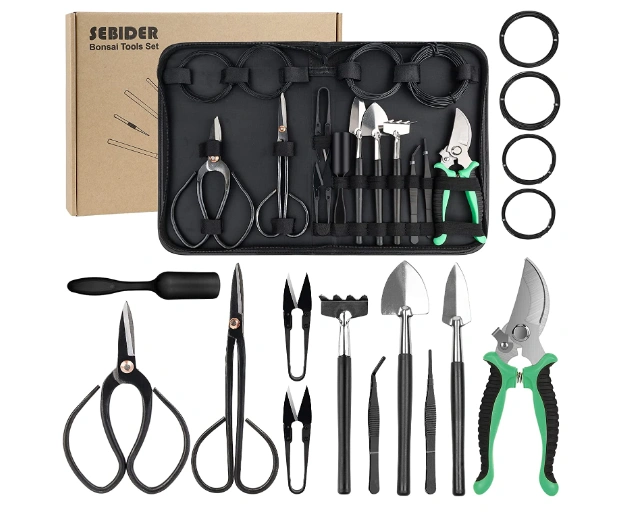 This 16-piece set makes a great gift for anyone still building up their collection of tools. It contains a few basic tools that someone starting in bonsai can use. The tools are made from carbon steel to ensure they have a good lifespan. This set also comes with two different diameters of bonsai wire, which can be used when wire training a miniature tree. 
This set also comes in a lovely leather bag to make it convenient to keep everything together and safe from the elements. This set doesn't include all the tools; for example, it's missing concave cutters and jin pliers, but those can be added at another date.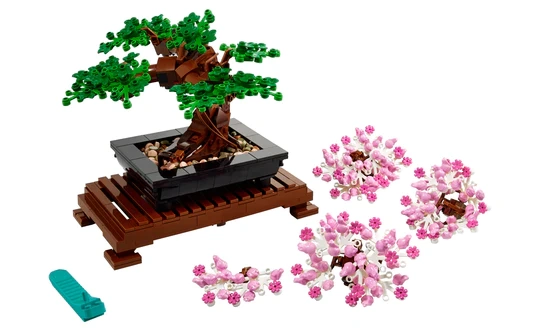 Why not combine a passion for miniature trees with a childhood passion – Lego? This might not be for everyone, but if your special person also loves Lego then this gift is the perfect combination. This set includes a bonsai pot and a slatted wood stand. All the leaves and cherry blossoms are individual pieces, which means you can create a unique look for your display. 
This is a great display piece for inside your home, where you can rarely enjoy your real trees! An added benefit is that it doesn't require any care, and you can change up the style whenever you feel a little bored.
Want to give your significant other a gift that keeps giving? Why not with the bonsai starter kit? While not everyone's favorite process, there's something very rewarding about growing your own bonsai from seed. This set comes with four different species along with the necessary soil disks, burlap pots, and markers to help simplify the process. 
By using these kits you improve your chances of successfully growing your very own miniature trees from seed. It might take a few years to get a tree mature enough to train as a bonsai, yet you have all the control to grow into the style you want.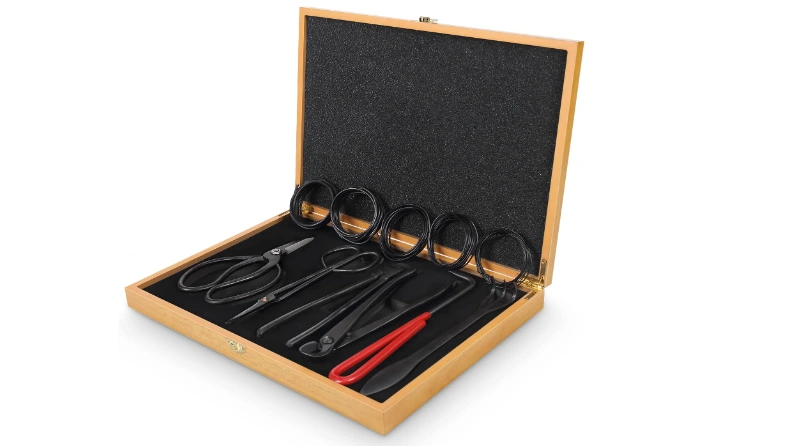 This bonsai tool set is sure to delight any miniature tree enthusiast. It contains tools that are essential for bonsai training and care. In this set, you'll get large butterfly scissors, concave cutters, wire cutters, and more which can be used to train and maintain your miniature trees. 
These tools are made from high-carbon steel, and they come in a beautiful wooden box. Included in the set you'll also find five coils of wire in varying thicknesses so you can shape trunks and branches of varying thickness.
If your loved one has been involved in the bonsai hobby, you can surprise them with this set of more advanced bonsai tools. This set includes concave cutters, knob cutters, pruning scissors, and a trunk splitter. Made from stainless steel and featuring longer-reach, slim handles, this set makes a beautiful and useful gift. 
Each of these tools measures approximately eight inches, a convenient length to help you reach difficult spots on your miniature trees.
 
If you're really looking to impress your loved one this Valentine's day, why not consider getting them a set of Japanese bonsai trimming scissors? These trimming scissors are handcrafted in Japan by third-generation artisans to provide a tool of exceptional quality and sleek design. 
These scissors are made from Yasugi Speciality Steel which is only produced in Japan by combining iron and steel and removing all impurities. The quality of these scissors will ensure clean cuts through plant fiber (up to 4mm thick) which will result in your bonsai healing quickly without leaving scars. These scissors will easily become a prized possession for any miniature tree enthusiast.
These gooseneck watering cans make a great Valentine's day gift for any plant lover. Their sleek design makes them a beautiful and functional tool. These watering cans are made from high-quality stainless steel with a powder coating which ensures they last a long time without chipping or rusting. 
They're available in both white and black to perfectly match your loved one's unique aesthetic. The slim gooseneck spout also limits splashing and dripping while you water your trees. When you purchase one of these watering cans, you'll also receive a free glass watering spray bottle which is ideal for the leaves of your bonsai.
If you're a stickler for getting your special someone flowers for Valentine's day, why not up your game by giving them a living tree? That's right, the bonsai-lover in your life will appreciate this beautiful Azalea starter bonsai. In this gift, you'll receive a five-year-old Azalea that's already been started as a miniature tree, and is just waiting for the right person to train it further. 
Along with the living tree, you'll also receive an appropriately sized glazed bonsai container, soil, and detailed care instructions. This makes a great gift if someone is just starting out in the hobby, or even if they're already established.
Perhaps your life partner prefers trees without blooms. Maybe they already own flowering species, such as an Azalea and are looking for something else? In that case, why not consider giving them a beautiful Green Mound Juniper (Juniperus procumbens 'Nana')? 
This is a popular bonsai species and makes a great addition to any collection. It's only a starter bonsai of about five years, so you still have a lot of freedom with training. This set also comes with a beautiful glazed container as well as a humidity tray with decorative rocks.
Tips for Choosing a Good Bonsai Gift
When it comes to buying the perfect Valentine's day gift to show you care, spending a bit of thought can make all the difference. While there's nothing wrong with traditional gifts like flowers and chocolates, a personal gift that comes from the heart will always be more special. Here are some considerations when considering bonsai gifts for Valentine's day:
You can't go wrong by buying high-quality Japanese tools

When buying miniature trees, go for popular species your loved one doesn't have

Bonsai photo books are a great addition to any collection

Why not choose an experience such as a joint bonsai workshop or 'yoga amongst the bonsai' instead?
Final Thoughts
Valentine's day is around the corner. Make sure that you don't end up in the dog box by getting a thoughtful gift for your loved one. Any of these items on our list will make a great gift for the bonsai lover in your life. Alternatively, you can also decide to go with an experience instead to make a real impression. These experiences can be in the form of workshops, private miniature tree garden tours, or even a few sessions of couples yoga amongst bonsai.