Top 10 Instagram Accounts For Chinese Elm Bonsais
Social media has completely changed how many people approach their hobbies. With such easy access to information on the internet, it's become simpler than ever to pick up a new hobby and learn more about it online. 
Bonsai is one such hobby, and the many different accounts and tags on platforms like Instagram make it easy to gain inspiration, knowledge, and more about the art of bonsai. In this article, we'll share the top ten Instagram accounts and tags to follow for more inspiration on styling and working on your Chinese Elm bonsai.


Image courtesy of Cliff
Top 10 Chinese Elm Instagram Accounts and Tags to Follow
After an extensive search on Instagram, we've managed to track down the top ten accounts and tags that feature Chinese Elm bonsai. While it's rare to find accounts that dabble in only one species, we managed to find a few purely for Chinese Elms, amongst a few more general accounts and tags. 
This tag can be used to find inspiration on a range of different bonsai species from China, including the Chinese Elm. This tag is quite popular, with many posts for users to scroll through while looking for some inspiration on bonsai styling. You'll also be able to see bonsai at various stages of training, from nursery stock to pre-bonsai and even old bonsai that have been worked on for many years.
This tag is dedicated only to Chinese Elm bonsai and is a great source to see what's possible when it comes to this species. When browsing through this Instagram tag, you'll see traditional upright (Chokkan) and informal-upright styles (Moyogi), as well as cascades (Kengai) and even complicated bonsai styles that use deadwood, called Sharimiki.
This is another tag dedicated specifically to Chinese Elms that shows bonsai in various stages of development. You'll see some younger trees that have just been planted as bonsai, and you'll see some beautiful old bonsai where you can appreciate the years of effort taken to get to that point. As you scroll through the various posts, you'll also find helpful videos posted by members that show how to prune a Chinese Elm bonsai.
This popular tag is moving back to the world of more general bonsai inspiration. This account is quite active, with regular new posts ensuring that there's always some new inspiration to be found. By following this tag, you'll be able to see beautiful mature bonsai, as well as bonsai in different stages of development and a few lifestyle shots integrating the art of bonsai into everyday life.
This useful tag shares a lot of bonsai inspiration. Here, you'll find stunning images of mature bonsai and starter and pre-bonsai. You'll also be able to get some landscaping inspiration if that's something you want to dabble with. There are even a few modern bonsai that don't follow the traditional rules of bonsai styling, which keeps the hobby interesting.
This is a nice Instagram account to follow as it shows the progress of a particular Chinese Elm bonsai as it goes through the various training stages. This is quite useful because we often only see bonsai's beginning or end result, but not all the in-between steps that are taken to produce a mature bonsai. 
This account is another varied account that shows various bonsai species, even a few non-traditional ones such as Jade and Kudu Lilies. You'll also see the bonsai in various stages of training, from nursery stock to mature bonsai. I appreciate that the poster groups photos together so that you can track the progression of a specific bonsai to see how it has improved over the years.
This is another useful account that covers a few different species of bonsai. The creators are dedicated to traditional bonsai and penjing, which means you'll see a lot of creative possibilities, from bonsai to miniature landscapes and artistically formed trees. This is a great source of inspiration, but they also have a few short videos demonstrating various actions, from pruning to styling.
If you love traditional bonsai or even just seeing mature bonsai that took years of training, this account is a must. These are true masters at work, and they even share videos showing how they work with and style the various bonsai. If you're a lover of the sharimiki bonsai style that exposes deadwood in the bonsai for added visual effect, you'll be spoiled for choice while browsing through these beautiful bonsai. 
The videos in this account are also very useful as many demonstrate the steps of styling a tree. You'll even see how these artists design and create the deadwood – which is impressive.
This is another account worth following if you're learning about the art of bonsai. On this account, you find many inspirational bonsai. While the images appear mostly of mature bonsai by expert hobbyists, they also have a few videos geared to those still learning. In these videos, they share many tips and techniques used in the art of bonsai, which makes it a great place not only for inspiration but also for education in the art of bonsai.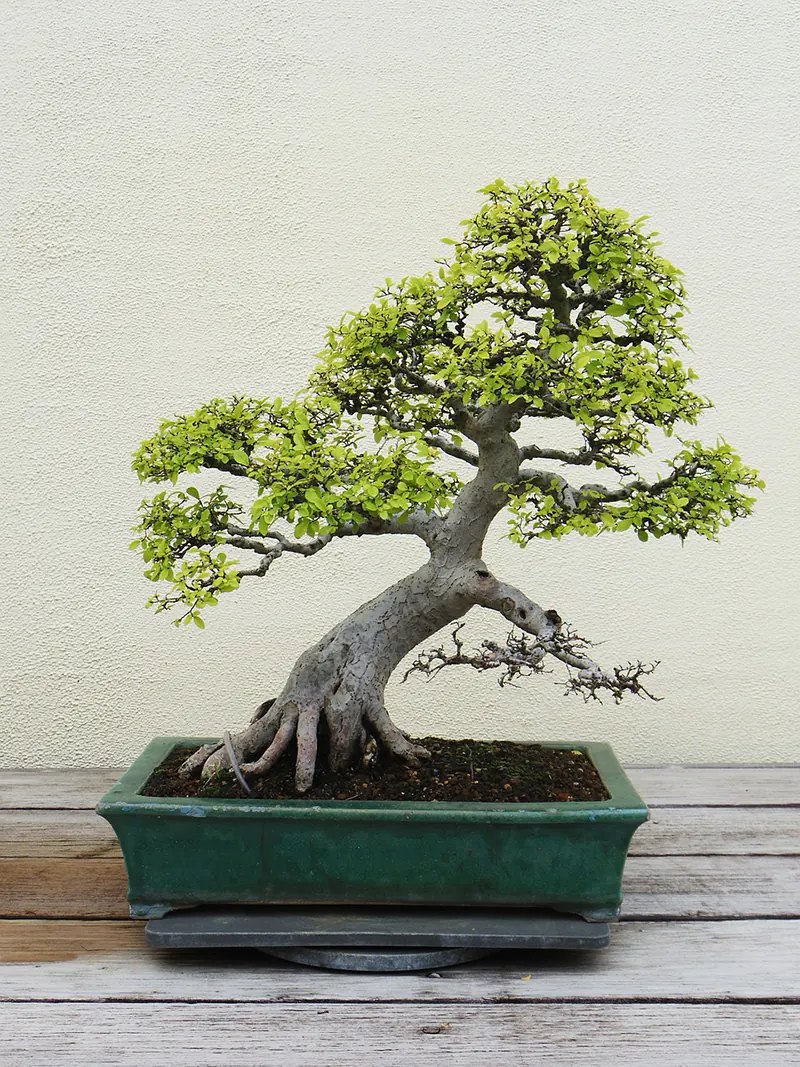 Final Thoughts
Social media platforms have become a fantastic place to gain inspiration and knowledge. You can learn more about a hobby through social media platforms and see what it takes to create amazing artwork. These Instagram accounts and tags share the beauty of Chinese Elm bonsai and general love and admiration for all bonsai.