Most Popular Bonsai in Australia
Australia might be a small continent, but it's not shy when it comes to bonsais. It has local and international trees featured in many nurseries and homes. We'll look at which species they love to develop the most, and whether you'll find any clubs or associations in the country.
Here's what you can look forward to in this article:
Here's what you can look forward to in this article:
The Bonsai Culture in Australia
Australians don't only look at the Japanese bonsai techniques, but they also turn to the Chinese penjing. In 2008, The National Bonsai & Penjing Collection of Australia opened up as a collaboration between the local community and the government. It also lets bonsai growers volunteer in an effort to expand the knowledge base.
The bonsai culture in Australia in residential areas is no different. There are also many centers that host massive and small bonsai and penjing to show their support of the ancient traditions. While some Australians develop international species, there's a significant focus on local trees.
There's such a love for bonsai in the country that you'll find many local and online training centers. You'll initially learn about the plant kingdom and identification methods before moving onto lessons pertaining to these miniature trees. For instance, classes include propagation, pruning, styles, recognizing landscapes, and choosing the right species.
It's not only the locals that aim for the native trees. Many overseas bonsai enthusiasts enjoy growing them too, aiming for trees like the Bottlebrush and Moreton Bay Fig. There are also collaborations with international societies for annual events and gatherings.
Most Popular Bonsai In Australia
Let's get to the main focus of this article, namely, the most popular bonsai in Australia. As we've said, there are some local trees that perform well. However, we want to look at the overall popularity before showing you some indigenous species.
Acacia
The Acacia genus loves tropical to sub-tropical climates. While you can found various species worldwide, there are some that are native to Australia. As a matter of fact, there are at least 10 species in Australasia that together form the largest genus in the region.
It's easy to grow an Acacia bonsai thanks to its durability and versatility. It can handle low watering, although it prefers to receive as much as possible. Any Acacia is incredibly forgiving and will regrow if damaged. There are also stunning flowers in the summer.
Chinese Elm
The Chinese Elm does so well in Australia that the Brisbane City Council has listed it as invasive. The wind carries the seeds easily, where they'll propagate in the country's warm, humid climate. They spread out throughout the suburbs, and you may find a few in backyards.
Many overseas countries prize the Chinese Elm as a bonsai, specifically where you don't find them that often. However, even Australians are fond to develop them, most probably reselling them for their value. The tree has bright green leaves for most of the year, despite being deciduous. Some botanists refer to it as evergreen for how long it keeps its leaves.
Ficus
Here's another genus that's popular the world over, and Australia is no exception. While the country has many of its own species, such as the Australian banyan, many bonsai enthusiasts may turn to overseas ones. There's value in variety, and there are few growers that wouldn't love collecting as many Ficus species as possible.
The trees are ideal for beginners, as they can be incredibly forgiving. Some leaves have a leathery appearance while others are smoother. There's also a massive variety of fruit among the species, some of which have bright colors that are prized on bonsais.
Pine
The Pine genus is one of the most popular to grow as a conifer bonsai in Australia. The trees have stunning needles, while the trunk tapers to a sharp point. There are many styles you can use for them, depending on the species you have.
Speaking of species, there are a few that are native to Australia. One that overseas bonsai enthusiasts love growing is the Norfolk Island Pine, but it's challenging to maintain the shape and keep it small. A few others include the Hoop Pine, Bunya Pine, and White Cypress-Pine.
Fukien Tea
Also known as the Philippine Tea, this species forms part of the forget-me-not family. While it also grows in Japan, China, and Taiwan, it's commonly found on Christmas Island in Australia. It might not be a name that overseas growers will easily recognize, but it's certainly one of the top choices on this southern continent.
While the Chinese generally develop this species as penjing, it's also styled in the Japanese bonsai style. In Australian nurseries, you may find both forms in one location, showing strong support for the various cultures. It has bright green leaves and white flowers in summer, while the former is considered to have medicinal properties.
Indigenous Trees Grown as Bonsais
Now that you've had a look at the most popular bonsai in Australia, we want to analyze some of the local trees that perform well in the country and overseas. There are several available, but we want to aim for the top five that we recommend. You should be able to find these in most online stores.
Callistemon
You may recognize this genus as the Bottlebrush trees. While they grow in several countries, they are native to Australia and valued for their unique leaves, flowers, and seeds. The red, brush flowers present that appearance that makes it outstanding as a bonsai in any collection.
Brachychiton
This genus of Bottletrees is another one that's popular for its bright red flowers. It's spread over most of Australia, while you won't really find it in many other countries. There are 30 species on the continent alone, with the Illawarra flame tree standing out as one of the best to show off if you can transform it into a bonsai.
Eucalyptus
If you love koala bears, you'll know that the Eucalyptus is one of the primary sources of nourishment for these adorable animals. These evergreen trees have blue-green leaves they feed on, but there are several species you can grow as bonsai. It's a hardy tree that can withstand most conditions.
Grevillea
Also known as Spider Flower, here's another genus that shows off red flowers, but in a different style. There are 360 species in Australia alone, revealing just how much it enjoys the climate. If you love attracting butterflies or birds, it's an excellent bonsai to keep outdoors.
Melaleuca
Changing to trees that look like white bottlebrushes, these honey-myrtles consist of 300 species, many of which are native to Australia. The leaf shapes may make it challenging to grow as a bonsai, but there are many that have tried and succeeded. The bark is also stunning, looking like paper about to peel off.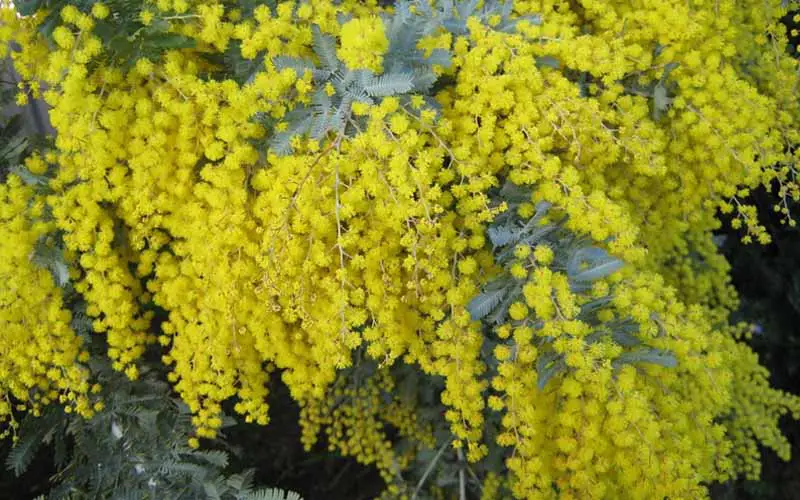 The National Tree of Australia
We mentioned earlier that the Acacia genus is one of the most popular on the continent. It shouldn't be surprising that the Golden Wattle is Australia's national tree. It symbolizes unity, reflection, and remembrance, where locals will wear a wattle sprig on days of mourning.
The government and residents use the Golden Wattle as an excellent defense against winds, droughts, and bushfires. It's also a valuable symbol in some instances, such as a stamp, in some award systems, and as an emblem for the Order of Australia.
Australia celebrates the 1st of September as National Wattle Day. The Wattle Day League started this tradition in 1913, but the government formally recognized it on June 23, 1992. The primary reason for celebrating on that day is due to the first flowers appearing as spring arrives.
However, the significance of the Golden Wattle stretches further back in time. Indigenous people had mixed the tree's gum with honey and water to create a toffee, sweet substance. The bark's tannin also worked well as an antiseptic. Even the colonial settlers had uses for it, such as glues, honey, and in the tanning industry.
National Bonsai and Penjing Collection of Australia
In 2008, the ACT government joined forces with the Australian Bonsai Community to create the NBPCA. It was initially hosted in Commonwealth Park but moved to the National Arboretum Canberra in 2013. It holds both the Chinese penjing and Japanese bonsai styles.
The ACT welcomes any volunteers to participate in the collection and maintenance of the trees. However, it has strict standards and will only accept members from official bonsai associations or clubs in Australia. You also need to be exemplary in identifying species and styles without too much guidance.
There's an annual Bonsai Pot Acquisition Prize that takes place at the NBPCA. The challenges change every year, but it always has something to do with the collection. For instance, 2021 saw entrants creating pots for a water gum tree, with the best design winning the award.
Australia Bonsai Associations and Clubs
Australia isn't shy when it comes to clubs and associations. Some have a national focus, while others target specific regions. While there are too many to discuss here, we'll look at the more influential ones. Feel free to let us know if you're a member if any others.
Association of Australian Bonsai Clubs
The AABC is the official national bonsai association that regulates the formation and policies of bonsai clubs and societies. It also covers certain parts of New Zealand that have elected to participate. While it lists all the bonsai clubs and events on the continent, it doesn't really become involved in training anyone to grow these small trees.
Bonsai Federation of Australia
The BFA has more of a social media presence than an online site. It covers the critical bonsai and penjing events that occur in Australia and New Zealand, while it may also showcase some clubs or sales. In addition, many bonsai societies show their support of the AABC and BFA.
Bonsai Society of Australia
The BSA has been around since 1965 and is one of the oldest bonsai organizations on the continent. Every month, it presents a workshop for members and other clubs to participate in. It also offers a list of all societies with detailed guides for beginners on the site.
Illawarra Bonsai Society
This society formed in 1970 when a small community of bonsai enthusiasts gathered to discuss similar interests. The first meeting had a 'how-to' workshop, followed by supper and a unanimous decision to form the association. In 1990, it became an official incorporated body with elected officials.
Yarra Valley Bonsai Society
The YVBS calls itself the 'far east of Melbourne. It specifically caters to bonsai enthusiasts in the region, but it welcomes any visitors to its exhibits and events. There are paid memberships that grant you discounts and other benefits and some stores and institutes, while you can also attend any of its workshops.
Central Coast Bonsai Club
The CCBC is a bit younger than the aforementioned societies, established in 1997. It accepts teenagers still in school up to seniors who have an interest in maintaining bonsais. It's primary focus is to encourage a passion for the culture while creating an enjoyable experience.
The country is rich in bonsai and penjing culture, and Australians are free to choose whichever method they feel more comfortable with. Some growers like to have mixed collections at home, while official associations attempt to keep them apart. What's evident is how much the culture is alive on the continent.