The Best Ficus Bonsai Trees To Buy Online
This stunning bonsai has gained popularity as one of the most popular trees to grow due to its durability and tolerance. It's common to find them in nurseries worldwide, as they can withstand damage and the elements. That's why we felt it necessary to present the best ficus bonsai trees available online.
Here are the topics we'll cover in this article:
Here are the topics we'll cover in this article:
Top Three Ficus Bonsai Trees
Brussel's Live Golden Gate Ficus Indoor Bonsai Tree
Taiwanese Ficus Shohin Bonsai Tree
9GreenBox - Live Ginseng Ficus Bonsai Tree Bonsai
Live Plant Ornament Decor for Home, Kitchen, Office, Table, Desk
Reviews Of The Best Ficus Bonsai Trees
While there are many Ficus bonsai trees available worldwide, we selected only the best based on the seller's reputation, the quality of the products, and a few other factors we'll present later. For now, here are the ones that made the top of our list.
Brussel's Live Golden Gate Ficus Indoor Bonsai Tree
5 Years Old; 6" to 10" Tall with Decorative Container, Humidity Tray & Deco Rock
Dimensions: 12 x 12 x 15 inches
Review of the Unique Qualities
Brussel is one of the top providers of the best Ficus bonsai trees. You'll seldom receive a product without a few added extras. For instance, the soil is covered with deco rocks, and there's already some wiring in place to hold it in shape.
To maintain moisture in the air, you'll have a humidity tray with some small pebbles. Fill this with water, and you'll have the water evaporate to the leaves during the day. If there's an issue with the bonsai within the first 30 days, you can contact the seller. You'll also receive a handy care manual.
This Ficus bonsai tree is ideal for beginners and veterans, although it doesn't provide tools for the former. You'll also have no control over the size you'll receive. However, you'll love the deco rocks, humidity tray, and stunning design of the product.
Taiwanese Ficus Shohin Bonsai Tree - Tiger Bark
Style: Shohin informal upright
Review of the Unique Qualities
For beginners that are unaware, shohin refers to keeping bonsais as small as possible. The fact that this Taiwanese Ficus is eight years old and still tiny is astounding. It's for this reason that this item is more expensive than the average bonsai rate.
The bonsai also shows off some roots, which is an attribute most enthusiasts feature on the Ficus. However, you won't be able to receive the item during cold seasons. The seller makes it clear that it will only ship the product to your location during warm weather to protect it.
One of the most outstanding features of this Ficus bonsai tree is the tiger bark, which reflects the unique marking of the species. You'll need to regularly prune it to keep it in the shohin form, which shouldn't be too challenging. Just remember that it needs as much watering as a regular-size bonsai.
9GreenBox - Live Ginseng Ficus Bonsai Tree Bonsai
Live Plant Ornament Decor for Home, Kitchen, Office, Table, Desk
Dimensions: 14 x 4 x 4 inches
Review of the Unique Qualities
What we love about this Ginseng Ficus bonsai tree is the stump with hanging roots and shoots from the head. We've had a look at some of the other customer reviews, noticing that there are a few of them with the same appearance. However, we also noticed a few variations.
Appearances aside, there's a bag of solid fertilizer you can use during the warmer months. You'll also receive a humidity tray, but it's too small to have any proper effects. We recommend buying a larger one if you're keen on owning this species.
While it may not be appealing to many of our readers, we still feel this product is one of the best Ficus bonsai trees available online. You should expect some leaves to fall within the first two months of delivery, but it should grow back by the next spring when it gets used to the climate. You'll also want to invest in a bit more fertilizer for the first spring.
Brussel's Bonsai Live Golden Gate Ficus Indoor Bonsai Tree
4 Years Old 5" to 8" Tall with Decorative Container, Small
Dimensions: 5 x 8 x 9 inches
Review of the Unique Qualities
Our attention turns to the Golden Gate Ficus, which is always a beautiful specimen to behold. This Brussel product forms part of its Tropical Collection, with a gray trunk and bright green leaves. It's ideal for growing indoors, so you'll be able to sit inside and stare at it while having your cup of coffee.
As usual, the seller offers assistance if anything goes wrong within 30 days. We love the bends in the trunk that lean into the informal upright style, and you can see that professionals tended to it. If you're not sure how to maintain it, simply refer to the included care sheet.
As with any of the best ficus bonsais available online, you shouldn't expect your tree to resemble the promoted image. However, Brussel seems to have a few of these styles prepared for mass production. The only downfall is that wire marks are to be expected for such tight bends in the trunk.
Tropical Indoor/Outdoor Bonsai Seed Kit
Dimensions: 6.46 x 6.18 x 6.14 inches
Review of the Unique Qualities
One type of product we sometimes promote is a kit with seeds. While beginners are welcome to try this method, it's better suited for expert growers. You can enjoy years watching it develop, while you have the opportunity to bend it into any style you want.
The species you'll receive is Ficus religiosa, also known as the Sacred Fig. There are also two other seed types available, namely, Purple Orchid and the Flamboyant tree. You'll also receive cutters, labels, containers, and an instruction manual for how to set it all up.
Bonsai kits provide an exciting experience, bringing new life into the world. The Sacred Fig is a special treat for when your family visits you, but they won't need to kneel before it. However, you'll have to wait several years before it gets that beautiful girth in the trunk.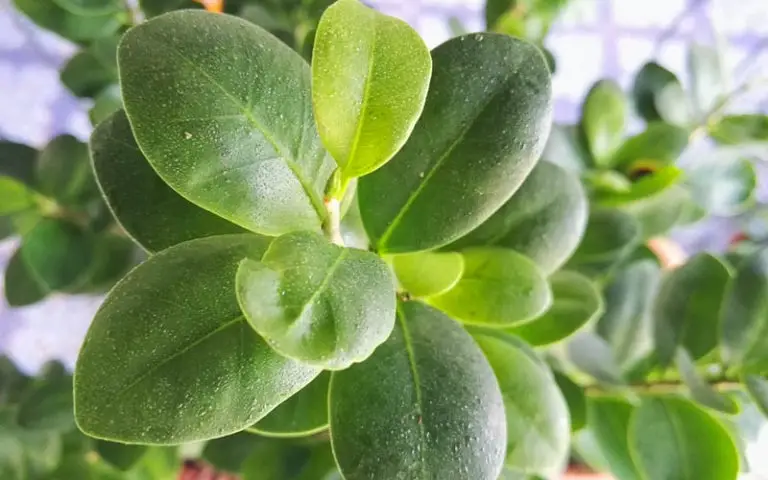 What Sets These Ficus Bonsais Apart From Others
With so many of these plants available on the internet, there are few aspects that set the best Ficus bonsai trees apart from others. It may seem minor, but it presents better quality and expands to your experience with them.
You can develop the Ficus tree into numerous styles and forms since they're so versatile. The Weeping Fig is a favored species for formal upright to show off the drooping leaves. However, we look for styles that are not only unique but easy to maintain.
No one wants a bonsai that looks dilapidated or dehydrated. While it's hard to tell what you'll receive from the seller's picture, it's easier to judge when clients share reviews with images taken on delivery. It gives you a good idea of how well the seller looks after its products.
We prefer ceramic, shallow containers with the standard soil mix for a Ficus bonsai tree. Too many sellers try to get away with cheap plastic pots that spoil the atmosphere. Of course, some do sell them in a plastic container with a ceramic one on the side so that you can transplant it yourself.
How We Picked Our Top Selection
While the above elements make the best Ficus bonsai trees stand out from others, we have our own criteria for judging which ones should be on our list. We might change the products on this page from time to time, but these rules remain the same.
One of the most significant aspects we assess is what other buyers have to say. The primary reason is to compare experiences among several purchases. We might receive a splendid product for our reviews, but 80% of the other buyers might have a terrible experience. It's best that we look at the whole view.
Why buy a tree when you can receive an entire kit? We love extra accessories, especially if there are tools for beginners or fancy labels. We're also fond of packages with food for a year, ensuring that we don't have to go hunting for it separately.
Paying less for a bonsai is one thing; making sure you receive value for your money is another. We don't merely compare prices between products, but also view if it's worth the amount. An expensive Ficus with a gorgeous style and flowers is more valuable than a cheap, broken tree with damaged tools.
Most bonsais become used to climates and temperatures, and the Ficus is no different. As a matter of fact, it may sit dormant in your new home for months until it grows used to the new location. If you purchase any of them from overseas, you're running the risk of damaging its health. Rather buy local trees.
What Factors to Consider When Buying One of the Best Ficus Bonsais
Now that you've seen our deciding factors, it's time to look at yours. While any of the best ficus bonsai trees may be appealing, they might not be suitable for your home. Let's see why.
The Ficus tree can be grown to a large bonsai, presenting a majestic appearance. They can also be kept small, which remains true to bonsai culture. However, the aspect you need to keep in mind is how much space you have at home. These trees need air to breathe and expand and aren't fond of being surrounded by walls and other objects.
Bonsai enthusiasts pay close attention to hardiness zones in the United States. Some Ficus species don't like frost or the blistering heat, or they may not be used to it in their region. There's a good chance it won't survive if you attempt to maintain it outside its natural zone.
There are two safety factors that pertain to Ficus bonsai trees. Firstly, you need a secure place at home where they are protected from pets and children that don't value them as you do. Secondly, be careful when pruning branches, as the white sap is toxic. Ensure you wash your hands thoroughly if it makes contact.
An older bonsai looks more beautiful than a young one. It has a thicker trunk, which can take years to develop. For this reason, many people buy them instead of growing them from seed. It also means they'll see flowers bloom a lot sooner.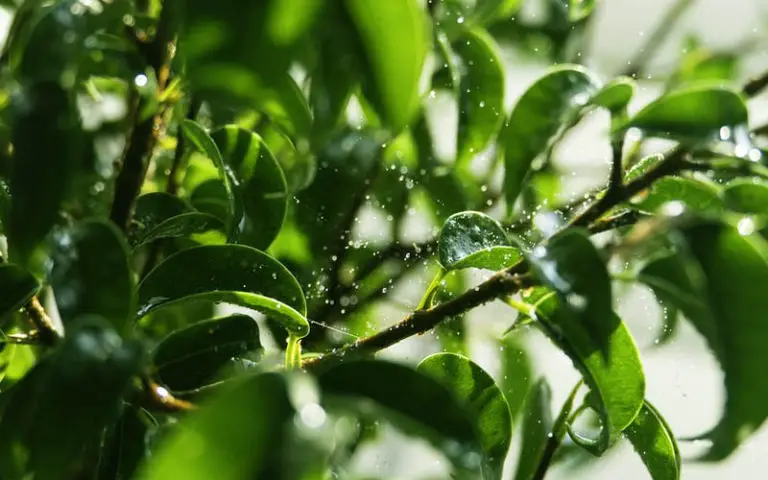 Before you leave, we invite you to read the questions people always ask about Ficus bonsai trees. We've collected these from the online community, but feel free to send us any more you may have. We're only an email away.
One of the most popular trees to keep at home is the Ficus. It has a high tolerance for poor conditions, but that doesn't mean you should neglect it. It's also a great specimen for beginners to learn the art.
There are many factors you need to consider. It needs daily sunlight of about four hours, while you should keep it in dappled shade for the rest of the day. Summer and spring calls for daily watering, which you'll reduce in winter. Remember to also feed it fertilizer in the warm months.
Ficus bonsai trees love humidity. The more, the better. You can either spray water over the leaves or place a humidity tray under the pot for the sun to evaporate the liquid. Either way, it wants high moisture in the air, which is perfect for rich, green leaves.