Can You Grow Azaleas From Seed?
The quick and easy answer to whether you can grow Azaleas from seed is yes; it's fun, stress-free, and they tend to have a high successful propagation rate. This article will cover everything you need to know before you start growing your legacy Azaleas from seed.
We'll go over selecting the most appropriate container for propagating, selecting an appropriate medium, the best seed sowing techniques, and germination care for the first years of your plant's life. While Azaleas are inexpensive and regularly available at nurseries, you'll have worlds more fun growing your own.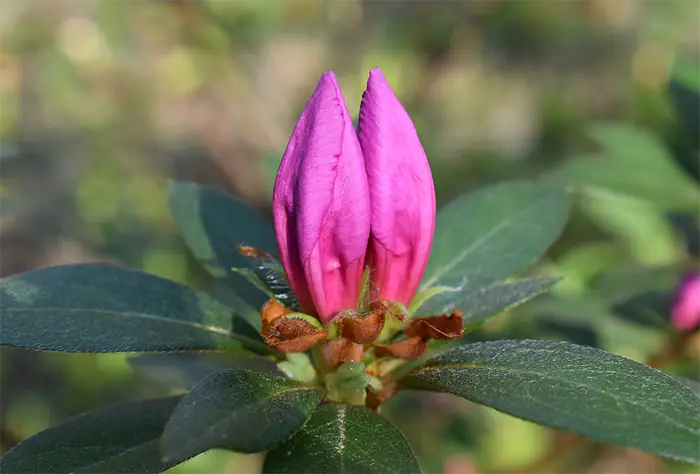 When Is The Time To Grow Azaleas from Seed?
While the optimal time for starting your azaleas depends on your region, it's regularly best to sow during late November through early December.
Getting the Right Container
Selecting the most appropriate container for your needs can depend on several factors. If you want to recycle a one-gallon plastic milk jug or use any other small to medium planter pot or flat, you need to ensure that it provides adequate drainage. Moreover, it's best practice to provide a humidity dome for the young plants when propagating azaleas with a small container that would be a ziplock baggie that can fit over the pot's rim.
These domes should be left 24/7, indoors or outdoors. If you're sowing these seeds indoors, and if possible, place them under grow lights for 18 hours a day or setting near a north-facing window seal. And if your Azalea seedlings are growing outdoors, do your best to place them in a filtered sunlight location; these plants love daytime sun and evening shade.
Azaleas are a plant that prefers acidic soil; you are looking for a PH balance of 4-5 and a half. Therefore, you will want to utilize a soil mixture of shredded sphagnum peat moss that includes aluminum sulfate. This medium selection will ensure a well-suited PH balance in your medium.
As a side note, if you notice your leaves turning yellow, the soil's acidity may have depleted. I know that everybody has their own well-rooted beliefs on their preferred mediums; these are just some thoughts.
I would do my best to imitate wild natural environments. Therefore if I were to grow my Azaleas, I would abide by the guidance previously mentioned but cover that soil with forged moss. In the wild, an insect would unknowingly drop seeds on moss beds near creeks. I would also include a label with as much information on the species and dates sewed on it. I am notorious for losing track of such data.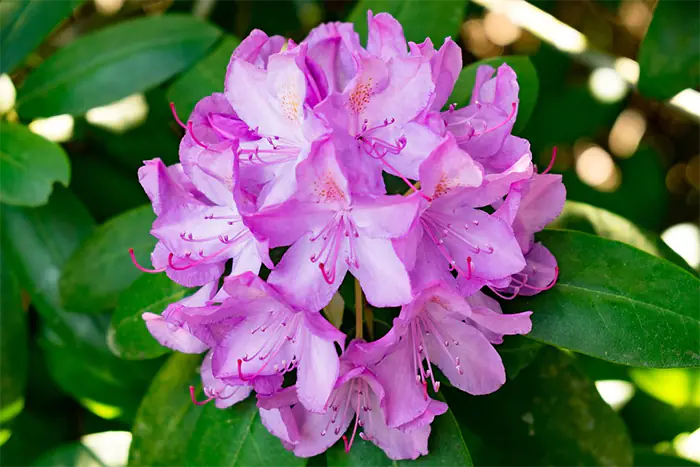 Not to sound redundant, but you have the time and know where some public azaleas are, try and forage your seed pods. Perhaps check to see if you need any permits to do so, and while you are at that, check out the America Azaleas Society for even more information.
October tends to be the best time to harvest seed pods. A ripe and ready seed pod will be brown and free of most green vertical lines, and if a pod is open and you can see the remnants, it's too dry and could create problems. These seed pods can be frozen and will last for years and still yield.
Some individuals have their preferred methods of releasing the tiny seeds from their protective pods. It is best to prevent sowing any pod remnants into your medium; it can lead to mold. It might be easiest to make a few cuts, with a sharp knife or pair of scissors into the sides of the pod, and then roll the pod between your thumbs and forefinger over a plate allowing the tiny seeds to fall out with minimal remains.
Please do your best to remove any none seed pod material that might have gotten onto the plate. Azaleas are surface rooting plants, so drop the seeds onto the top of your medium. Lightly watering them after sowing will provide enough aid in getting them in the perfect germination position.
First Year Germination Care
Let's discuss proper Azalea bonsai care for the first year. Do not overwater your seedlings, or you will promote root rot. Water lightly, with mist or a watering pot with very fine holes. You do not want to push the seeds down deep into the soil. Utilizing the humidity dome or not, let the soil dry between each watering. Another personal note, if you can collect rainwater for watering purposes, that would be great for your azaleas because rainwater is more acidic. Also, never use chlorinated water.
These are hearty plants. However, if the temperature drops into the teens and your seedlings are outdoors, go ahead and bring them inside for the evening. If you can not bring them indoors at those temperatures, place a sheet over them for the night. The first sign of life you will see is the growth of two tiny bright green leaves. This growth should take place within 24-40 days. Not until at least 60 days should you transplant or split the community of your seedlings.
When your seedlings start to sprout, you can provide the plant with your preferred root stimulator formula. When you decide to fertilize your seedlings, be sure to start with a 20/20/20 formula, preparing the young plant for its first summer. During the plants' first spring, monitor closely and water frequently.
During that first summer, use a starter fertilizer; this will help reduce nitrogen percentages to focus the plants' growth on root development. By the time Fall rolls around, your azalea should be starting to show some personality. In the winter months, your plant will require less fertilizer.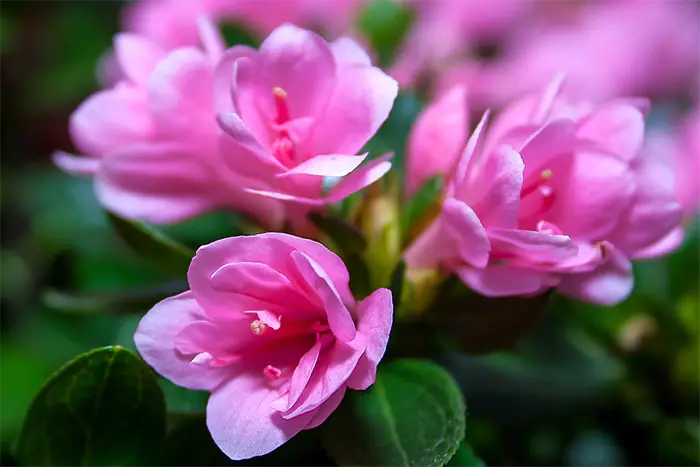 I'm not sure how many botanical species have national associations dedicated to documenting, furthering advancements, and protecting them. However, Azaleas are one species that have multiple associations proudly dedicated to the premier shrub. That's not all; a quick tertiary search of 'Azalea Festival' leads to results from around the globe that seem to be long-standing traditions. A more meddlesome search will turn over the local small-town Azalea Festival scandal. Scandal aside, international Azaleas are loved by all.
The evergreen shrub is known for its dark rich green leaves with clustered bright colored flowers that stand out against the leaves. Landscapes seem to lend themselves well to the flowering shrub; it is a hardy, reliable plant with vibrant colors. There are even companies working hard to create more significant color variability, even sunburst features in Azaleas.
Where I live in the DFW metroplex of Texas, USDA Zone 8, we are home to more than two dozen native Azaleas. So I see them regularly in home landscapes and parks, from as large as 20ft to 6ft wide and high.
If you want to get into bonsai or develop your shaping skills, you couldn't ask for a better practice plant than an azalea. Why not further that practice by starting a shrub of your own. In several years you will have your own designed evergreen azalea bonsai to enjoy forever. Better yet, try to use all recycled and forged material. Why have a green thumb when you can have green fingers, toes, arms, legs, heart, and mind?