The Peeling Bark of the Drake Elm Bonsai
Drake Elm is amongst the most refined quality Bonsai plants that Americans and other people globally love to own. But, perhaps, they need good care, and their structure demands regular maintenance and upkeep to blossom around. So, are you also dealing with the peeled barks or shedding the Chinese elm Bonsai leaves?
Drake trees showcase an enigmatic charisma, while you can also invest in the small catchy drake elm bonsai plants available at affordable prices. We discuss the smaller version of these bonsai plants with tender small leaves, well-sculpted roots, and delicate branches. Of course, the conditions and environment under which you nurture these plants matter greatly.
Do you adore and love to nurture those cute Chinese elm bonsai plants? Our expertise in bonsai and botanical research replicates a couple of factors that could deplete or enhance the drake elm's existence at your place. Drool in with us for a detailed insight into the elm bonsai's proper care and restoration.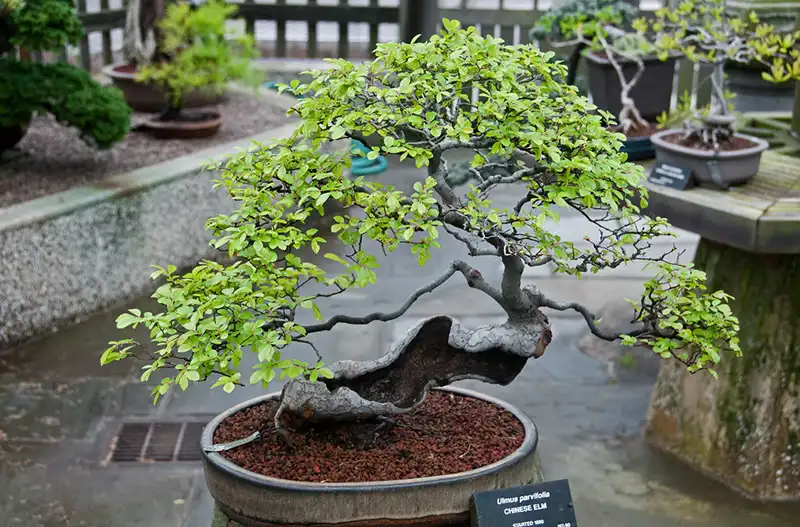 Image courtesy of Eric Kilby / License details
Factors To Consider For Preventing Peeling Bark In Drake Elm Bonsai
Location
We often tend to ignore the most crucial criteria while fixing the place for this small elm bonsai. For example, suppose you wish to keep them indoors; it's not possible to arrange them as a showpiece at your coffee table and place them at the center of your living room. Nor can you locate them in your study place or any other spot where sunlight does not peek in.
Before bothering about its peeling bark, please pay attention to its placement. Burst your mind bubble of arranging it near the TV to grab guests' attention. Any Bonsai plant craves for a bright spot when sunshine touches them swiftly. Also, ensure that harsh or blazing heat could hurt your delicate drake elm bonsai.
How to Locate?
Plant Chinese elm bonsai in bigger pots and use a mist spraying tool to provide moisture and heat in equal quantities. More amount of soil ensures that the plant retains moisture for a longer time, and especially in summers, it adds life to your bonsai.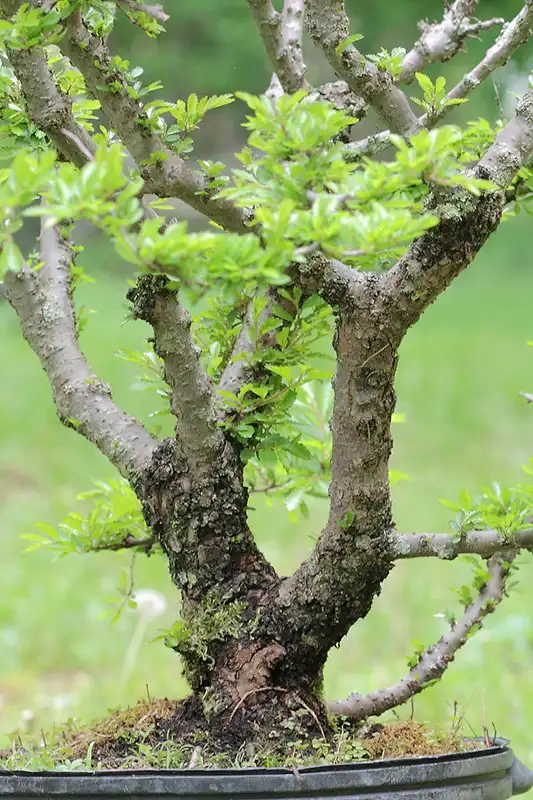 Preventing snowfall is also a tedious task, but even a partial sun makes them dance in happiness! Our research indicates that taking proper care of the elm bonsai could help them withstand even minus temperatures to a certain extent. The natural leaves structure is tiny, and also the growth is very tight, thus enabling it to hoover up maximum possible light.
Watering
Regular watering is a key to the maintenance and care of the Drake elm Bonsai plant. It requires adequate moisture content, or else the barks start peeling off, and leaves begin to curl up. Pour water slowly onto the soil surface until it is moist in every single hole in the pot. You must intend to pour water till the roots do not dry out.
How to Water the Elm Bonsai?
Plunging the entire pot in a water bowl is also an excellent way to ensure that it receives complete moistness. Allow it to rest on the planter tray and let the excess water drain out before locating back to the place.
Many expert gardeners also suggest mist spraying to keep the proper humidity levels around the tree. A certain level of moistness in Chinese Elm Bonsai could help it grow for years. We unleash a secret about bonsai that keeping it in the kitchen window facing south can also make it grow bigger and fuller.
Pruning
Have you spotted gardeners trimming the grass and plants to make them look well-maintained? Pruning is a good idea to avoid the peeling of bark as it retains the best part of the plant, making it look eye catchy and appealing. For example, Drake elm bonsai needs to be chopped off for a couple of inches to grow it progressively and await new shoots popping out of it.
How to Prune Your Bonsai?
If you have ever observed the drake elm plant, it has that natural dome crown shape. Try to stick to the same shape and prune off the excess extensions that you don't tend to touch. But what if you wish to have a matured and grown-up elm bonsai at home? Is that feasible?
Chopping the plant in small bits can grow while retaining its beauty and charm. Concentrate on enhancing the bonsai twigs instead of the height. Cut the side shoot instead of trimming in length to give it an elongated texture.
Feeding And Repotting
Do plants eat? Surprisingly yes! Healthy plants need good fertilizers and granular feeds after a certain period to grow and flourish. Our experience with elm says that if you keep them outdoors, spring to Autumn is the best time you have to take care of it by passing regular feed.
Trace its natural growth without feeding for the first few weeks and then start with the regime. Chinese elm Bonsai need repotting to keep them in the best possible health. Even their most miniature version needs repotting in around two years to keep them in the best condition.
How To Feed And Repot The Elms?
Drake elm plant has a peculiar sign that needs attention. When you observe their peeling barks or yellow leaves, understand that the plant is not in good health. Timely granular feeding and repotting or soil exchange can give them the desired appearance and look. Allow the tiny babies to absorb ample sunlight, breeze, and coolness from the environment as it's what keeps them alive and glowing.
Make regular use of insecticide sprays to prevent them from infestation by bees and flies. These plants are semi-deciduous in nature; they would stay even with partial leaves for a specific time and then burst out in greenery when the season arrives.
While there is too much fuss about the drake elm bonsai and preventing its peeling bark, refer to the above insights and caress your plant with love. Though we have figured out ways to keep Chinese elm healthy when kept indoors, it is worth encouraging others to plant them outdoors. It can reduce your time spent on maintenance and enthrall you each morning with its shining sight!