9th World Bonsai Convention is now virtual
If you were saddened that there were no more World Bonsai Conventions by the World Bonsai Friendship Federation (WBFF), you have a chance to rejoice. While it might not be able to host a physical event at the moment, it's decided to use modern technology for a virtual tour. 
The 9th World Bonsai Convention goes live today, October 9th, 2022, but you need to register to be part of the experience. It lasts for a full week, letting you watch the shows online from nine different regions. Let's take a look at what you can expect.



The World Bonsai Friendship Federation hosts a new virtual convention
The last time we could enjoy a bonsai convention by the WBFF was in 2017 when Japan hosted it as a physical event. There were plans for Australia to hold the next one in 2021, but sadly, that didn't take place. To make sure another year doesn't go by without one, the federation decided to make use of modern technology for this week's online shows.
Nine different regions
The WBFF has nine regions that form part of the Boards of Members. These areas are Africa, Australia/New Zealand, China with Taiwan, Europe, India, Japan, Asia-Pacific, Latin America with Mexico and the Caribbean, and North America with Canada and U.S.A.
What will happen at the 9th World Bonsai Convention?
If you've registered for the event this week, you'll be able to interact with live demonstrators at the show. You'll also be able to replay any videos if you missed any of them during the week. There's no limit to how many times you can view the shows.
The tour will include Australian Suiseki collections as well as bonsais from other regions. Representatives have prepared talks focusing on trees from their countries. If you're wanting to spend some money, you can attend the online auctions and bonsai marketplaces available during the week. 
How to register for the 9th World Bonsai Convention
You'll need to head to the special registration page if you want to enjoy the bonsai convention. The starting price is $140 (AUD), but there's a wealth of experience for the week ahead. Once you pay, you'll receive login details for the actual online convention. 
Your registration will include the following:
Login for nine days of viewing the bonsai convention

Ten demonstrations by world-class bonsai experts

Q&A live sessions with two of the live demonstrators

Various activities to view and engage with

Ability to rewatch any of the shows until the end of October 2022

Marketplace trading with people from around the world

An online auction of stunning bonsais

Opening and closing ceremonies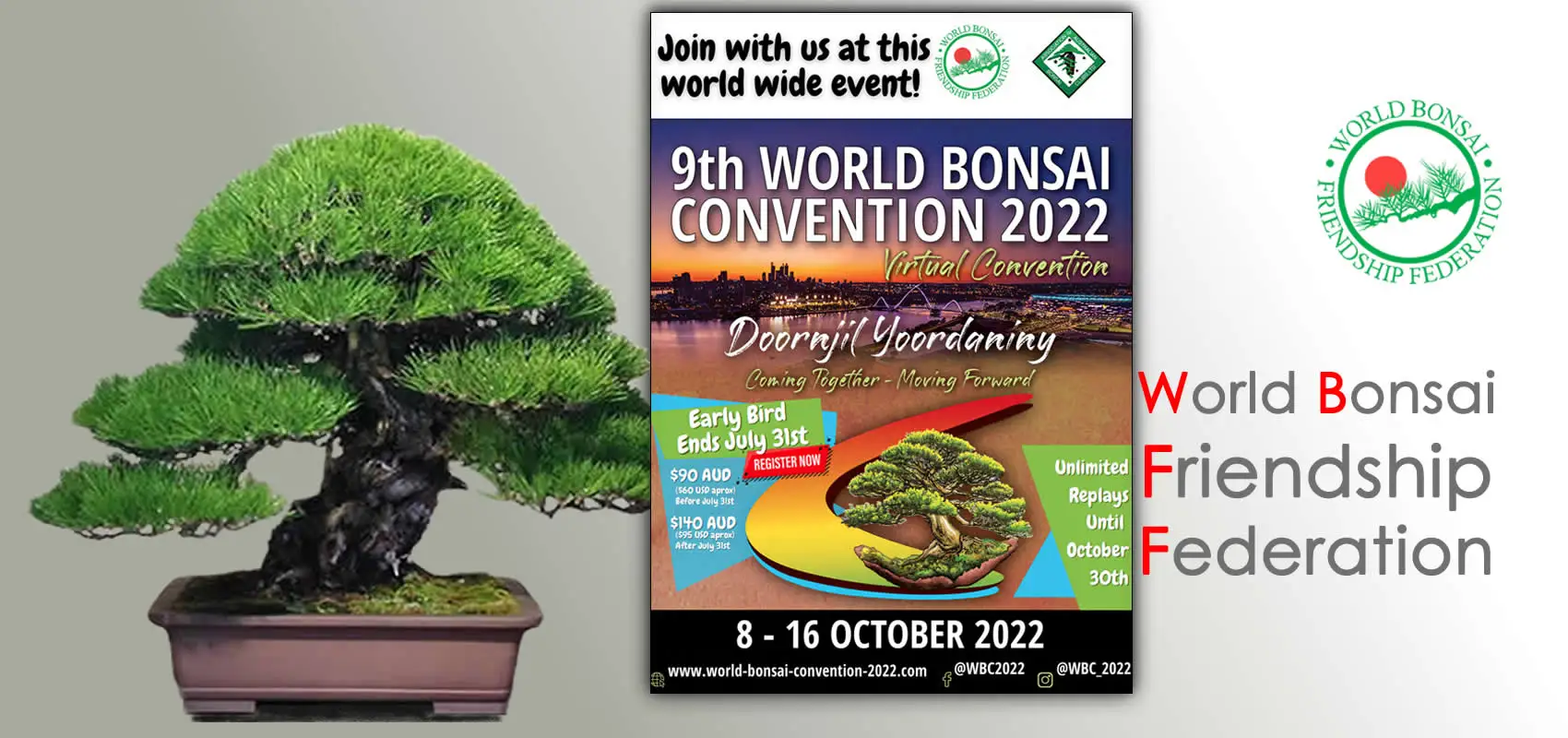 Go online and enjoy the bonsai show
As you can see, it's going to be a while show that will be a blast. I'm sure you'll love every moment of it, and I hope you can attend a few of the events this week. We'll be keeping a close eye on how the events unfold.
If you do attend, please take some screenshots and share your experience with us. I personally would love to know what it was like for you and if you asked any questions. Also, it would be great to see if you bought any of the bonsais.
Newsletter
Subscribe to our newsletter and get the latest news and promotions. Be the first to learn about what's new in Bonsai Alchemist and get 0 spam emails from us.