Meet Bonsai Master Masahiko Kimura
The name Masahiko Kimura may be new to many of us in the Western hemisphere, but it's a name that's well known in the East. As a matter of fact, his concept of a bonsai forest originally caused a stir in Japan, as it didn't hold to the bonsai rules of a tree in a pot. 
Today, bonsai master Masahiko Kimura's style of growing small trees in a forest is one of the most popular forms worldwide. Here's how he started learning about this fantastic Japanese art and became the legend he is today.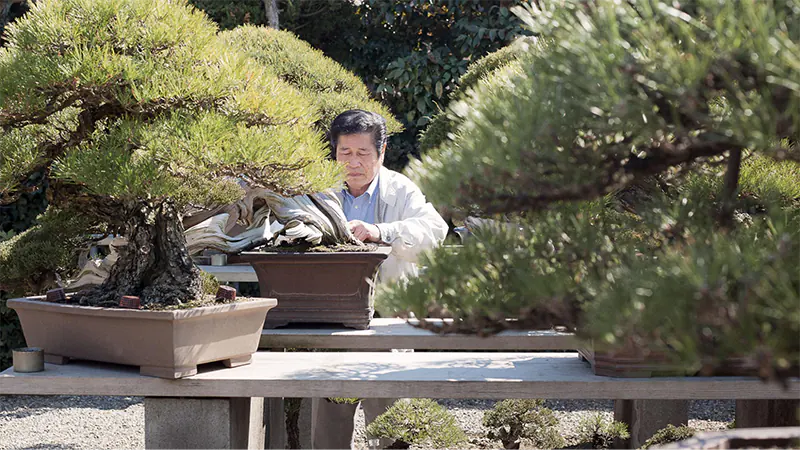 Humble beginnings for Masahiko Kimura
Masahiko Kimura had different aspirations when he was a teenager. Having lost his father when he was 11, he initially wanted to be a musician in the rock n roll genre. His mother sat him down at the age of 15 and spoke to him about his future, encouraging him to join the Toju-en Bonsai Garden, or Ōmiya Bonsai Village as it's also known, as an apprentice.
His mentor at the time was Motosuke Hamano, who was a bonsai master in his own right. Masahiko Kimura stayed there for eleven years, learning every aspect of growing small trees in bonsai containers. However, he quickly became bored with using the same styles over and over again and started venturing into his own designs.
The start of something new
Masahiko Kimura began experimenting with various deadwood forms, specifically with shimpaku junipers. Eventually, he started designing small landscapes with plenty of bonsai trees on them, forming forests. It was a new style that many in Japan hadn't seen at the time, but the bonsai masters back then weren't happy.
The new bonsai forest concept wasn't how the masters traditionally grew the small trees and went against the "rules" at that time. It was a controversial topic among his peers, but that didn't mean he stopped. Masahiko Kimura continued with his strange styles and artistic designs, and many people in Japan loved the final products.


Image source
Bonsai garden and museum
Today, Masahiko Kimura owns a restaurant and a bonsai garden that looks like a museum of Japanese art. The bonsais are evenly spaces on raised platforms, and you can easily walk between them to view their beauty. Many bonsai practitioners around the world praise him for his designs, and it's impressive to see his stunning skills all in one place.
You're welcome to take a tour of the Masahiko Kimura bonsai garden if you're in Japan. If anyone calls upon him at his restaurant, he'll gladly make time to transport you to the garden and share his beautiful trees with him. We recommend you make an appointment, though, as he's a busy man even at the age of 82.
The grace of Masahiko Kimura
It's stunning to see such an outstanding display of bonsai art in one place. We owe so much to people like Masahiko Kimura who defy traditions and show us new ways that we can portray our trees. It teaches us that we should always strive to be artistic and not follow in others' footsteps.
Newsletter
Subscribe to our newsletter and get the latest news and promotions. Be the first to learn about what's new in Bonsai Alchemist and get 0 spam emails from us.