The Best Pomegranate Bonsais To Buy Online
As one of the most exciting species to grow, we can understand why you'd be looking for the best pomegranate bonsais to buy online. It can be a scary experience, though, especially when you don't know who to trust. Don't worry; Bonsai Alchemist will help you by recommending a few products and guiding you to choosing the right one.
Here's a teaser of what you'll find in this article:
Here's a teaser of what you'll find in this article:
Top Three Pomegranate Bonsais
Brussel's Live Dwarf Pomegranate Indoor Bonsai Tree
Live Plant - Dwarf Pomegranate Bonsai Tree Real Fruit Indoor Bonsai
American Plant Exchange Pomegranate Real Live Miniature Fruit Plant
Reviews Of The Best Pomegranate Bonsais
We have a handful of the best pomegranate bonsais to buy online, but these aren't the only ones available on the market. These made our list for specific features we enjoyed, and we're sure you'll see some you'll also like. Remember to choose one that tickles your fancy.
Brussel's Live Dwarf Pomegranate Indoor Bonsai Tree
Dimensions: 10.5 x 9.5 x 14 inches
Review of the Unique Qualities
We love looking for the best pomegranate bonsais that showcase stunning leaves and flowers. It sets the tone for how it will develop in time to come. Another striking feature is the broom upright style, with one or two branching appearing on the side and adding to the foliage.
While the standard tree has red flowers, you might end up with a Socotran Pomegranate that has pink instead. The extra humidity tray and deco stones are a nice touch, ensuring your tree has the best chance of survival. There's also a handy guide for how to maintain and care for it, recommending you grow it indoors.
Brussel's always steps up when it comes to its best pomegranate bonsais, giving you a healthy tree that will last you several years. There's also a 30-day warranty in case your tree doesn't look so well after delivery. They'll advise you what steps you should take to improve its health.
Dwarf Pomegranate Bonsai Tree
Dimensions: 10 inches high
Review of the Unique Qualities
If you want to start small and keep it that way, then we recommend this product as one of the best pomegranate bonsais online. It's old enough to carry flowers, but you may want to prevent any fruit from growing. We don't believe the small trunk and branches will be able to bear the weight.
The ceramic container is strong enough to keep the soil and roots in place. While the seller doesn't indicate the weight, we're sure it will hold your bonsai tree for years to come. You may want to steer clear from wiring until the branches are sturdier and to prevent them from snapping.
This pomegranate bonsai is best for people who don't have much space or want to keep the tree small. You'll enjoy the display when the flowers appear, and the leaves also put on an outstanding display. You should invest in a humidity tray, while beginners will have to buy tools separately.
9GreenBox - Dwarf Pomegranate Mame Bonsai
Dimensions: 4x4x3.5'' inch
Review of the Unique Qualities
The one aspect you'll notice is the inclusion of a bag of solid fertilizer. If you use it wisely, it can last you over spring and summer when your pomegranate bonsai tree will need it the most. Ensure that you also provide some during autumn so it can store food for the winter.
The tree has several branches that serve to form the broom style. However, we feel that you could do some pruning over the first year to really give it some shape. The container and accompanying drip tray is black, which gives it a beautiful contrast to the bonsai.
When searching for the best pomegranate bonsais to buy online, we looked for branches or trunks that will be easy to manipulate. Of course, we love the   container and tray too, but you may want to look at buying some more fertilizer.
Dwarf Pomegranate Plant - Punica - Bonsai
Review of the Unique Qualities
If you're looking for the best pomegranate bonsais in trainer pots, this one's for you. While we prefer ceramic containers, you can easily repot it in a new one. The tree is also large enough that you can prune it back into any shape you want.
The benefit of cutting a tree back to bonsai size is that the stem and leaves are already thick and gorgeous. Some experts actually develop a tree in the yard first before replanting it as a bonsai. It's a great technique if you want a thick trunk sooner, which can be challenging to achieve in a small pot.
While it may not look like one of the best pomegranate bonsais on our list, this product certainly has promise. It's all about how you wish to shape it, and whether you trust your hands to do a good job. We recommend moving it to a ceramic container at the earliest opportunity.
Live Plant - Dwarf Pomegranate Bonsai Tree Real Fruit Indoor Bonsai
Dimensions: Not indicated
Review of the Unique Qualities
Here's another pomegranate bonsai seller that doesn't supply much information. However, the tree produces flowers and fruit, so we assume it has a good number of years on it. We're also fond of how small the seller managed to keep the foliage and height.
You'll receive some decorative rocks to hold in the soil's moisture, which is ideal for summer. The leaves grow vigorously, leaving you to decide how you want to design it in the months to come. If you're worried about the fruit damaging your tree, we recommend removing the flowers as they start to close.
If you're into maintaining small bonsai, this item will make you happy. As a matter of fact, you could train it to grow into a shohin, which is a tiny bonsai.
You'll need to trim the branches and leaves back, causing the leaves to develop even smaller. In the end, you'll have an adorable display for when your friends come to inspect your collection.
Indoorbonsaiandexotics Dwarf Indoor Pomegranate Bonsai Tree
Dimensions: Not indicated
Review of the Unique Qualities
This dwarf indoor pomegranate bonsai tree has an extensive display of foliage on either side. It's very keen to flower, and we're sure you'll see some small fruit if you leave it long enough. Remember to water it as much as possible in the summer to add more color to the blossoms.
You'll enjoy the open display of roots above the soil, standing out in stark contrast to the stones. There's also a square container that matches the soil's color, presenting a gorgeous appearance. It'll make any home happy, especially if you decide to keep the foliage as bushy as it is.
We selected this product as one of the best pomegranate bonsai trees due to how well the seller has maintained it. It has a stunning presentation, and the exposed roots look beautiful. Of course, you'll need to replace the soil at some stage, so it may be challenging to replicate this appearance.
Pixies Gardens Russian Pomegranate Tree
Review of the Unique Qualities
Here's one way to make a sustainable living off a pomegranate tree. It appears as if the seller uses seeds and cuttings from a backyard Russian pomegranate tree and grows them in pots. There are a variety of styles and sizes you can choose from, while the price goes up per gallon.
The fruits are a rich red color, and the leaves are incredibly green. However, you should ensure that the bonsai tree you're buying has established roots already. Be that as it may, you'll enjoy the variety available and the freedom to grow it as you wish.
What do you do when you own a pomegranate tree that won't stop growing? You create bonsais. The seller has a few of these products available, carefully placed in different weight categories. The heavier the item, the larger the container and the tree.
Pomegranate Plant / Tree 'Big Red'
Dimensions: 12 x 6 x 6 inches
Review of the Unique Qualities
We're impressed with how many of the best pomegranate bonsais this seller has available. There's a full nursery growing these trees all year long, ready for new customers to buy as they please. While they are about 2 years old, they are quite tall thanks to being able to grow freely.
However, the products are sold as small trees instead of as bonsais. Still they have gorgeous thick trunks and green leaves, so all you have to do is prune it back and place it in a ceramic container. If you're willing to train these pomegranate bonsai trees from large to small, this item is ideal.
We don't usually turn to actual trees, but we've learnt that they make some of the best pomegranate bonsais. They're hard specimens, and you'll be more likely to train them better as a beginner than a small one. We're also excited about how many this seller has available, so it's less likely to run out of stock.
American Plant Exchange Pomegranate Real Live Miniature Fruit Plant
Dimensions: 16 x 6 x 6 inches
Review of the Unique Qualities
This pomegranate bonsai tree is all set to shower your nursery with flowers and fruit. The seller decided to let it grow wild, giving it that bushy appearance. While this style is how the tree grows in nature, we won't blame you if you want to prune it into proper bonsai shape.
There's a plastic container instead of a ceramic one, but you can change it when you repot the tree. We suggest you do so before you start pruning, as it may cause some stress and will need those leaves to adapt. When the next season arrives, you can start trimming back a bit.
We recommend this item as one of the best pomegranate bonsais if you're wanting a wild look to mimic nature. Of course, nothing stops you from doing some pruning, especially around the trunk's base. At least you can enjoy some flowers while waiting to buy a new ceramic pot.
Pomegranate Tree - Live Tree in a 3 Gallon Pot
Dimensions: Not indicated
Review of the Unique Qualities
This seller appears to have an orchard that contains several pomegranate trees. Fortunately, this means you'll have plenty of stock to select. These trees are also exclusive to Wekiva Foliage, which is a well-known brand in the region.
While sold as a tree, you can certainly prune it back to bonsai size. You can even opt to have it as a large bonsai in a massive ceramic container to display in your home. It will draw the attention in the room to the pomegranate tree, calling for conversation about how amazing it looks.
We love the fact that there are several of these trees available, so you'll always be able to come back for more if you want to. The leaves are large and gorgeous, but we know you'll want to prune back until they're smaller in size.
Why are Pomegranate Bonsais so Popular?
Now that we've shown you the best pomegranate bonsais, it's time to discuss why they're so popular. We have a few themes to share with you here below, but trust us when we say there are many more.
Beautiful Flower Show
The most stunning factor is the flower. There are various colors, depending on which variant you grow, but the shape of the blossom is beautiful. When you have dense foliage on a broom style, you'll have a brilliant display when the flower season arrives.
For most pomegranate bonsai trees, the flowers are red. However, we've seen variants with pink and slight shades of yellow. There's nothing wrong with the red hue, but imagine if you have a collection with several colors on display. You'll be the envy of your local bonsai community!
Small Fruit
After the flowers come the fruit. Pomegranate trees are known for producing massive round fruit, which are delicious and add well to salads and dishes. The fruit is praised in several countries worldwide, and growers often hold contests to see who can develop the largest one.
When it comes to bonsai, we tend to keep things as small as possible. You'll see small fruit on your tiny tree, which make them look like Christmas decorations. However, you should always check that they aren't too heavy for the minute branches. Also, don't try to eat the seeds of these small objects, as they won't ripen properly.
Ideal for Beginners
Many bonsai beginners aim to grow pomegranate trees to start with, as it's easy to grow and doesn't have too many strict requirements. You don't want to give up on the art too soon by dealing with finicky trees who die at the first slip up. Fortunately, you won't have a problem with this fruit tree.
You'll notice we have a few pomegranates listed in our best bonsais for beginners, too. The main attraction is how easy it is to bend, wire, and shape, making you feel like a professional. Remember, you still need to water and care for it, as it'll only forgive you so much for skipping maintenance sessions.
Excellent as an Indoor Bonsai
Pomegranate bonsais love sunlight. It'll thrive with as much as you can provide. That doesn't mean it can't grow indoors, though. As long as you place it in a location that receives several hours of morning light, it'll be happy.
The pomegranate is certainly one of the best indoor bonsais you can purchase or receive, as it's easy to maintain and won't hold it against you for keeping it inside. Sure, you can also take it for a walk into the sun during the summer, as the leaves and flowers will love it. However, it prefers the inside for the cold, winter nights.
Easy to Propagate
There are many trees that are challenging to grow, whether from seed or cutting. No matter how much you follow the online instructions, they just don't want to live. It can become very frustrating, especially if you're a beginner.
Fortunately, the pomegranate tree is one of the easiest to propagate. You can even take the seeds you buy at the store to eat and plant it in soil instead. They grow so easily, you might end up with several small forests in your home.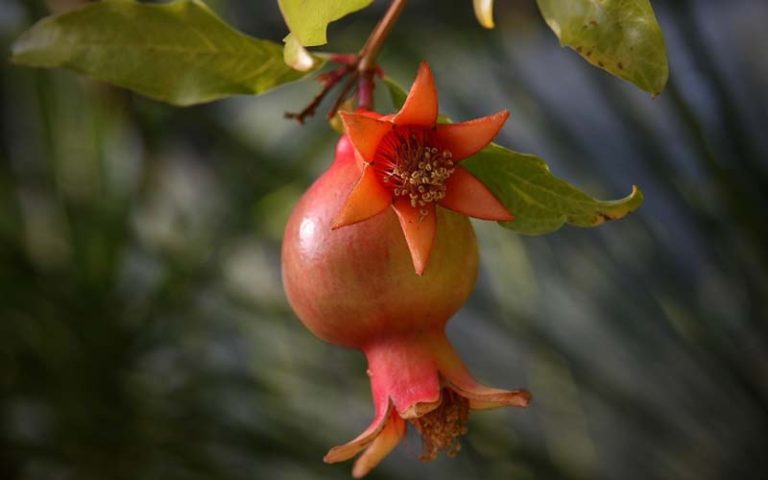 Top Five Tips For Growing Pomegranate Bonsais
If you've followed our recommendations for the best pomegranate bonsais and bought one, you might need to know how to look after them. Feel free to read our pomegranate care sheet, but we'd also like to share quick tips with you here.
Sufficient Lighting
Whether it's winter or summer, the pomegranate bonsai loves receiving as much sunlight as possible. It's more vital over spring and summer, as it uses that light to produce the flowers and fruit that you treasure so much. We generally recommend keeping them outside, but you also need to ensure it has shade in the afternoon to prevent the leaves from burning.
Thirsty Tree
The pomegranate tree is one of the most thirsty plants alive. When the heat of summer arrives, you might have to provide two helpings of water a day. While it's a hardy tree that can go a few days without water, we recommend giving it as much as possible to remain healthy.
Wiring and Shaping
Pomegranate shoots grow quickly, so you'll need to prune as much as possible to get a denser foliage structure. If you want to extend a branch, you can let it develop as long as you want while cutting back some additional branchlets. Wiring is easy to perform, but watch that it doesn't bite into the bark.
Watch Those Fruit!
So, we've mentioned this a few times, but we can't stress it enough. Have a look online at how massive pomegranate fruit can grow. Even though your bonsai's first fruit may be tiny, you'll notice how much larger it becomes every year.
You can keep the fruit to show off your bonsai for the first few weeks, but you'll need to watch the girth. If you see a branch is starting to sag, it's time to cut it loose and wait for more to develop. It's for this reason that we don't recommend eating the seeds, as they won't have sufficient time to ripen.
Cold Weather
One of the reasons that beginners love growing the best pomegranate bonsais is because it can handle various temperatures well. Even in the sweltering heat, they'll continue to thrive as long as you provide sufficient water, humidity, and fertilizer. You may even see that the flowers are richer in color.
While it loves most climates, it's not a fan of frost and extremely cold weather. You'll see leaves die and fall, and it may even harm the trunk and root system. The best action to take in these conditions is to bring it inside or move it to a warmer location.
Knowing Which Variants To Grow as Bonsai
While many people simply refer to 'pomegranate bonsai', there are actually several variants. As a matter of fact, you'll find over 500 cultivars worldwide, depending on where they're located and how they're grown. Here's a look at five that we feel make excellent bonsai material.
Dwarf
It's easy to see why this would make one of the best pomegranate bonsais. It grows much smaller than the average tree, which is ideal for pruning and maintaining the tiny size. The variant also has small flowers and fruit, so you won't have to worry about any extra weight.
The flowers are bright orange-red, putting on a majestic display. The leaves are a splendid green and will look beautiful among your other bonsais. It's also self-pollinating, so you'll more than likely receive fruit in the summer.
Russian
Also known as the Salavatski Russian pomegranate, the fruit have a pale red appearance. It has a sweet taste, but you'll need to control how large they grow on your bonsai. The flowers are orange instead of red, which will add more color if you have the traditional pomegranate already.
Another feature that makes this pomegranate bonsai tree stand out is that it develops fruit and flowers from as young as two years. It can take as much heat as the climate can throw at it, while it's happy to go down to 5 degrees in hardiness zones six to nine.
Angel Red
The Angel Red pomegranate is a hybrid of different variants. It has the juiciest seeds of all the pomegranates while also being incredibly soft. However, the vivid red fruit also grows to massive proportions. You'll need to take care that it doesn't damage the trunk or branches.
The primary concern is that it's extremely rare to find these. Hybrid trees don't grow viable seeds for propagation, so you won't be able to develop more of them. There's also a patent for the company that currently grows them, so you'll be incredibly lucky to have an Angel Red pomegranate bonsai.
Golden Globe
If you live on the coast where you don't receive too much warmth, the Golden Globe pomegranate may suit you better. It has orange-red flowers and fruit, which also grow to large proportions. It can handle colder climates better than most pomegranate trees, so it's one of the better options if you live outside the recommended hardiness zones.
Granada
If you've been to Spain, you may recognize the name Granada from the city. In Spanish, Granada means pomegranate, and you can find the tree and fruit all over town. When the Catholic Monarchs defeated the Moors of Al-Andalus, they took the pomegranate as a sign of their victory.
You can grow the tree as a bonsai too, and is a fan favorite in Spain for bonsai collectors. The fruit also forms part of the National flag; such is its significance in the country. So if you have a flare for the Spanish language or culture, you can always add this variant to your collection.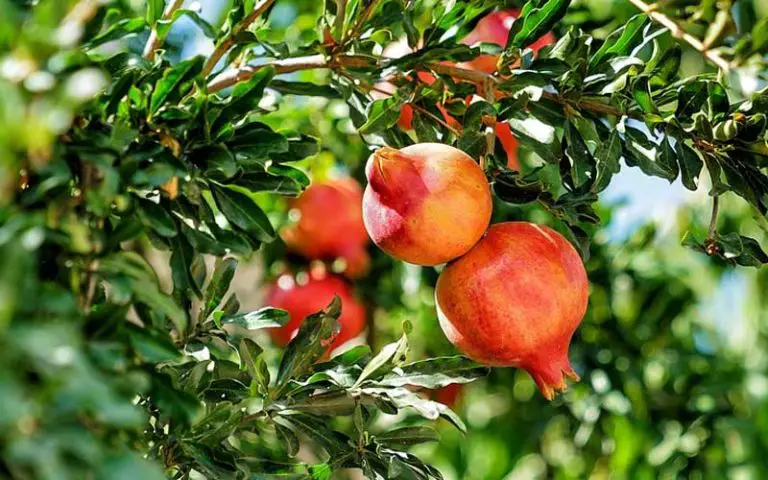 What Sets These Pomegranate Bonsais Apart From Others
As we've mentioned, you'll find loads of pomegranate bonsai trees at local stores and online. While many of them look the same, there are some details that set our list apart from the others. Here's what makes them unique.
Form and Shape
We've seen some products where the shape is basic and has nothing appealing to the eyes. When it comes to form and shape, we're sure you want something that draws the attention of your guests. We tried our best to find the best pomegranate bonsais to buy online that have stunning forms.
Visual Highlights
Pomegranate trees have beautiful flowers that make bonsais look outstanding. Of course, the miniature tree will have smaller blossoms, which give it that unique touch. You'll need to place it in the appropriate location at home if you want it to continue flowering every season.
Substrate and Containers
Some sellers merely dump a pomegranate cutting into old soil in a plastic container, hoping for sales. We prefer bonsais that are in ceramic containers with fresh soil, or at least extra substrate in case you want to repot it. It's that extra touch that counts.
How We Picked Our Top Selection
Besides the above elements, there are some aspects we look at when choosing the best pomegranate bonsais to buy online. While we can be forgiving on some of these, they do tend to sway our opinion more in their favor.
Tools and Accessories
Some sellers include some extras you can buy in one bundle. You might receive some fertilizer, clippers, soil, and a second pot. While we do try to find the top pomegranate trees, it doesn't hurt if there are additional options to go with them. We also like finding bundles that are worth the price.
Value for your Money
While we're discussing price, let's discuss value for money. We know the best pomegranate bonsai trees can be expensive. However, we recommend ones with a higher cost when we see that it's worth it. One aspect that may make it reasonable would be an old tree above ten years old that looks outstanding.
Local Development
Pomegranate bonsai trees do exceptionally well in the climate where they were grown. Move it to a new region or country, and it might suffer beyond redemption. Therefore, we look for local sellers and growers to save money and the tree's health.
Customer Reviews
Finally, we consider it worth our time to investigate what other buyers are saying about the pomegranate bonsai trees. Some customers might have an excellent experience, while others might complain that the products died too soon after delivery. We take a weighted average to ensure that you'll receive the best experience.
What Factors to Consider When Buying Your First Pomegranate Bonsai
Now that we've shown you how we choose the best pomegranate bonsais to buy online, it's time to reveal how you should select one. You can use our methods above, but these ones are slightly more personal. They relate to your placement at home or work, and whether you should reconsider the species or product.
Dimensions
Do you have enough space at the desired location? You'll need to measure how much of the room you're willing to sacrifice for the bonsai tree before you go shopping. Once you have the details, pay attention to the advertised dimensions to make sure they'll fit.
Region
Pomegranate trees perform better in some regions than others. You'll also want to pay attention to the hardiness zone. It'll reveal whether the species can handle the extreme temperatures in your area, such as drought or frost. Placing it outside these regions is a potential risk to the bonsai's health.
Pets and Toddlers
We all love our little munchkins, as they bring us such joy. However, toddlers and pets don't understand the value of the precious bonsai trees.
If you don't place them in a secure location, you might return to your bonsai all tattered and broken on the floor. This act is especially the case with cats if you've chosen one of their favorite places to rest.
Age
You might think buying a younger bonsai sounds like a good idea, but it isn't. A more mature tree has a better chance at survival and adapting to a new environment than a youngling. You'll want to aim for anything above 5 years, which may also put on a decent show of flowers and fruit if you're lucky.
Placement
Do you have the ideal spot for the new bonsai? It loves morning sunlight with dappled shade in the afternoon, so you'll want a location that can provide both without moving it around. You should also check the humidity levels to ensure that it's sufficient.
When looking for any of the best pomegranate bonsais to buy online, you shouldn't just take our word for it. Sure, we look for the top products based on our criteria, but you may have other requirements. We hope our guide has helped you pick the right one.
FAQ About the Best Pomegranate Bonsais
We've discovered that there are questions people always ask about pomegranate bonsai trees. We've answered a few of them below, but please feel free to contact us if you have any other queries we can help with.