The Best Bonsai Pots For Sale Online
One of the most significant decisions you'll make when growing these magnificent trees is selecting one of the best bonsai pots for sale online. While it may seem like an easy choice at first, you'll soon see that there's a massive variety in size, color, and type. We're here to help you see which factors to look at and recommend the top ones we found.
You'll find these topics in our extensive guide:
You'll find these topics in our extensive guide:
Top Three Bonsai Pots For Sale
We've browsed the massive collection of bonsai pots for sale online. While there were many candidates, only a few made our selection here below. We'll show you the top attributes and why we chose them.
Oversize Large Unglazed 32" Rectangular Yixing Purple Clay Ceramic Bonsai Pot
Juudoiie Purple Clay Flower Pot Bonsai Old Pile Flower Pot Quartet Classical Painting Boutique
Large Unglazed 39" Oval Yixing Purple Clay Ceramic Bonsai Pot
Reviews Of The Best Bonsai Pots
Let's get to the heart of our guide on the best bonsai pots for sale. We've found numerous that you'll love, but there are several factors you'll need to assess before you select one. We'll show you our recommendations first, and then how to choose them.
Juudoiie Purple Clay Flower Pot

Bonsai Old Pile Flower Pot Quartet Classical Painting Boutique
Review of the Unique Qualities
This product is certainly one of the best bonsai pots for sale online with its strong, sturdy design. The clay material is made from durable purple sand, which means it'll last you an incredibly long time. We definitely recommend this design if you're aiming for a semi-cascading or cascading style, as you have enough height to enjoy.
There are paintings on all sides of the container, making it easier for you to decide which one you want to display to the viewer at a given time. You'll find several drainage holes underneath, so your bonsai won't suffer from drowning in too much water. However, you'll need to ensure that the roots go deep enough to claim the nutrients.
While most bonsai enthusiasts prefer shallow bonsai pots, there's no reason you can't aim for a tall one now and again. It's better for tall, strong trunks, especially where you're aiming for a cascading style. We would use a Japanese Pine as one example of what you could do with this container, encouraging several candles.
Large Unglazed 39" Oval Yixing

Purple Clay Ceramic Bonsai Pot
Review of the Unique Qualities
This bonsai pot is one that most enthusiasts should be familiar with in their local stores. It has large dimensions, which means you can grow quite a large tree in it. There are so many styles you can aim for, as it has a robust design that won't easily fall over.
You'll see drainage holes on either end of the oval container. It presents the equal distribution of the excess water out of the pot, preventing a build-up on one side. The daint feet are strong enough to support the combined weight of the pot and tree.
This bonsai pot has an elegant design with adorable feet on each rounded corner. It's a sturdy container that will hold your large bonsai in place, but you can also aim for a forest of small trees. There as so many options you can aim for, which is why we highly recommend it.
Oversize Large Unglazed 32" Rectangular Yixing

Purple Clay Ceramic Bonsai Pot
Review of the Unique Qualities
Purple clay is one of the top materials for handcrafting bonsai pots to place for sale online. We see so many designs appear on marketplaces, but we love this simple yet elegant appearance. There's a border on each side, complemented by the slanted, overhanging rim.
The dimensions present the assumption that the container is slightly heavy, even with no soil or tree inside. It gives a sense of stability, while you can also use numerous styles with it. The feet are small while the height off the ground is low, so you'll have sufficient space for drainage.
There may be no paintings on this bonsai pot, but you'll still love the soft borders and low feet. While it may not be suitable for small bonsais, you can give your larger trees more space for their roots.
Oversize Large Unglazed Bell Shaped 25" Yixing

Purple Clay Bonsai Pot
Review of the Unique Qualities
Remaining in the category of large bonsai pots for sale, we move onto round shapes. There are other styles more suited to this design, such as slanting, semi-cascade, Literati, and twin-trunk. While there's more depth to this container, it's still suitable if you have a species with a massive root ball or structure.
There's one large drainage hole in the center, surrounded by smaller holes. You'll have adequate drainage, while you can use the tinier ones for wiring and stability. There's a rim at the bottom that acts as support and providing space for the water to flow out. However, there are no artistic features to enhance the design.
Sometimes, deep works better than shallow. We love the basic design of this container, providing sufficient space for the roots to grow. It works well with species that are vigorous in spreading their foliage and roots over the seasons.
Oversize Large Unglazed 32" Rectangular Yixing

Purple Clay Ceramic Bonsai Pot
Review of the Unique Qualities
You may recognize this bonsai pot mentioned earlier. That's because it's made by the same supplier with similar characteristics. However, you'll notice a slight change in the design with a more rounded approach to the features.
It's also worth noting that the width is wider and the height is shorter. It provides a more pragmatic approach if you're aiming for the windswept or multi-trunk styles. You can also get away with a forest of small bonsais, as long as you spread them evenly over the soil.
More is better when you have massive trees you want to keep as bonsais. The extra width means you can wait longer before you repot your bonsai, as there'll be more space for the roots to develop. Of course, it'll be more challenging to maintain the shape and height of the tree.
Old Mokko Green Blue Glazed Shohin Size Tokoname Cây

Bonsai Pot Koyo
Review of the Unique Qualities
Moving from large to small bonsai pots for sale, here's a tiny container that's perfect for the shohin style. The size is enough to develop a tree as long as your finger, and it'll be easy to maintain the shape in it. There are small drainage holes with miniature feet that you can barely see.
We recommend elevating it off the surface with a frame that allows for more drainage so that there's no blockage. The reason we selected this specific pot is due to the rusted glazed effect that makes it look really old. It adds that unique touch that you won't find with a new, polished container
While the seller might not see any value in this container, we do. We're sure you can find many of these types in your local plant store, but not many will carry the essence of time on them. Remember, bonsai is a spiritual journey between you and your journey. You'll feel the energy peel off the aura of this pot the moment you plant your tree.
Yellow Ceramic Pots for Indoor Plants

with Drain Hole Handmade Pots
Review of the Unique Qualities
Here's another stunning, bright bonsai pot for sale that adds depth to the volume. The material is breathable, while there are drainage holes at the bottom. There are also three layers of protection when the seller sends it to you, maximizing the protection.
Perhaps the most striking feature is the hand-painted design on the side of the container. Also, the pot is handmade, giving it that personal touch. The feet are strong, so you don't have to worry about it falling over or collapsing under any weight. We're also fond of the yellow color to make the bonsai stand out among the others.
While we'll stick to shallow bonsai pots where possible, we must admit that this one tickles our fancy. We're not sure if it's the bright color that's suitable for summer or the gorgeous hand-painted design.
All we know is that we don't mind having one of these in our collection and will add a bonsai with yellow flowers to it. We'll also aim for a trunk that has a similar sunny tinge to it instead of dark.
Liiokiy Garden Plant Container Planters

Blue Handmade Ceramic
Review of the Unique Qualities
If you have a massive bonsai you're trying to train and maintain, this is one of the best bonsai pots for sale online. You'll see a lovely bulge midway up, giving the soil more chance to breathe. The material is thick to give it more weight and stability, but you'll need a trunk with a stunning thickness to match it. We suggest a Ponytail Palm.
The bottom has a rim that slants out to form the support and adding space for drainage. We also love the stripes that run vertically around the perimeter, with the blue color given it that cracked-ice appearance. Once filled up, you might find it challenging to move around or repot after a few years.
You'll love the simplistic design of this pot, while it also has many striking features. You'll want to use it for massive trees that are challenging to keep small. The weight will help to keep the container in place if you're putting it outside.
Types of Bonsai Containers
You'll notice that there isn't only one type of bonsai pot for sale on the market. Knowing which kinds are available will go a long way to determining which one to buy. We'll highlight the shapes that are best suited for various styles, but these generally relate to ceramic or porcelain containers.
Squared
Squared bonsai pots are ideal if you want a flat shape with equal sides. The styles suited to this shape include semi-cascading, cascade, and multi-trunk. The roots will have adequate space from either side of the center, ensuring the roots can reach the nutrients.
Round
This shape has the ability to make your bonsai appear as if it's taller than it actually is. The styles that work the best include slanting, semi-cascade, Literati, and twin-trunk. As with the squared container, it's best to place the main root base in the center if possible.
Rectangular
If you have bonsai trees that aren't too curved, you can use a rectangular pot. The longer side is ideal for most styles, but you'll want to aim for formal upright, slanting, windswept, and multi-trunk. Try not to have the longer side stretch too far out, as it'll make it harder on the roots.
Oval
Oval shapes are almost like rectangular pots, but they have a more rounded shape that works well with curved trunks. You can use them with formal and informal upright, slanting, windswept, multi-trunk, rafting, and sinuous root. Most bonsai enthusiasts prefer this shape for its elegance.
Wide-Shallow
When you're ready to craft forests or landscapes, you can try the wide-shallow containers. They're a bit longer than the rectangular pots while having less depth. You can also play with cliff designs or a massive windswept style. They don't really suit any other styles.
Lotus-Shaped
Also known as petal-shaped, these bonsai pots are ideal for trees that have large, dense foliage. The curves on the edges should match the width of the upper structure to make it more appealing. It mimics the saying, "As in the heavens, so on earth."
Multiple Sides
Some shapes have multiple sides, giving you a tighter grip on the soil and roots. The popular ones include hexagon and octagon. The styles you'll want to incorporate include multi-trunk, semi-cascade, and cascade. You'll need to place the trunk and upper structure in alignment with the side to find the optimal balance.
Rock Slab
If you really want to go all out and show your skills, you can try a rock slab. It may be challenging to contain the soil at first, but the roots and some moss will make it stable soon enough. It's easier to replace the substrate, as the roots are above the support. Styles you can use include raft, sinuous root, and multi-trunk.
Free Form
Finally, you'll find containers that don't follow any of the general rules or shapes mentioned above. It's a freeflow design that gives the bonsai tree a unique appearance. We don't recommend it for most styles, but feel free to use twin-trunk, Bunjin-gi, Literati, windswept, or raft.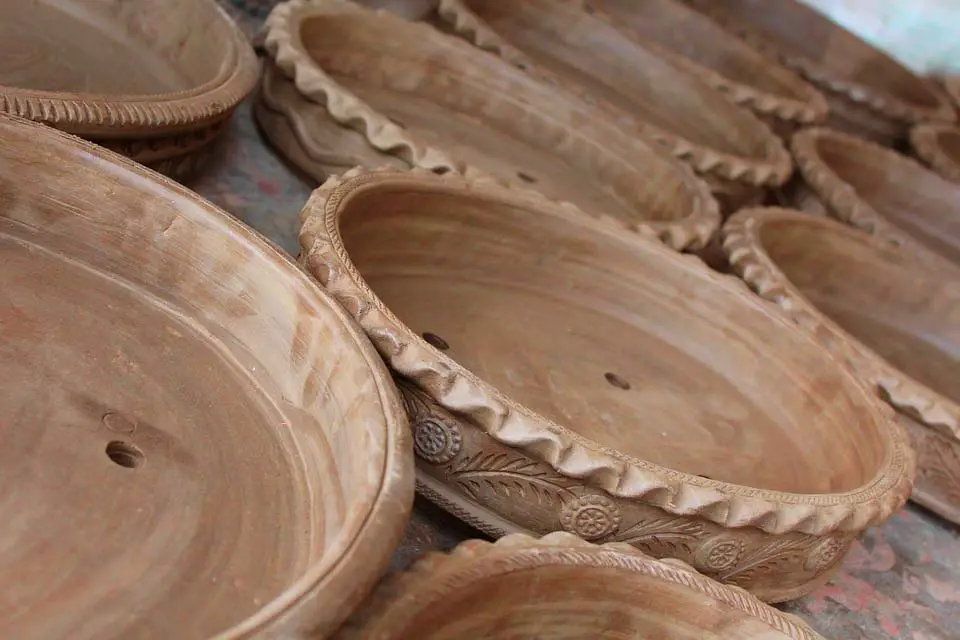 How We Picked Our Top Selection
When we chose the best bonsai pots for sale in our reviews, we had a specific selection process in mind. There were a few factors that stood out more than others. However, please keep in mind that you should see which ones suit your needs best. We'll evaluate those in a moment.
Material
While there are loads of materials sellers use for bonsai trees, we tend to prefer ceramic or porcelain. We might on occasion recommend one with a trainer pot, but only if we realize that the soil looks old and needs replacing. Overall, we look for material that's durable and will survive a long trip for deliveries.
Depth
As a rule, we choose containers that are shallow. Sure, you can buy a bonsai with a deep pot if you plan to repot it once you receive it. Shallow ones are better for controlling how quickly the roots grow, while it gives the tree a chance to grab as many nutrients as it needs.
Weight
You need to strike the perfect balance between heavy and light. The latter may cause your bonsai to fall and the pot to break if there are strong winds or cats around. If it's too heavy, you may struggle to move it around without assistance.
Customer Comments
While we feel you should trust us here at Bonsai Alchemist, we also value the opinions of customers. Not everyone has the same experience with sellers, and we tend to look at what the average experience is among the comments or feedback. If most buyers are as happy as we are with the product, we're listing it.
What Factors to Consider When Buying Your First Bonsai Pot
Now that you've seen how we select the best bonsai pots for sale, we're turning it over to you. We've made this section quite extensive, as we believe your happiness is important. So sit back as we explain what you should look at before buying one.
Size
When we say size, we mean the overall dimensions. You'll notice that we've placed them on the product reviews where we've located them. There are two reasons this is essential for selecting the correct pot, the first of which is the location in your home. It's obvious that you need to have enough space to place the pot there.
However, the second reason has more to do with official bonsai practice than anything else. If you find the bonsai's height is longer than width, the rule is that the pot's length should be ¾ of the height. If the width of the tree is larger, then the ¾ rule applies to the pot's width.
Shape
We've shown you how the container's shape can dictate which style you can use. Of course, you can do as you wish, but it does play a role in how the observer views the design. It will enhance the appearance, and you'll stand less chance of critique from experts.
There's another reason you should consider the shape, an aspect you may not have considered before. Male trees have wider trunks with stronger branches, while there's a heavier texture to the bonsai's bark. Female trees are slender with a more beautiful display of the foliage. The shape of the pot can enhance these features.
Style
As you may know from our Learning Center, there are numerous styles you can employ when you grow your bonsai tree. Each one gives it a unique appearance, and you can shape it as you wish. However, you may not know that styles play an essential part in selecting the pot.
We've shown you the different types of containers earlier in this article. As you can see, various shapes work well with the style you choose to employ. While you can certainly use any pot you like, it works best with the function and appearance.
Material
When you shop online for the best bonsai pots for sale, you'll notice that there's a wide variety of materials available. You might find terra cotta, mica, stoneware, and concrete, to name a few. The most popular one used for its affordability is plastic, which is mostly crafted as trainer containers.
While plastic is perhaps ideal for shipping and lower costs, we prefer ceramic or porcelain pots. They hold temperature, soil, and water well, while you don't have to worry about the effect of freezing climates. If you do decide to purchase plastic containers to start with, we recommend you change to ceramic as soon as possible.
Color
While color certainly plays a vital role in making your bonsai stand out, it's not just about selecting the pretty ones. There are so many factors involved, it's challenging to know where to begin. If you really want to go all out, it requires a study of the relationship between primary, secondary, tertiary, analogous, and complementary colors.
There are also warm and cold colors, and it relates to the effect you're aiming for in your bonsai nursery. You'll need to analyze the color spectrum of the trunk, leaves, flowers, and soil, and see which container would suit the tree best. Of course, there's nothing wrong with going for a beautiful pot; just ensure you select a species that suits it best.
Decorative Features
When people speak of decorative features, you might visualize stunning artwork or drawings on the side. While it does make a striking element, there are plenty of others you need to look at. Here's a quick overview of which ones you may find:
The upper lip on the rim provides a sense of stability
Straight, outward-sloping sides for delicate species
Straight, sharp lines
Soft corners for a more feminine appearance
Feet that presented a suspended, cloud design for elegance
Stepped feet that look more stable
Short feet that you can barely see for delicate trees
Side panels to show off the roots and soil
Raised ridges for more dominant species
Convex, bulging sides for strong trees
No ornamentation at all to only highlight the tree
Drainage Holes
When it comes to the health of your tree, it's essential that the pot has drainage holes. You don't want the roots lying in water for too long, as it will develop root rot and other diseases. We know the container may look absolutely gorgeous, but it's not worth damaging your bonsai in the long run.
If there are massive holes, we recommend you cover them with mesh wires to maintain the soil's integrity. As you water, the soil will drop and may fall out the bottom. The mesh also prevents some of the larger roots from breaking through, but you'll still have to contend with the finer root hairs.
Why is Bonsai Gender Important to Pot Selection?
One last aspect you'll need to consider is bonsai gender. We aren't referring to the biological sex of the tree. Instead, we're speaking about the appearance of the various components that give it a male or female appearance. We've made a brief mention of it before, but let's go into more detail as to how it affects your bonsai pot selection.
Gender Trees
Female trees present delicate, soft features. You'll notice slender trunks, soft barks, a light canopy, sinuous movement in the stem and branches, and a slow taper towards the top. They often also hold more beauty in the foliage.
Male trees are the opposite and deliver a rugged, hard appearance. You'll see a heavy taper, strong thick trunk, craggy bark, dense canopy, angular branching, and maybe some deadwood. They also work well with rough designs.
Some species easily fit into the feminine or masculine categories. Most bonsai enthusiasts feel that Maples are more masculine while the Pines are more feminine. Of course, it also depends on how you style and shape your bonsai.
Gender Pots
In the same way, you can determine the so-called gender of pots. The masculine ones are deeper and have strong lines and angles, while there may be some rough textures and decorations. Feminine pots have softer lines and angles, while there's a smooth texture and beautiful design. Rounded corners also fit more with the latter.
Height and feet also play essential roles. More dainty feet that are small or almost hidden fall into the feminine category, while strong, tall feet are more masculine. The former is also associated with lower height, while the latter is much taller and gives a robust appearance.
As you can see, choosing any of the best bonsai pots for sale online can be a daunting task. It's not merely about what looks nice, but it also needs to serve a purpose. We hope our guide has helped you with the selection process for when you purchase your next container.
There are many questions people always ask about bonsai pots. We've looked for the most common ones online while adding a few of our own. If you have any other queries, please feel free to ask. We love sharing our knowledge.