The Best Spruce Tree Bonsais For Sale Online
When you're looking for a magnificent specimen to grow that will be the envy of your peers, look no further than the best spruce tree bonsais in our guide. Their green needles shine brightly in the sunlight, while bark has a red-brown hue that looks stunning. We're sure you'll have loads of happiness from these items.
Here are the topics we cover in this review sheet:
Here are the topics we cover in this review sheet:
Top Three Spruce Tree Bonsais
The Complete Growing Kit to Easily Grow 4 Bonsai Trees from Seed + Comprehensive Guide
White Spruce Bonsai Seed - 20+ Seeds
Highly Prized White Spruce Bonsai Tree Seeds
Solution Seeds Farm New Heirloom 50 Seeds
Solution Seeds Farm New Heirloom 50 Seeds
Reviews Of The Best Spruce Tree Bonsais
We're starting with our reviews first so that you can see which one you like the most. You can continue reading after that if you want to see which factors will influence your buying decision.
Bonsai Starter Kit
The Complete Growing Kit to Easily Grow 4 Bonsai Trees from Seed + Comprehensive Guide
Dimensions: 6 x 4.5 x 6 inches
Review of the Unique Qualities
For our first review, we have a stunning bonsai starter kit with numerous tools you can use for a low price. The four types of seeds include Norway Spruce, Rocky Mountain Bristlecone Pine, Flame Tree, and Black Poui. You won't need to stratify any of the seeds, as they are prepared and ready to grow.
There are four pots available, one for each tree. You'll also receive clippers and markers so that you can easily identify the saplings when they appear. The containers are biodegradable so that you can transplant the younglings to ceramic pots when ready.
While adult spruce tree bonsais are difficult to find for sale online, there are plenty of seeds as you'll see in the rest of this article. This product is our top choice, as you'll receive plenty of items to help you along the way. You can try to germinate a few seeds at a time for better success.
White Spruce Bonsai Seed - 20+ Seeds
Highly Prized White Spruce Bonsai Tree Seeds
Review of the Unique Qualities
The White Spruce tree bonsai has a beautiful sheen on the needles, giving it a unique quality you'll find on few other species. You'll need to grow it in a greenhouse or indoors until it matures, as the younglings won't be able to withstand the wind and extreme climates. There are plenty of seeds available in this package, which you'll need due to the low success rate.
Having said that, the seller guarantees the grain, and they welcome anyone to contact them should there be any issues. The only issue is that we're not sure what they're prepared to do if your seeds don't sell. Either way, it's a good price to pay for such a large number of seeds.
Finding viable seeds that could one day be the best spruce tree bonsais is challenging. You're taking a risk that none of them will grow. However, these White Spruce seeds are incredibly valuable, and we're impressed that you can buy so many at such a low price.
Solution Seeds Farm New Heirloom 50 Seeds Rare Bonsai Colorado Blue Spruce
(Picea pungens)
Review of the Unique Qualities
Solution Seeds Farm has a special treat in store for you. It has an heirloom Colorado Blue Spruce on the land that's rare to find in the state. What's more, the tree is quite old already, and the seller has harvested several seeds already. For such a low price, you'll receive 50 in a pack to help you gain as much success as possible.
If you have an Amazon Store Card, you can get this item at no cost. Of course, the card has some requirements, so there's no guarantee you'll receive one. In our opinion, you might as well just pay for the seeds, as there are plenty for you to grow and resell when they mature.
If you can get this spruce tree bonsai to grow, you'll have an excellent gem on your hands. You'll be the marvel of many enthusiasts, and you can brag about the heirloom status. Bear in mind, it will be extremely challenging to grow and success isn't guaranteed. You'll have to bring all your green fingers to the table.
Bonsai Tree Seeds Kit
8 Popular Varieties of Non GMO Mini Bonsai Trees, Bamboo Plant Markers, Wood Gift Box
Dimensions: 7.68 x 5.12 x 2.05 inches
Review of the Unique Qualities
If this was an article for the best bonsai kits, this product would definitely fall in that ambit. However, there are only two tree types worth mentioning for the purposes of this review. We introduce to you the Colorado Blue Spruce and the Black Spruce.
We encourage you to try and grow the other seeds too. There are wooden markers so you can keep tabs on where you plant each one. There's also a handy instruction manual, revealing when to grow each tree and how to take care of them.
You'll also have more than one opportunity to gain success. There are a few seeds per packet, but you'll need to follow stratification for each type. At the end of the day, it's not a bad price to pay for so much value.
As with most of these products, the spruce seeds appear to have less success at germinating than the other ones in the package. However, that doesn't mean the opportunity doesn't exist if you provide the correct environment.
What stands out the most is that the seller is willing to provide replacement seeds if they don't grow. So basically, you're paying for the rest of the items and the seeds are free.
Blue Spruce Bonsai Tree Seeds for Planting | 20 Seeds
Popular Coniferous Tree for Bonsai
Review of the Unique Qualities
The Blue Spruce bonsai is astounding to behold, with its blue-green needles and powerful appearance. You can grow it in a cascading style, which is one of the ones we prefer for this species. You can also tier each branch level to give it that majestic look.
You'll receive 20 seeds in this packet at a low price. Sadly, there isn't much else to go on, as there are no accessories added to it. However, we added it to our list since we feel it's good value for a truly remarkable tree if you manage to get it to grow.
We've looked at all the remaining items available for sale online, and this one managed to just make our list of the best spruce tree bonsais. We aimed more for the species and blue-green sheen, while the others looked standard species you could pick from a local park. We're sure that, with enough care, you can get any of the 20 seeds to germinate.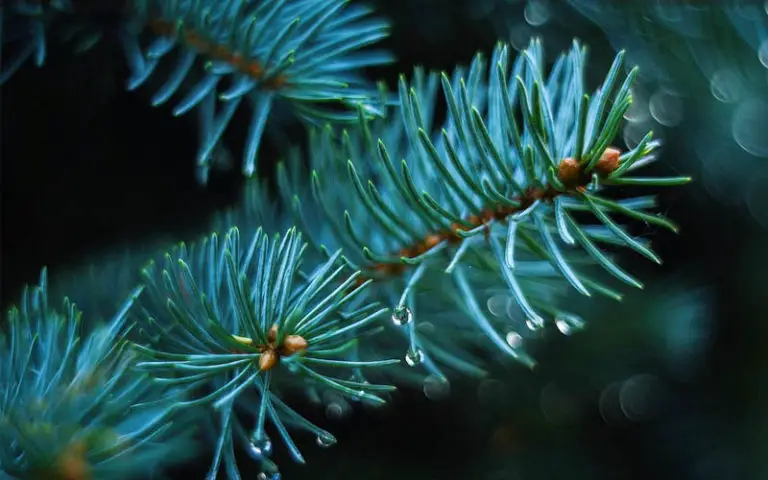 What Sets These Spruce Bonsais Apart From Others
We know that most trees probably look the same to you. So, what makes our selection of the best spruce bonsai trees stand out from others? Which features give it that unique appeal that made these products appear in our article and not the others. Here's a quick overview.
Any bonsai you buy online needs to look stunning and healthy; you should be able to see that the seller looked after it. While some commercial entities merely place an image marker as a standard visual, others show you what you'll actually receive. You can also look at client reviews to see if their products match what's advertised.
Some of these products have ceramic containers that really stand out among plastic and other pots. There are generally various colors available, although you won't pick which one you want. You'll also see numerous styles that cater to different tastes.
If you see a seller presenting an informal style, the chances are that all its spruce bonsai trees will be sold in that form. The reviewed products represent the styles that are the easiest to maintain. While we're sure there are many designs available online, some of them are challenging to prune and sustain.
How We Picked Our Top Selection
When we evaluate the best spruce tree bonsais online, we have a set of criteria we assess across all of them. It helps us determine which ones have more value than others so that you can make an informed decision.
What the clients report after receiving the products is significant to us. While we may have our own experiences, it doesn't mean it will be the same for you. If we see too many comments that the item is not recommended, it's less likely to end up on our list. However, we also compare the other criteria first.
Many bonsais are sold with starter kits or tools to aid you in your first year. You might even receive the tree in a plastic container with a ceramic pot on the side for safe delivery. However, you'll find a few products where the bonsai is sold alone, which is ideal for enthusiasts who already have tools and soil.
We enjoy comparing value for money across the best spruce bonsai trees. While one item might be more expensive than others, we usually add it to our list for how many accessories are part of the deal. Furthermore, the tree's beauty and age may be worth the cost.
Local Growth and Development
Speaking of cost, we assess which bonsais have a local foundation. Local sellers are more affordable than international ones, which will save you a penny in shipping. Also, there's a better chance it will survive since it's used to our climates.
What Factors to Consider When Buying One of the Best Spruce Bonsais
Now that you've seen how we compare products, it's time for you to evaluate how they will suit your needs. You'll need to look into a few factors before clicking on the buy button to ensure that you aren't disappointed. We'll show you some of them here below.
Do You Have Animals at Home?
Pets can be devastating to bonsais if you don't put protective measures in place. Cats will use them as scratch posts, and dogs enjoy them as something to nibble on. The roots also provide some nutrition, so make sure you place it where none of them can get hold of it.
In Which Zone Do You Live?
Even the best spruce tree bonsais can only survive under the right conditions. The United States lists hardiness zones for trees so that you can plan accordingly. You can read our detailed guide on this genus to understand better whether a spruce is a good idea in your climate.
Do You Have The Ideal Location?
You'll also need to check if you have the perfect location inside or outside your house. It requires several hours of sunlight during the morning with dappled shade for the rest of the day. If you don't think you can manage to provide it, you may need to look for a better indoor bonsai.
Bonsai trees mature with age. The older they are, the better the chances of survival. Younglings are prone to die if it gets too hot or cold, while you'll need to get the watering and humidity just right.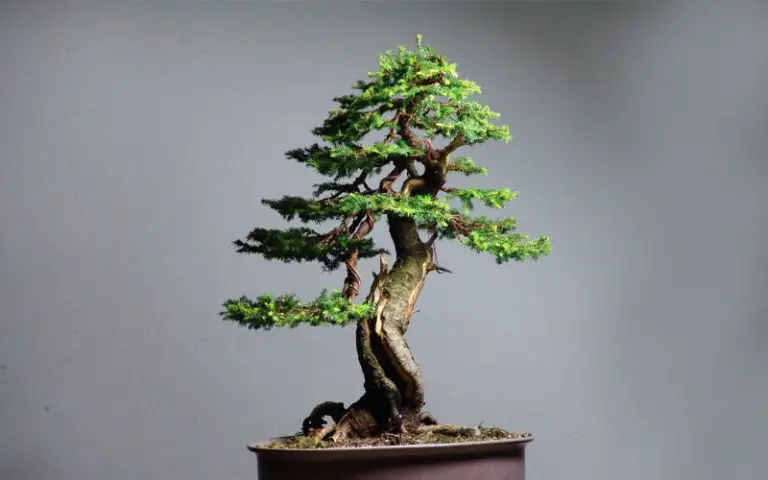 We don't want to leave you with any lingering questions. Here are some of the questions people always ask about this stunning tree. You can also contact us if you'd like to know anything else.
You can use your fingers or the end of the needle pliers to pinch a branch. If you want to promote new growth, it's best to wait until a branch has developed a few nodes before pinching back. Not only will you see fresh leaves, but the tree will look healthier and more beautiful.
When you pinch or pluck needles back from the new shoots to a bud, you'll see new ones grow on areas of the tree or near that area. You can also back bud the new shoots for the next season if you want to see further development. It takes careful planning if you're going to get it right.
Caring for any of the best spruce tree bonsais has several factors to it. For example, you'll need to monitor and maintain water, humidity, light, and soil levels. If you're looking for a detailed care guide, feel free to read our article that covers every aspect.