What Is a Bonsai Turntable?
When you work on your bonsai, pruning it to get it into shape, do you turn it around to you can get to all the leaves? Do you ever get tired of picking up the small tree and turning it so a new side can show to the sun? Fortunately, there's such a thing as a bonsai turntable to save the day.
It's not an item many beginners know about, as most experts mostly discuss trimmers, wires, and other tools and equipment. However, a bonsai turntable can be incredibly useful in different situations. Let's take a look at them now.
The Purposes of a Bonsai Turntable
The primary purpose of a bonsai turntable is to rotate the pot containing your small tree. While this may be a basic explanation, there are several uses for this equipment. Firstly, it's ideal if you want to upgrade your workspace so that you can effortlessly turn the container while pruning the foliage or wiring the branches.
It's especially helpful when you have heavy bonsai pots that you don't feel like lifting when you're ready to work on another side. Also, you can't get a proper view if you're standing over your small tree and snipping stems. It's also perfect if you're cutting bark or making artistic statements on the trunk.
The other reason you'll want a bonsai turntable is purely for display purposes. Whether you want to turn it to show a new side to guests or help the sun reach other parts of the foliage, it's easy to simply swing the disc around. Once again, it works the best with heavier containers.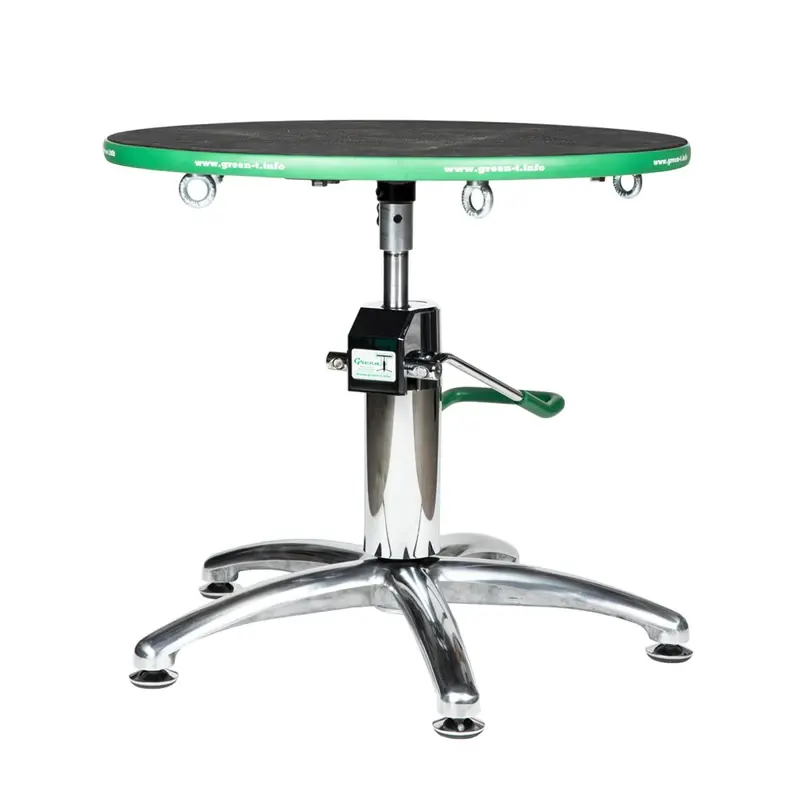 Should You Rotate Your Bonsai Tree?
Some bonsais are in the fortunate position of being outsides where the sun passes over them and then shines from the other side. Many people place their bonsais against walls for protection from the wind or to provide shade, or they decide to grow them inside. To ensure even growth around the tree, it's best that you rotate your bonsai from time to time. Of course, it depends on the style you're cultivating. If you're only developing leaves on one side, there's no need to turn the tree around. For instance, this design works well with a literati bonsai where you aren't aiming for a natural appearance. Still, you'll need to prune and work on it at some point, so a bonsai turntable will still come in handy.
How many types of Bonsai Turntables are there?
When people discovered a need for bonsai turntables, they realized that they need more than one type. When you shop online for this term, you'll notice just how many types there actually are. Here are a few examples and what you can use them for:
How Do You Make A Bonsai Turntable?
You can easily make your own bonsai turntable if you don't want to buy one. For this guide, we're showing a basic one that's very easy to put together. To make it work, you'll need a turntable bearing, which you can buy from most hardware stores. You may need to buy screws if it's not included with the product.
Step 1: Choose the surface material
The turntable bearing will be the item that rotates your bonsai, but you'll probably want to place a surface above it. You'll need to decide what type of material you'll want it to be, such as marble, wood, or metal. Have a look at your local hardware store at possible choices, but it needs to be easy to drill into. We recommend a circular shape.
Step 2: Decide where to place the bonsai turntable
Next, you'll want to decide where you're going to place it. Since our basic bonsai turntable will be secured with screws, you'll want a permanent option. If you have a workbench already, that would be the perfect spot to put it.
Step 3: Measure and draw
Now you'll need to take measurements and make small marks with a pen or marker where the screws will go. If you decided on an elevated option, you may need to draw around the base. Don't be afraid to try a few ideas before moving to the next step. Turn the bearing upside down, and draw the holes under the surface you chose, the one where the bonsai pot will rest on.
Step 4: Secure the turntable
You're ready to secure your bonsai turntable to the selected surface. Carefully use a drill to neatly make the holes. With a manual or electric screwdriver, drive the screw through the lower base of the bearing at the allocated places. When done, make sure it's sturdy and the upper base turns freely.
Step 5: Place the surface
It's time to secure the surface onto the upper bearing or support of the turntable. Drill holes through it, as it will be easier to place the screw and nut from the top. If you don't want to mar the surface, you'll need to find a way to attach the surface to the upper bearing first before fixing the lower base to the workbench.
Another option is not drilling at all and just placing your surface freely on the turntable. However, there's the chance you might knock it off.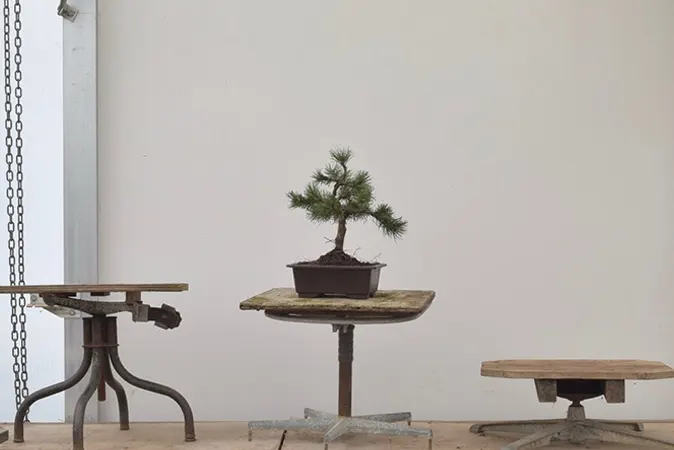 Final Thoughts on Bonsai Turntables
As you can see, bonsai turntables are useful for many reasons, and you can easily make one if you want to be constructive or save money. You can also buy them online or at your local store, and a bonsai expert may even have advice as to what you can do.
If you have a wonderful bonsai display outside, there's no reason you can't get small turntables for each of them so you can turn each of them when necessary. We hope you have fun with this item, and please feel free to show us how you made your own one at home or how you are using it. We'd love to see the photos or videos.