How To Grow A Myrtle Topiary
Growing an indoor myrtle topiary looks stunning in any environment, whether at work or at home. They have lush, green leaves and their trunks and branches are strong. However, you need to know how to prune and design them towards the perfect shape.In this guide, we'll discuss why the myrtle tree is perfect as a topiary, what the difference is with a bonsai, and how you can combine both art styles into one fantastic form.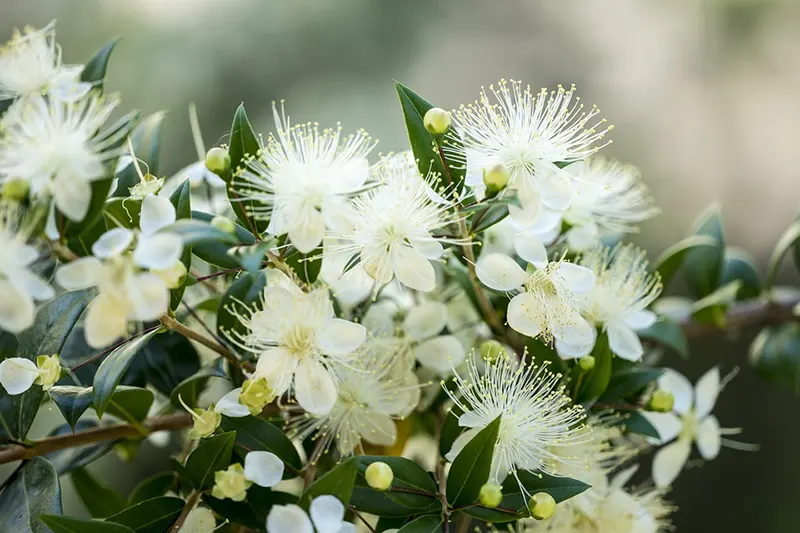 What is a Myrtle Topiary?
The common or true Myrtle, Myrtus communis, is a gorgeous tree known for its rich, green leaves and white flowers. It's native to several countries, mostly in African locations, India, and Western Asia. It also has numerous medicinal uses, while it represents justice, honor, love, generosity, and hope.Topiary is the art of pruning a bush or tree into an ornamental shape. It's usually used on species that present a plethora of foliage that's easy to prune and maintain. Therefore, a myrtle topiary is one where the species is designed into a specific art form.
Is Myrtle Ideal as a Topiary?
Myrtle is one of the most popular trees to grow as a topiary. It provides a profusion of small leaves with dense foliage you can sculpt into any design. The leaves and tiny flowers also emit a pleasant scent during the warmer months. It will even continue to show its glory in winter if you give it a sunny indoor location.
Many people place them in kitchens, sunrooms, or bathrooms. The primary reason is that these areas provide sufficient humidity to keep the myrtle topiary happy. However, you need to also ensure that they receive enough sunlight during the day to thrive.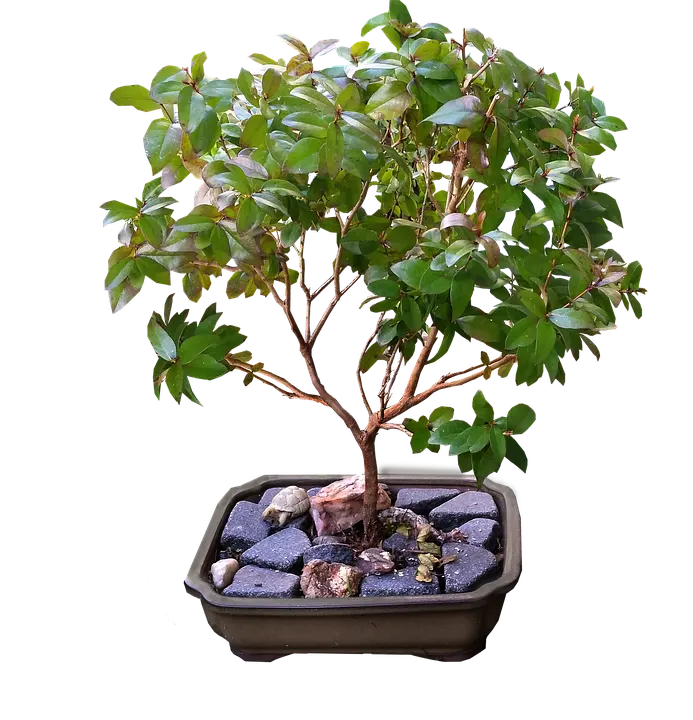 How to Grow a Myrtle Topiary
Now that you know more about the species and design, here are the steps to follow to grow a myrtle topiary.
Step 1: Choose your Design
Firstly, you'll need to decide what topiary design you want for your myrtle tree. Many people tend to aim for the globe shape, but there are others you can try. Feel free to check Pinterest for some ideas. The reason we have this as the first step is that it will affect later stages.
Step 2: Select your Container
Next up, you'll need to choose the right container for your future design. If you're aiming for a square topiary, you should find a similar shape for the pot. Some people try to also match the intended size so that there's symmetry at the top and bottom. You should also ensure that your myrtle's roots enjoy sufficient drainage of water from the soil.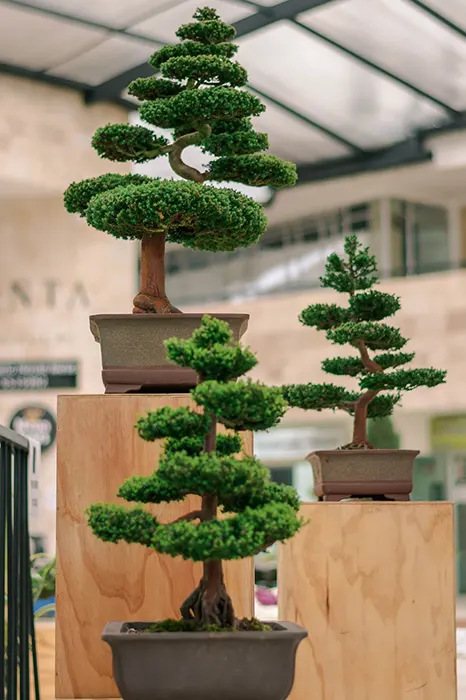 Step 3: Transplant your Myrtle
If your myrtle is already in a pot that you're happy with, you can skip this step and move to the next one. When you've chosen a new container for your topiary, you'll need to transplant the tree. Ensure that the roots are cleaned and lightly pruned to fit on the new pot. You should only do so in early spring while there's new growth.
Step 4: Secure with a Stake
Most myrtle topiaries have a single trunk leading to the foliage at the top. Place a thin stake against the main stem and tie them together from the soil to the base of where the topiary leaves will begin. It needs to be strong enough to support the trunk but narrow enough not to damage the roots. Don't tie it too tight, as the trunk will swell.
Step 5: Chart your Pruning Path
With your design in mind, spend some time with your myrtle mentally mapping how you will prune it towards a topiary. If there's already a full head of foliage, you can start pretending to clip the branches with your fingers to get a generally idea of what you will do. You can also use a wire mesh to help you with your shape.
If you have a young myrtle, you can spend time visualizing how you will shape the future foliage and cutting back to make the form you want. It may not seem significant yet, but you'll reap the rewards of this mental map at a later stage. You can even sketch different stages that you plan to do.
Step 6: Sterilize the Pruning Equipment
You're almost ready to start designing your myrtle topiary. To ensure that you don't create any infected wounds, you need to thoroughly clean the pruning equipment. You can buy sterilizing liquid at a plant store. It's also ideal to ensure that the blades as sharp. Remember to also protect your hands.
Step 7: Remove all Lower Branches
Whether you already have a bush myrtle or a small tree, it's best to remove the lower branches. You want a clean stem leading up to the topiary foliage. However, for the young ones, you'll need to keep some of the leaves so that they can thrive until you have enough at the top for your design. After that, you can remove the lower twigs.
Step 8: Shaping the Crown
There are two ways to shape the myrtle topiary crown. The first involves a tree that already has lush leaves at the top. You simply need to clip the branches where the lengths exceed your design. You need to inspect it at all angles to see if you're getting the right form. As new stems grow, you'll need to keep pruning back to create more branches on the interior, making it denser and richer with life.
How to Care for Myrtle as a Topiary
Now that you have the basis for your myrtle topiary, you'll need to care for it to ensure that it grows stronger. Here are the general guidelines for looking after it:
Position and light

: You can place your myrtle tree inside or outside, and it can handle

full and indirect sunlight

. You'll need to keep turning it so that there's uniform development of the leaves, so rotate about once mid-week and then at the end of the week.

Water

: In the warmer seasons, you'll want to water once a day when there's extreme heat. Check to see if the soil is drying out slightly before you supply it with more liquid. In winter, you can switch to twice a week, but make sure the roots don't dry out.

Humidity

: You'll want to supply high humidity no matter where you place it. Bathrooms, kitchens, and sunrooms usually have high moisture levels in the air. In other locations, you'll want to mist the foliage or use a

humidity tray

.

Temperature

: The ideal temperature for a myrtle topiary is 68°F at day and 58 to 62°F. In winter, it's alright if it drops, as the tree will then rest and go into dormancy. 

Mulch

: You can use a mulch to help retain moisture in the soil during summer. Some ideas include polished pebbles, small shells, terracotta beads, or decorative gravel.

Feeding

: In spring and summer, you can feed the myrtle an NPK ratio of 10-15-10 every once every one or two weeks. Slow down in autumn to once a month, but don't feed it in winter so it can rest.

Maintenance

: Ensure that you keep pruning in the growing months. You can also cut back to within your topiary shape to cultivate more branches and leaves, letting it grow out again. You'll need to practice patience and care to ensure it doesn't get bent out of shape.
What's the Difference between a Myrtle Topiary and Bonsai?
Bonsais are also artforms, where they represent miniature versions of trees in the wild. There are various bonsai styles you can employ, such as informal, formal, cascading, and many more. In some way, a topiary is similar to a formal upright with a straight trunk and foliage at the top. However, the topiary has a more unnatural design that's forced into a shape you won't usually find in nature.
Can you Cultivate a Myrtle Topiary as a Bonsai?
In effect, the two art forms have one principle that clashes. Bonsai is a form of mimicking trees in a natural way, while topiary presents a design you won't see in the wild. However, that doesn't mean it's not possible. After all, art is a creative way of expressing your personality.
So if you want to, you can grow your myrtle bonsai as a miniature version of a full-sized topiary. It's still using a formal upright style, and you'll have it in a stylish bonsai pot. There's no reason you can't pull it off and show it to your friends and family. We've seen many do it online and we're tempted to do it ourselves.
Be sure to check our ultimate guide on bonsai tree care as a general guide for extra tips on looking after your myrtle topiary.


FAQs about Myrtle Topiaries
Before you leave, we'd like to answer questions people always ask about myrtle topiaries. If you've searched for these solutions before, hopefully these will help you.