Bonsai Tree Care increases as a form of therapy
As we grow older and technology and businesses advance, life becomes more stressful. We need to deal with more demands within the same amount of time daily. A trend that seems to be picking up lately is bonsai therapy, letting people take a step back from their busy lives.
While the concept of bonsai therapy isn't new, it seems like more people are looking into it this year. We've seen the search term booming this last week, which indicates that many out there need a new way to relax.
New forms of therapy
Some of the more senior members of our community will remember days when smoking, drinking, and other habits weren't as restricted as they are today. It's not that we're condoning any of these vices. The only reason we're mentioning it is that we're needing to find new ways to deal with increasing stress.
One of these forms is bonsai therapy. Hollywood introduced the western world to it in movies like Karate Kid. Since then, many of us have found tree species we can bond with, sharing our trials and tribulation with them. 
The science behind bonsai therapy
One study has shown that simply staring at a bonsai tree is enough to stimulate the chemicals in our brain that help us relax. There's a sense of being one with nature, soothing the spirit and helping us realize there are other elements of life to experience besides stress and anxiety. 
It's also the act of removing ourselves from the stress-inducing environment or project. While you're focusing on bonsai leaves and flowers, all your concentration is on the precious tree. It gives your mind a chance to think of something other than the item plaguing your mind.
Why bonsai therapy is trending now
Bonsai therapy started rising in popularity when the pandemic hit the world in 2020, something many countries are still struggling with. It's not only in the health sense but it's caused economic shifts where once there was wealth. For many, this change has been too much to bear, especially in the socio-economic sense.
While many countries are still recovering, people have turned to bonsais as a form of therapy. In one of our latest reports, we've shown how the market for bonsai trees will increase in the next few years. What we didn't anticipate was that it would be in the form of mental and emotional therapy.
You also need to keep in mind that countries have different reasons to be anxious. In the United States, the midterm elections are almost upon them, which is enough to cause a bit of panic in other parts of the world. South Africa is constantly going through loadshedding to deal with power shortages, and China is dealing with a new virus.
There are only a few reasons why so many people are now looking to bonsai trees for therapy.
Art and patience
The studies might have shown how staring at a bonsai tree provides therapy. However, there's more to it than that for the serious grower. It's the act of bonsai tree care that really soothes the soul, as you need to apply all your attention to the specimen.
For example, pruning and trimming require you to concentrate on the branches, leaves, and twigs. You don't want to cut the wrong way or too much, so you'll need to have a steady hand, sight, and mind. It will feel like you're cutting away the stressful or negative parts of your life.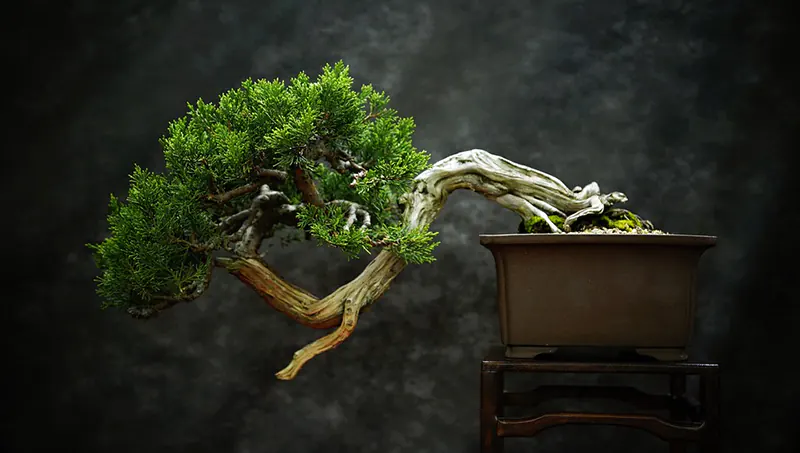 Does bonsai therapy work?
If practiced the right way, bonsai therapy does work. It doesn't help to have a tree in your home, but you never spend time with it. Your neglect will only increase your anxiety, which is the opposite of what the bonsai tree should be doing for you.
Your tree will thrive in an environment where there is love and care. Both you and the bonsais will benefit from you taking a few seconds of your day to look after it with some watering, talking, and pruning. You'll also have the benefit of it providing oxygen and helping you to breathe better. This has a wonderful, positive impact on your brain and chemicals.
Final thoughts
If you've been looking for a new way to unwind that's healthier and works, it may be time to try bonsai therapy. It will brighten your day, and you'll have something to look forward to daily. The more small trees you have, the more you'll discover pleasure and happiness in your home.
Newsletter
Subscribe to our newsletter and get the latest news and promotions. Be the first to learn about what's new in Bonsai Alchemist and get 0 spam emails from us.