How to Identify a Money Tree Bonsai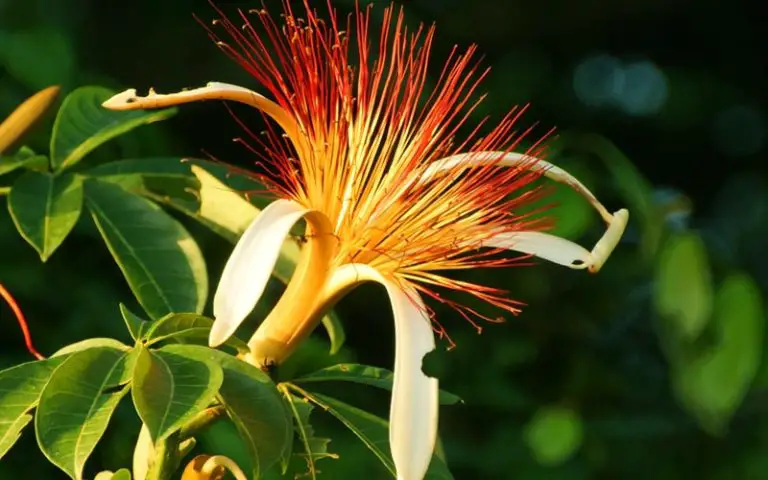 Owning this gorgeous species may bring you luck and prosperity, but it only helps if you know how to recognize it. A few variants look similar, and you don't want to be fooled into buying a replica.
In this quick guide, we'll show you how to identify a Money Tree Bonsai.
The Story Behind the Money Tree Bonsai
The scientific name of the Money Tree is Pachira Aquatica and belongs to the Malvaceae family. It's also commonly known as the Water Chestnut, Guiana Chestnut, and Malaber Chestnut and is native to Central America. The genus name is derived from a language spoken in Guyana, and the species name is Latin for aquatic.
The commonly known name Money Tree has a very interesting origin steeped in legend. It's said that a poor farmer found an intriguing plant growing in his barren field. He took the tree home to care for it and started selling the seeds and other plants. The farmer's fortune grew, and the Money Tree gained popularity as a tree that brings good fortune.
The real origin story of the Money Tree is a little different. A Taiwanese truck driver cultivated five small trees and braided the trunks into a single tree in a pot. He created the Money Tree in 1986, and it became popular across Japan and East Asia. It soon became a symbolic tree in homes and businesses, with it being a slow-growing plant that retains the braided look with very little maintenance.
This species has been a token of good fortune for a long time and is a central part of this aspect in Feng Shui. It's also commercially sold as a Bonsai and is very popular with its braided trunk. There is a very similar species called the Pachira Glabra that is often confused and sold as the Pachira Aquatica or Money Tree Bonsai.
The difference between the two species is very small, and it's difficult to tell them apart. Some of the characteristics and differences between the two species are provided as guidance in identifying the Money Tree Bonsai.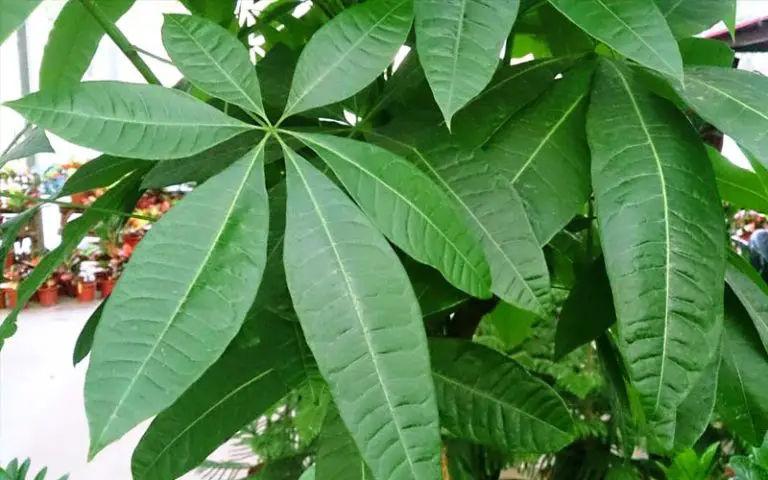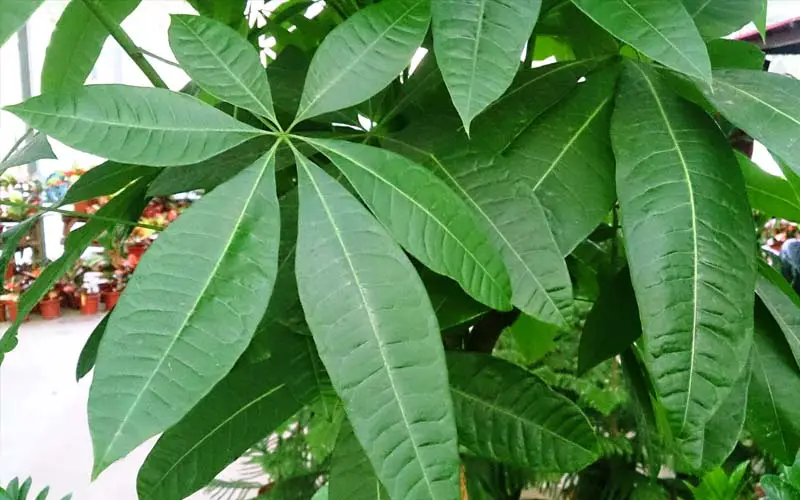 Characteristics of the Money Tree or Pachira Aquatica
In their natural environment, the Money Tree can grow very tall and lush. It's an evergreen estuarine variety that grows in the freshwater swamps, estuaries, and river banks in the tropical rainforests from Mexico to northern South America. These trees are cultivated in Hawaii and southern California for ornamental purposes or for food production.
The Pachira is a broadleaf tree with evergreen properties and can have two leaf growth patterns: alternating or opposite. The Money Tree has an alternating leaf pattern meaning there is one leaf per plant node, and they alternate sides.
The leaves have compound leaves shaped like hands consisting of up to 9 leaflets that are green, lance-shaped, and shiny. The Money Tree carries greenish to yellowish-white flowers with five long cream-colored petals around about 200-250 red-tipped stamens of three to four inches long.
The flowers bloom for only one day and release their fragrance at night. Pollinated flowers develop into egg-shaped brown fruit resembling coconuts. The fruit appears woody and bursts open when mature. The fruit is filled with edible seeds or nuts.
These nuts taste like peanuts and are eaten raw, roasted, or ground into flour. The flowers and your leaves are also cooked as a vegetable alternative.
The Money Tree has a slightly swollen trunk base as it is filled with water. The bark of a young tree is green, and it turns brown to grey as the tree matures.
Characteristics of the Pachira Glabra
Pachira is a tropical wetland tree native to eastern Brazil. This tree grows along rivers and other waterways. The common names for the tree are Guinea peanut, French peanut, Saba nut, or Lucky tree. It looks similar and has similar culinary and ornamental uses to the Money Tree.
Difference Between Pachira Aquatica and Glabra
The flower of the Pachira Glabra has creamy white stamens, and the fruit is smooth with a green surface. The Pachira Aquatica has flowers that have red stamens, and the fruit is brown with a rough woody texture.
Characteristics of the Money Tree or Pachira Aquatica Bonsai
In cooler climates, the plant is typically kept indoors as a houseplant or bonsai with a braided trunk. Several plants are grown in one pot, and their trunks are braided to form one tree.
A trained bonsai would be mature with a brown or grey trunk and leaves only at the crown. Stems would be pruned to carry leaves close to the trunk and not belong and spindly. Indoor plants rarely carry flowers.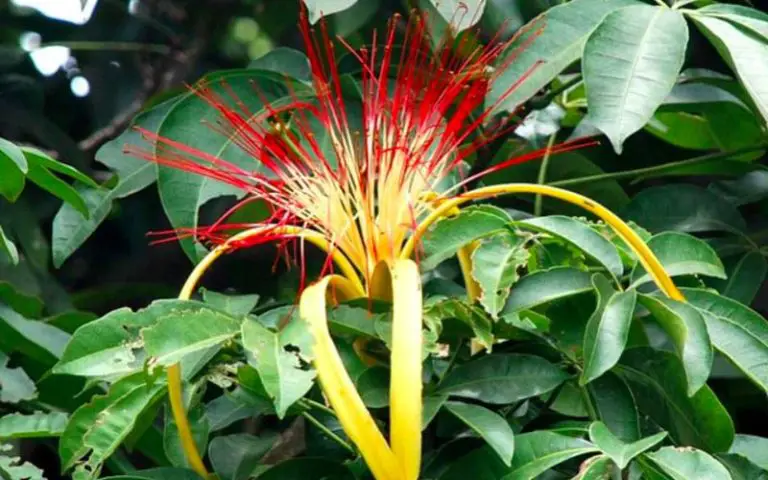 A Money Tree Bonsai is scarce but should be easy to identify with its braided trunk and distinct leaf shape. This Bonsai grows slowly, making it easy to maintain. This hardy plant does not require much special care and is ideal for Bonsai enthusiasts from all experience levels.