Best Bonsai Trees for Windswept Style
Windswept trees are widespread in nature and are found in places where prevailing winds lash open cliffs or mountainsides. If you look at these trees, you will see that they are often stunted in size, and the branches grow on the leeward side of the trunk, where they are protected from fierce winds. Only the toughest of trees survive in these extreme conditions.
The windswept style, or Fukinagashi, can look both dramatic and beautiful.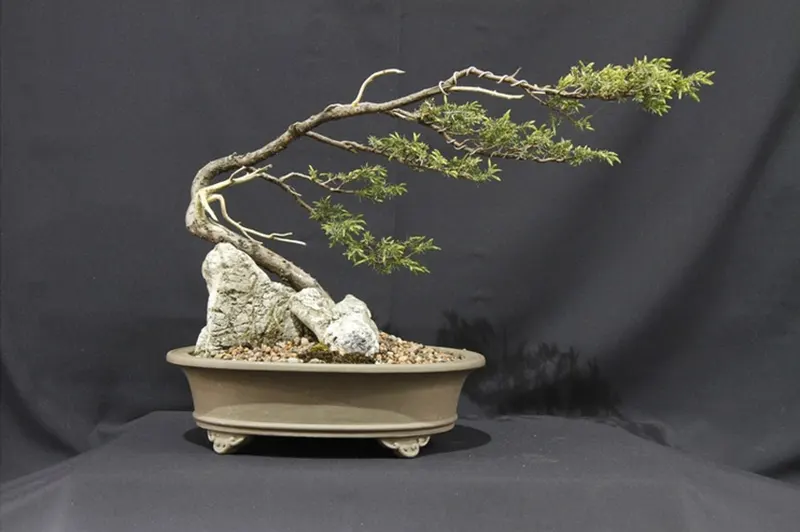 Windswept Needle Juniper
www.scottishbonsai.org
What Species to Choose?
Most often, windswept trees are evergreens. Trying to create a windswept look with a large-leaf deciduous species is not convincing, as the leaves tend to grow in all directions making it difficult to believe that the wind from one side lashes the tree!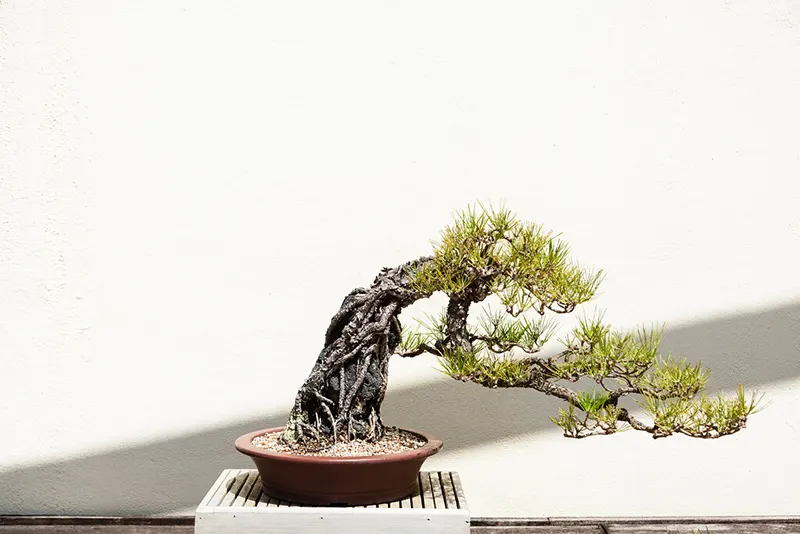 Image source
Juniper
Junipers are perfect for this style of bonsai. They are hardy plants that respond well to pruning and training, so creating in this style is more manageable. 
Junipers like the Chinese Juniper have delicate needle-type foliage when immature, maturing to a scale-like finish. The vegetation ranges from yellow-green to blue or silver-green. Japanese Junipers have needle-like foliage that is a lovely green in colour.
 Junipers also can grow new live veins in broken or dying branches, making them ideal candidates for deadwood creations. These trees can look very dramatic in a windswept style, coupled with lush green foliage, reddish to brownish bark, and silvery-white deadwood.
Pine
Pine species are very well suited to many bonsai styles. They are hardy, lovely trees that will take pruning and wiring well. 
The Japanese Black Pine sports clusters of two long dark-green needles, while the Japanese Red Pine has more delicate foliage that is softer and thinner. The Japanese White Pine has clusters of five soft needles, and as this is a mountainside tree, it is often found in windswept styles in nature.
In addition to the popular Japanese Pines, there are also Scots Pine, with thin twisted needles, Ponderosa Pines from North America that have striking bark, and the European Mountain Pine, with its stubby, dark green needles.
It's important to note that the Japanese Pines will produce two flushes of foliage every year, a feature that the bonsai gardener can use, but the other pines don't have this ability.
Chinese Elm
The Chinese Elm is semi-deciduous but will work in the windswept style. This tree has small, leathery leaves, and the bark has a lovely mottled appearance of greys, browns, and reds. The bark often flakes, giving rise to this tree's alternate name: Lacebark elm.
Privet
There are several species of privet apart from the common privet. All these evergreen shrubs have small, lush leaves and grow in almost any type of soil. They take trimming very well and are often sued in hedges. It is worth combing privet hedges for small, thick-trunked plants to use as starter plants for a windswept style. These plants have tiny, white settle-scented flowers that emerge in summer. Privets are tough plants that take trimming and styling very well, so they are a good starter plant for beginners.
Spruce
This evergreen, with its lovely needles, makes an excellent if stubborn, windswept subject. These trees make beautiful bonsai specimens, but they are challenging to work with, and the branches often return to their original placement after wiring. If you have the patience and dedication to work with Spruce, you will be rewarded with a magnificent tree.
Brush Cherry
This Australian evergreen is a left-field choice for this style of bonsai. Its lance-shaped leaves are firm and arranged in pairs opposite each other. The tree has small white flowers and red, edible fruits.
Can I do this?
The windswept or Fukinagashi style is an advanced form of bonsai that is best left until you have some experience under your belt.
If you want to try this style, look for a tree with a sturdy trunk and sparse branches. Remember that windswept is not a case of simple wiring the branches to grow on one side of the trunk. Each of the twigs must also be wired to grow in the same direction. The prevailing winds would not only force the branches to grow in a specific direction; they will similarly affect the twigs.
Remove all the foliage on the trunk and at least two-thirds of the branches closest to the trunk. Again this would be as a tree appears in nature, where the wind would have scoured the oldest foliage from the tree.
These trees will also often have jin or shari, where the wind has broken branches or the trunk has been scarred by flying debris.
Images source
Final Thoughts
These trees look dramatic when displayed, but they take time and patience to create. Choose your evergreen carefully and study photographs of windswept examples. Pay attention to the most minor details, and with time, you will be rewarded with a little tree that shows how it has stood up to the fiercest forces that nature can throw at it and survived.